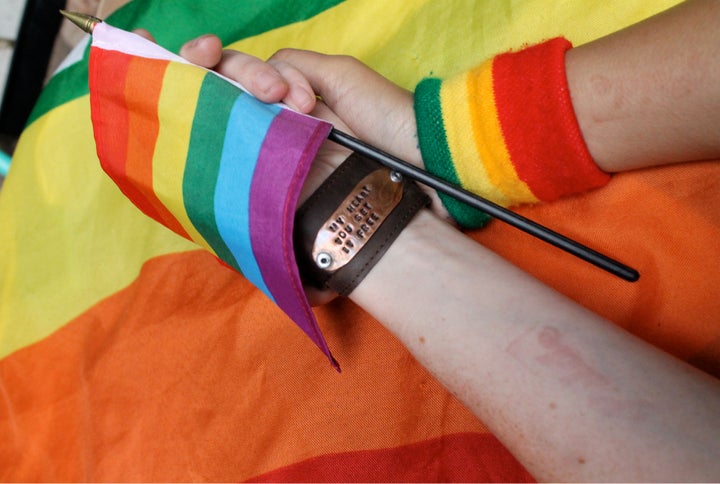 Sushi. So nervous: "Why did I pick sushi for a first date? I can't even use chopsticks...I might as well be eating hot wings. But she's so pretty...she does know this is a date, right? Yes, yes made that clear. Just show up, do me and smile..." Thoughts I remember from our first date, 6 years ago.
We talked about music. Walked to a wine bar when we weren't ready to say goodnight. She found an excuse to lightly touch my forearm and I relaxed with a "Whew, good. She's not here to just make friends."
I walked her to her car and asked if I could kiss her goodnight - she said yes. We met on the dance floor just two nights before, where we both felt free to just be.
I wrote the above, and finally felt it - I had to walk away. In tears.
The idea of that space being interrupted with violence and destruction for so many in Orlando last Saturday night hit me like a ton of bricks. First dates from that dance floor never happened. They never got to meet the person of their dreams, like I met Becca.
That dance floor...The dance floor where Becca and I met was Missie B's, one of Kansas City's local clubs for the lgbtq+ community (there weren't many options for gatherings in general). Missie B's - like queer clubs around the country for so many others - was where I quickly found a community around me that fully accepted all of me. That's why she was there too. I've struggled to talk about the anniversary of when Becca and I met and our first date all week; I think the reasons why were bubbling under the surface.
You see, it took a lot of courage for me to walk out on that dance floor. To feel 100% me, feel ok, take her hand, spin her around, ask for her number - to essentially have the courage to meet the girl of my dreams...everyone in the world should feel that. This is one reason why these clubs and Pride exist. To remind us of that community and feel that acceptance in areas across the country where we struggle to find it otherwise.
The idea that there are those whose courage may be stifled by last Saturdays shooting also crushed me - whether kept from a dance floor or Pride, they deserve to feel what I felt, especially when they can't find it anywhere else…to not go to that bar…not go to that dance floor…not get to experience what I felt. At Portland's candlelight vigil for the Orlando victims, community leaders spoke about the younger generation new to experiencing this sort of hate and violence directed at our community. Over the next day, I found myself meeting people of that generation concerned about going out to crowded clubs during Pride weekend in Portland for that same reason.
There is no courage without fear. Mourn those lost in Orlando, then fight back - be you. And maybe meet a Becca along the way.
Jackson started sharing their life outside the binary to help ensure others, especially lgbtq+ youth, feel accepted despite what their immediate environment may or may not provide. They write to inspire others to be their authentic selves, or to be more open-minded and understanding. Experience their stories in Unwind: Adventures in Gender photo collection featured in the Art Beyond the Gender Binary show in Portland, Oregon, this Saturday, June 25.
Calling all HuffPost superfans!
Sign up for membership to become a founding member and help shape HuffPost's next chapter