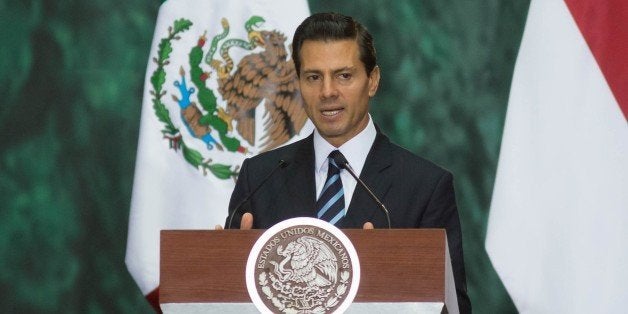 "Building a Society of Rights means there is no room for first- and second-class citizens. It means choosing inclusion over discrimination. It means creating unity from diversity."
These words sound as if they could have easily come from President Barack Obama's eighth and final Pride Proclamation, marking June 2016 as LGBT Pride month. However, these words came from a different president: President Enrique Peña Nieto of Mexico in his June 2, 2016, Huffington Post essay explaining why he introduced legislation in the Mexican Congress to amend Mexico's Constitution to make marriage equality the law of the nation. Currently, marriage equality is the law in 9 of Mexico's 31 states and the federal district of Mexico City.
The marriage equality movement in Mexico has been building quickly and steadily in the last several years. In late 2009, Mexico City passed legislation allowing LGBT couples to wed, and in 2010 the Mexican Supreme Court upheld the law and ruled that such marriages were valid throughout the nation. Progress continued in subsequent years.
Then last June, just days before the U.S. Supreme Court decided Obergefell, the Mexican Supreme Court issued its own marriage equality opinion. Unlike the U.S., the Mexican Supreme Court lacks the authority to issue one decision that directly and immediately invalidates all state marriage bans throughout the country. However, the Court held that any same-sex couple refused a marriage license anywhere in the country could seek a federal court injunction ordering that the couple be married and that granting the injunction was mandatory. The Court stated, "there is no justified reason that the matrimonial union be heterosexual, nor that it be stated as between only a man and only a woman. ... Such a statement turns out to be discriminatory in its mere expression."
In early 2016, the Mexican Supreme Court unanimously struck down the state of Jalisco's marriage ban in its entirety, stating that it "undermined" people's "self-determination" and violated "the principle of equality." Guadalajara, Mexico's second most populous city after Mexico City, is located in Jalisco. However, to have true nationwide marriage equality-where LGBT couples can simply marry without having to undertake the expensive and degrading process of obtaining a federal injunction-each Mexican state that currently lacks equality would need to enact its own legislation or the Supreme Court would need to invalidate each state's law in separate challenges. In an interview, Supreme Court Justice Olga Sanchez Cordero urged states to adjust their rules to avoid the Court declaring their laws unconstitutional.
President Peña Nieto, though, wants to cut through this cumbersome process and "guarantee every person's full marriage rights" once and for all through a constitutional amendment. The process of amending the Mexican Constitution is difficult, requiring 2/3 votes of both houses of Congress and ratification by a simple majority of the states. The President, however, noted that May 2016 polling showed that "66 percent of people fully or partially agree that same-sex marriage should be allowed under our Constitution." While acknowledging some resistance, he stated that "as President, it is my duty to ensure that the personal beliefs and customs of some do not limit the human rights of others."
Neither did President Peña Nieto limit his actions to marriage equality. He launched "an initiative to revise [the country's] entire legal framework" and "identify any and all laws that go against equality and propose the necessary changes to improve them." He also announced in May that Mexico will join the United Nation's LGBTI Core Group formed to promote LGBTI rights internationally.
We applaud President Peña Nieto's initiatives and the Mexican Supreme Court's unanimous support for marriage equality. We look for nationwide marriage equality to come to Mexico soon. And we are reminded that when we go to the polls in November, we will have a stark choice as to whether the U.S. continues to have a President that embraces LGBT pride and acts on it, and a Supreme Court that protects the constitutional rights of LGBT Americans.
Stuart Gaffney and John Lewis, together for nearly three decades, were plaintiffs in the California case for equal marriage rights decided by the California Supreme Court in 2008. They are leaders in the nationwide grassroots organization Marriage Equality.
Calling all HuffPost superfans!
Sign up for membership to become a founding member and help shape HuffPost's next chapter