When somewhere between a quarter and half a million people gathered to celebrate the annual PRIDE Festival and Parade last weekend in Minneapolis -- reported to be the third largest PRIDE festival in the U.S. -- a couple of Avatars for Peace decided to make their landing too! The two 10 foot tall blue beings dropped down at the Women Against Military Madness tent and were immediately welcomed by the diverse festival crowd on this beautiful June day. Bearing their own messages of love, the families attending the festival nicely complimented the N'avi message: "Say NO to Empire".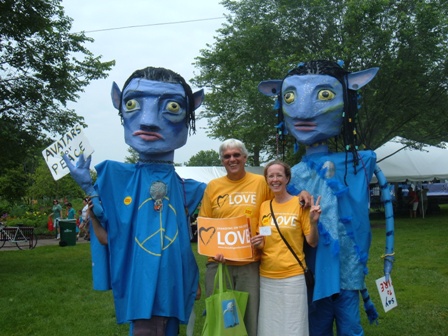 So for a few fleeting hours, life in the Minneapolis Park seemed beautiful even though the cruel wars and environmental degradation continued to rage at many other spots on earth. Finally the Avatars got tired of having their pictures taken and asked Scotty to beam them back to Pandora but not before telling us to give their best to the great movie director James Cameron. They also shared some wisdom gained in their inter-galactic travels. Neytiri advised human kind to ignore the propaganda of fear, hate, greed, and blind loyalty which her big ears could hear emanating from our radios and TVs. She said all that propaganda just makes people stupid and brings out the worse in everyone. Although the Avatar movie plot is an old one, the giant blue beings said it did have a happy ending. The Avatars suggested that all it would take for a happy ending on planet Earth would be to reverse the propaganda with a bit more courage, love, generosity and critical thinking to make life as beautiful as it is on Pandora.
The last thing the Avatars told us was it's not that hard, with even a little empathy, to become an Avatar for Peace and they're accepting new members!
(Full Disclosure: Avatars like this don't just appear out of the blue! It actually took four bags of flour, two boxes of cornstarch, a gallon of Elmer's glue, a large stack of newspapers and their creator spending nearly a month up to my elbows in papier mache paste to make these puppets come alive. Three days of braiding strips of black fabric--15 yards worth--went into their hairstyles alone. Then certain humans were recruited to function as the guts of the puppets, to animate them. Those inside admitted it's a little challenging to always see where you're going but anyone with guts can indeed become an Avatar for Peace.)