This story is part of The Power Of The Queer Dollar, a series about how LGBTQ+ people spend, save and navigate their financial lives.
Sometimes I think about how, in an ideal world, I would be surrounded by queer people at all times. The man behind the counter at my local deli, the neighbor who watches TV a little too loudly, or hell, anyone in my own family. Anytime I've wanted to be around other queer people, even in a city like New York, I've had to make a concerted effort to do so. More often than not, that means spending money — sometimes a lot of it — to go out to the club or bar.
Apparently, most American adults make their closest friends in the workplace. Queer people might not have the luxury of finding friends who share their identities in places like an office, where they go to school or even in their neighborhoods if they don't live in a city where queer people feel safe to live openly. And for some of us, the first step to finding that community might be as fundamental as leaving our hometowns and migrating to cities with bigger LGBTQIA+ communities like New York or San Francisco, a move that comes with its own set of wallet-shattering costs.
Once we're in these seemingly gayer cities, for better or worse, many queer people like me find that the swiftest way to find community is in nightlife. And the costs of clubbing and bar hopping — from getting ready, to transportation, to buying drinks at city-inflated prices — can add up in a big way.
Sólar Rodríguez, a 23-year-old who lives in New York City, tells me that as a trans woman, there's a long list of financial decisions she has to make just to be able to be around other people in the community. For one, she feels a pressure to look "a certain way" so that she's respected and not misgendered. This usually involves makeup, a pricey wig and an outfit that affirms her gender identity. "For me, when I go into a community, I want to be seen and accepted," she tells me. "When you look good, you feel good."
When Rodríguez was growing up in the Bronx, she often had to travel to Brooklyn, which is known for its more inclusive queer scene, in order to attend parties and events that were welcoming to trans people. Because those events often happened late at night, she would have to take Ubers to increase her own safety. This meant charges of upwards of $120 round trip — and that's not including any of the drinks or entrance fees she'd have to pay at the parties themselves.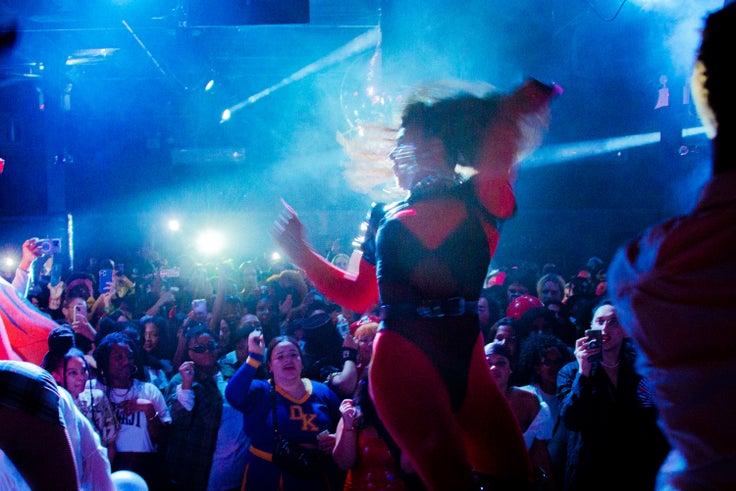 Although Rodríguez points out that the costs of going out are a huge burden for her, she also notes that the deeper problem lies in the fact that, as a trans person who works in the service industry, it's often a challenge to find a stable job in the first place. And it's not just a feeling she has — trans people are twice as likely to be unemployed than cisgender people, per the National LGBTQ Task Force. Rodríguez tells me that she was fired from her previous retail job in Manhattan earlier this year because the way she dressed was not "on-brand," which she took as a jab at her transness.
We might sometimes feel guilty for spending so much of our money on things that might not be considered "essential" to some people. But there's nothing inherently wrong with wanting to spend money on outfits and a night out if it is, indeed, an important way for someone to find community and feel affirmed in their identities, says Jennifer Dazols, a queer financial planner based in San Francisco. Instead of telling people what's important to spend money on and what's not, Dazols prefers to ask queer clients to actively think about what they value in their lives and go from there.
"When I work with clients, I try to help them make intentional choices around spending. Every dollar you spend is a tradeoff for the energy you spend to earn it," she says. "If someone finds that their clothing and makeup is essential to their identity, then that must be a highly valued expense. I would suggest finding tradeoffs in other areas where they could cut costs or put energy towards increasing their income."
In other words, if spending money on clothes and makeup is an important way for you to affirm your identity, you should make sure that you have enough money set aside for that and bump other expenses that are not as life-affirming further down the list. Those priorities will look different for everyone, so make sure you establish yours.
For some people, it's less clear-cut what to prioritize financially, or perhaps they have reservations about continuing to spend so much money on nightlife. Marz Turner, a 32-year-old who is from a "small, religious town" in North Carolina, is now a bar-back at a popular Brooklyn bar where a lot of young queer people hang out. They tell me that even before they lived in New York, nightlife had always been the main place where they found their community as a queer person of color.
Turner says that these days, they are starting to go out a lot less because of the costs involved and also because they want to cut back on drinking in general. It has, unfortunately, been more isolating.
"Unfortunately, sometimes it feels like the only time I get to hang with friends and unwind is at an event or show because the nighttime is when a lot of people are available and things are happening," Turner says. "I've been finding cheaper and more creative ways to spend time with my friends and explore the community but if you don't know where to look, nightlife is usually the first and easiest place to check out."
This is exactly where I've been struggling, too. It's hard not to feel like we're cutting ourselves off from our people if we're not actively spending money to go to the biggest queer party or hanging out at the local gay bar consistently. In that regard, I notice that I tend to have a lack of object permanence, believing that if I don't see queer people all the time, then my own queerness will somehow be gradually erased. And although going out once in a while might be no big deal, it's easy to get sucked into nightlife and end up going out every weekend or sometimes several times a week, all because I'm too afraid to get left behind.
While I understand that there are other, cheaper places to meet queer people outside of bars and clubs, I have been struggling to find them. In order to change that, maybe I need to start being less passive about how I move through the community and start being more active in suggesting and creating alternatives that are not only better for me financially, but physically and mentally, too.
"It's best that we get real about our finances and talk to our friends about activities that we can afford," Dazlos tells me. "It might mean picnics in the park instead of dinners out or hiking instead of a night of expensive clubbing. While it can feel socially awkward at times, leading a sustainable lifestyle is far more satisfying."