Pride season is upon us. What began as a few relatively small events in remembrance of the Stonewall Riots and to promote the acceptance of the LGBT community has evolved into an entire season, focused in June, that promotes acceptance of the LGBTIQA community - for those who are not familiar, that's Lesbian, Gay, Transgender, Intersex, Queer/Questioning and Allies. While travelers often flock to the epicenters of New York, San Francisco, London and Toronto to celebrate, there are so many more Pride events to explore. This year, instead of sticking to the tried and true, why not go a bit off the beaten path and explore an alternative celebration? With Pride season extending through September, there is plenty of time to add one (or more) of Cheapflights.com's top picks for Pride gaycations to your travel list.
The Tel Aviv Pride Festival is quite an event with festivities starting in late May and continuing through most of June. This year's theme is "Women in the Community." Arrive in Tel Aviv by June 1 to attend the Eurovision event at Gan Me'ir Park, a free concert put on by former Eurovision winners. The next day, check out the Forever Tel Aviv Waterpark Pride Event at Shefayim Water Park for 12 hours of non-stop fun with world-class music. The parade begins on June 3 at 10 a.m. in Gan Me'ir Park and runs through the city before ending with a famous sunset beach party at Charles Clore Park. Both the parade and party are free. On Sunday, head to TLVFest, the international LGBT film festival that takes place from May 29 to June 7.
Pro tip: Purchase the Pride Pass for an all-access pass to 100+ events including the waterpark, film festival and much more.
Sitges Gay Pride, Spain - June 16 to 20, 2016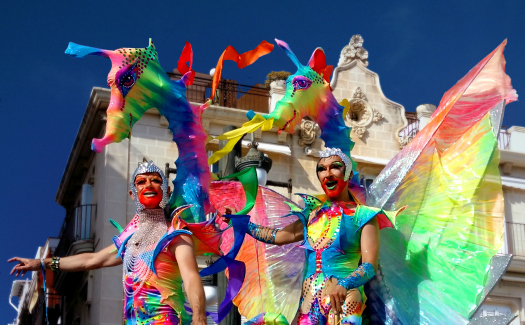 Image: Ybridex AngeloDemon, Gay_Pride_Sitges_2015_Drag via Flickr CC BY-SA 2.0
While PRIDE Barcelona is well known and worth the trip, there is another Spanish Pride celebration worth checking out. Sitges is a beach town just south of Barcelona that has become known as one of the most gay-friendly places in the world. The first Sitges Pride was held in 2010 making it a fairly new festival, and it has since become a five-day event packed with festivities in a dedicated Gay Village right at the seafront. The Gay village is open every day of the festival starting at 5 p.m. with an early opening of 3 p.m. on Sunday for the Parade warm-up. Most of the events at Sitges are ticketed so think about purchasing tickets ahead of time to avoid showing up to sold out events. If you're looking to combine gay pride with a beach getaway, Sitges Pride should be at the top of your list.
Pro tip: Buy tickets early to the WET-Sitges Pride Pool Party - it usually sells out and you'll want to be there.
Denver PrideFest may be one of the oldest and largest Pride festivals, but it's still not as well known as some of the other U.S. Pride celebrations. The official festival begins June 18 but festivities begin the week before. Kick off the weekend Friday night at the Denver Wrangler GLOW party (no cover charge) where you can rock out to the latest hits with DJ Barry Harris. Also check out Tracks, which has events all weekend long. While there is a cover at Tracks, you can save by buying tickets ahead of time. For the greatest savings, get a weekend pass,which will get you into all the events all weekend, starting on Thursday. On Saturday, the PrideFest festival takes place at Denver's Civic Center Park featuring two stages from 11 a.m. to 7 p.m., and it's free. The parade starts bright and early at 9:30 a.m. on Sunday and ends at the Civic Center Park where the festivities will continue. Latrice Royale and Nina Flowers will perform on Saturday and CeCe Peniston and Cazwell will perform on Sunday - be sure to check them out. Keep in mind, while Denver has legalized recreational use of marijuana, it's still illegal to smoke in public.
Pro tip: Arrive at the GLOW party in a Lyft and get a FREE drink - just show your receipt with 1700 Logan as the destination.
Dublin Pride, Ireland - June 22 to 26, 2016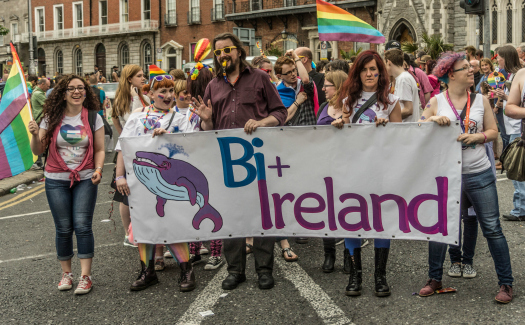 Image: William Murphy, DUBLIN 2015 LGBTQ PRIDE PARADE REF-105951 via Flickr CC BY-SA 2.0
When you think of Dublin, Pride probably isn't the first thing that comes to mind. However, there's more to this Irish city than Guinness, Jameson and St. Patrick's Day. The Irish have some of the most liberal attitudes towards the LGBT community, and last year Ireland became the first country to legalize same-sex marriage on a national level by popular vote. The Dublin Pride Festival takes place over five days and is a free event, though some hosted parties may charge admission. The parade takes place on Saturday, June 25, starting at 1 p.m. in the Garden of Remembrance, and the Pride Main Stage will be set up at Merrion Square. The smaller size of this celebration is heavily outweighed by the friendly and inviting atmosphere of this event.
Pro tip: There are plenty of LGBT venues on Capel Street, Parliament Street and South Great George's Street so you'll be spoiled for choice for parade after parties. Pick up the Dublin Pass for your stay for a complimentary airport transfer, and have access to bus tours and free entry to over 25 of Dublin's most popular attractions, sights and landmarks.
Nashville Pride has been growing each year, keeping pace with the Nashville's increasingly vibrant gay scene, home to an array of bars and clubs such as Play, Tribe, Blue Gene's and Lipstick Lounge. Festivities start on Friday evening with the Pride Concert at 6:30 p.m. in Public Square Park. You can buy advanced tickets that also include admission to the Festival the next day for $20. If you skip the concert, admission to the festival on Saturday is only $5 at the gate. While there isn't a traditional parade, the Nashville Pride Equality Walk takes place on Saturday starting at 10 a.m. and is open to anyone. The festival goes from 10 a.m. to 6 p.m. with events hosted by various bars and clubs following.
Pro tip: Sign up for the VIP list at Tribe and Play before you go to get discounted admission and information on their events. Just text "TRIBE" or "PLAY" to 83361.
San Diego Pride often gets overshadowed by that other California Pride celebration you may have heard of -- San Francisco Pride. However, don't let another year pass without checking out the full weekend of San Diego Pride events. You can get your fill of beach time and check out Unite Music Festival, which makes its debut this year. The parade begins Saturday at 11 a.m., giving you some time to recover from Friday night's festivities. Not interested in the music festival? Check out Pride on the Pier, which goes from noon to 8 p.m. on Saturday. On Sunday don your swimsuit and head to the THRIVE Rooftop Pool Party.
Pro tip: Buy tickets early as they go up in price the later you purchase. If you're attending Unite, consider the VIP pass. While the price tag looks hefty, it includes four drinks each day and catered food, making it well worth the price.
Northalsted Market Days, Chicago, Illinois - August 13 to 14, 2016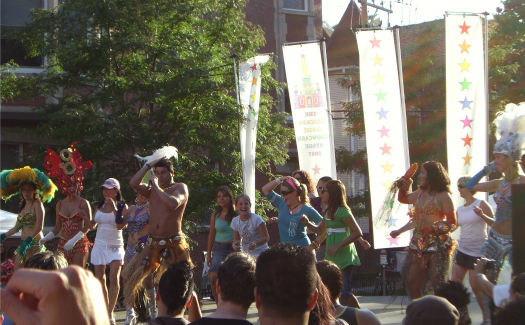 Image: chispita_666, Fiesta! via Flickr CC BY 2.0
Northalsted Market Days in Chicago is not Chicago's Pride Fest but rather a separate LGBT-centered street festival the month after Pride. This street festival takes place in the Boystown neighborhood along North Halsted Street with six blocks closed down. There are three music stages, restaurants and bar tents, funded in part by a suggested $10 donation for attendees. The atmosphere is festive and friendly so don't be surprised if you leave with some new friends. The festival is technically from 11 a.m. to 10 p.m., but festivities go well into the night as the bars and clubs host special events. Head to Sidetrack and hang out on the rooftop while sipping one of its famous slushies.
Pro tip: Get a large sangria at one of the bar tents and enjoy it while walking around the street festival.
Manchester's Pride often gets overshadowed by London Pride, but the Gay Village in this northern English city is definitely worth the trip. Canal Street offers clubs, lounges and bars for any celebratory style. Manchester Pride calls its festival "The Big Weekend" with events starting on Friday, August 26, in the Gay Village. This area is closed off to host the party and day tickets, which run around $25, or a weekend pass, which costs just over $35, are required for joining the fun. There are various music performances on stages within the gated area, the lineup of entertainment will be released in August. The parade is free to watch and begins at 1 p.m. on Saturday, August 27. On Monday, August 29, the festivities come to an end with the annual Candlelit Vigil in Sackville Gardens to commemorate those lost to the HIV virus.
Pro tip: Look at hotels just off Oxford Road/Wilmslow Road to save on accommodation. Buses run 24 hours on that route and the trip is a quick one.
Austin Pride, Texas - August 27, 2016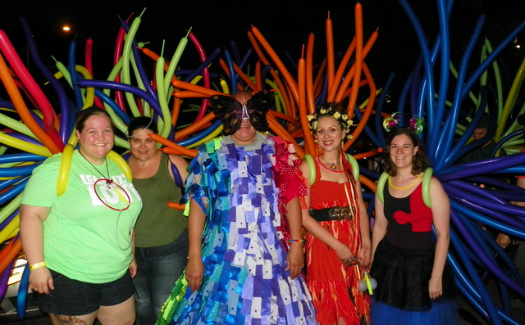 Image: Isaac "AYE MIRA" Sanchez, AYE MIRA!! via Flickr CC BY 2.0
Texas may seem unexpected for a Pride destination, but Austin Pride throws a pretty memorable event. It's quite late in the season so it can be a great way to wrap up your Pride pilgrimage. The Saturday festival goes from 11 a.m. to 6 p.m. in Fiesta Gardens. The Parade follows at 8 p.m. Admission to the festival is $20 at the gate or $15 if you buy tickets online. All surplus proceeds from the celebration are donated back to the community via the Austin PRIDE Cares program. The parade is free to attend and has two stages - one at Rain on 4th and the other just in front of The Paramount Theatre.
Pro tip: If you're into fashion, the Austin Pride week events includes the WERK Fashion Show on August 20.
Calgary Pride is really late in the season and coincides with Labor Day this year, making it a perfect way to spend the long weekend. The parade starts at noon with the "Pride In The Park" celebration immediately following. "Pride In The Park" features live music, a family zone with activities for young guests, various vendors, and the Village Brewery Beer Garden where you can enjoy a cold beer or cocktail. After the festival, celebrate at one of Calgary's gay bars or clubs such as Backwards or Twisted Element.
Pro tip: Get around downtown Calgary for free on the C-train - just make sure you get off before you exit the free fare zone.
Sydney Mardi Gras, Australia - Late February to early March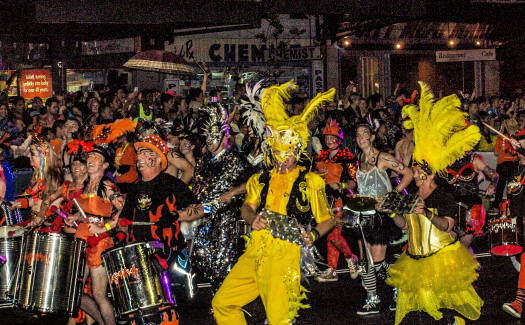 Image: Hasitha Tudugalle, Mardi Gras 2013 via Flickr CC BY 2.0
Start planning now to kick off next year's Pride season early with the festivities at Sydney Mardi Gras. This event is one of the largest LGBT festivals in the world and features various, not-to-be-missed performances over the course of a few weeks. While it's not Sydney's official Pride event, this festival is much larger and much more iconic. Look out for the 2017 dates and consider taking a winter trip down under - remember it'll be summer time there.
Pro tip: Pack your best costumes as there are tons of theme parties.
Popular in the Community