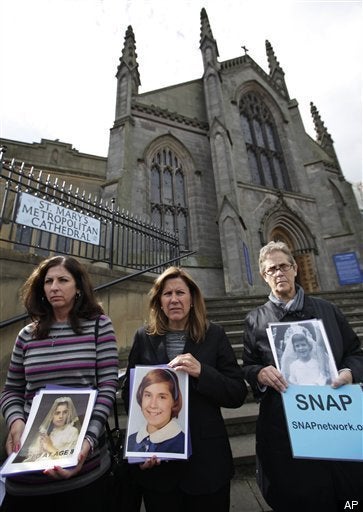 A new study conducted by three local advocacy groups paints a devastating picture of abuse by priests and other clergy within Chicago--showing that more than half of the Chicago Archdiocese's Catholic parishes have employed priests accused of sexual abuse.
Reform groups Voice of the Faithful, African American Advocates for Victims of Clergy and Sexual Abuse and the Survivors Network of those Abused by Priests (SNAP) spent five years combing through data for the report--and they believe the number of unreported cases of abuse could make that percentage even larger.
"Almost 60% of the parishes have had a publicly accused predator," SNAP founder and President Barbara Blaine said in a statement. "But the key word is 'publicly accused.' History, psychology and common sense tell us there are dozens and dozens of other offending nuns, seminarians, brothers, priests, bishops and lay employees who have molested or are molesting kids now whose identities are not known. And both groups of child molesters - known and unknown - have been at or worked at the 40% of the Chicago parishes that don't seem to have been affected."
From 1980 to 1990, 57.7 percent of Chicago parishes employed an accused priest, Bob Kopp, vice president of Chicagoland Voice of the Faithful told the Chicago Tribune. The study also showed the same parishes employing multiple accused priests over the years.
Saint Christina Parish on the Southwest Side employed four accused pedophile priests between 1966 and 1993--at least two of them overlapping. Saint Leonard Parish in Berwyn employed five accused pedophile priests between 1967 and 1996 and Saint Aloysius Church in Wicker Park employed five accused priests between 1951 and 1994.
Blaine said in a statement that while she believes nearly every Chicagoland parish has been affected, the study showed that "poor parishes and minority parishes have a disproportionately high percentage of problem priests."
A spokeswoman for the Archdiocese told FOX Chicago that church officials have not seen the study--but question the results.
"From the description of what we have heard, it appears that the analysis and conclusions are questionable," Colleen Dolan of the archdiocese told the Tribune.
Blaine told HuffPost Chicago Monday that the Chicago Archdiocese has consistently underreported cases of abuse, and that SNAP encourages victims of abuse to reach out to advocacy groups--not to the church.
"Silence protects predators. Silence endangers children. So please don't be silent. Speak up. Ask questions. Help overcome the paralyzing and devastating impact of secrecy, and make this church and this community safer for all."