A former Pennsylvania priest, one of hundreds of so-called "predator priests" accused of rampant child abuse in the state, has pleaded guilty to sexually assaulting a boy and attempting to assault another.
David Poulson, 64, who had been a priest in the Diocese of Erie for four decades, pleaded guilty to corruption of minors and endangering the welfare of children – third-degree felonies ― on Wednesday in Jefferson County Court of Common Pleas.
Paulson's victims were 8 and 15 years old when authorities say he began abusing them between 2002 and 2010.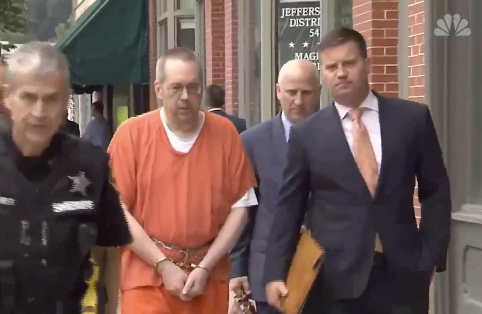 Poulson assaulted one of the boys more than 20 times in church rectories, forcing the child to give him confessionals about the abuse to "seek forgiveness for being sexually assaulted," Pennsylvania Attorney General Josh Shapiro said at a press conference.
"Today, Poulson is being held accountable and facing justice for his crimes," Shapiro said. "We will most certainly be seeking jail time for Father Poulson."
He faces a maximum of 14 years in prison and a $30,000 fine. His sentencing will take place in 90 days.
Diocese of Erie Bishop Lawrence Persico, responding to news of Poulson's guilty plea, said he remains "very saddened by every aspect of this situation."
"Many hearts have been broken, particularly those of the victims and their loved ones," he said in a statement. "As we did in the Poulson prosecution, we will continue to bring all reports of sexual misconduct with minors to the immediate attention of law enforcement, and fully cooperate with them during their investigation."
He is one of only two priests identified in the grand jury report who faced charges. The statute of limitations law in Pennsylvania allows child abuse victims to file criminal allegations only until they are 50 years old. The cutoff for filing civil claims is at age 30.
The Diocese of Erie had known for six years that Poulson was a sexual predator, but they did not report him to authorities until September 2016 when a subpoena was presented by a grand jury, the attorney general said.
Jim VanSickle, who attended a high school where Poulson taught in northern Pennsylvania, has spoken out previously about the priest sexually abusing him. He attended Wednesday's press conference with Shapiro, even though his assault claim is beyond the current statute of limitations, which prevents him from seeking legal justice against Poulson.
"Two of Poulson's victims received justice today, but because of outdated statute of limitations laws in Pennsylvania, other victims may never have their day in court," Shapiro said.
Shapiro called upon the Pennsylvania Senate to eliminate the criminal statute of limitations for sexually abusing children and create a "civil window" so that older victims can seek justice.
"The time of protecting powerful institutions over vulnerable children is over. The Senate has a clear choice to make: It can stand with victims and survivors of sexual abuse and vote yes on these reforms. Or, it can stand with the Church and its lobbyists and fail to act," he stated.
Popular in the Community