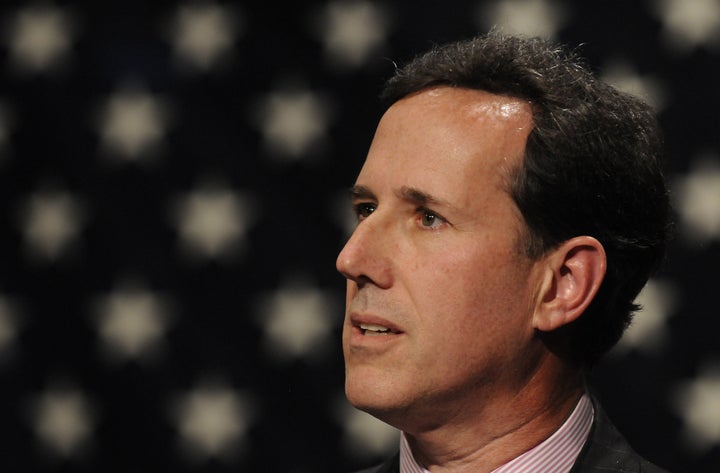 COLUMBIA, S.C. -- At this weekend's South Carolina GOP convention, Republican lawmakers warned that a second term for President Obama would kill America's independent spirit and guarantee a permanent big government welfare state.
If voters agree, look out. The Republican primary may turn out to be a wild ride, and a surprise candidate could emerge late in the game.
Sen. Jim DeMint, the Palmetto State's conservative firebrand, has for months said the upcoming presidential election "is our last chance to get it right."
"2012 is when we have to lay it all on the line," DeMint told a few thousand delegates. "We have to go to the mat."
"There's no question that we are moving, step by step, closer to socialism. So that puts democracy at risk to some extent," Rep. Tim Scott, a Republican who represents South Carolina's 1st district, said in an interview. "How much, how soon, I'm not sure. But if you're financially bankrupt, I think everything's at risk."
Rick Santorum, a possible candidate for the Republican presidential nomination, even raised the specter of Benito Mussolini's Fascist Italy in a speech here Friday night while explaining why his grandfather emigrated to the U.S. His uncle, he said, "used to get up in a brown shirt and march and be told how to be a good little fascist."
"I don't know, maybe they called it early pre-K or something like that, that the government sponsored to get your children in there so they can indoctrinate them," Santorum said.
It's unclear how deeply grassroots conservatives have internalized and processed these dire warnings from party leaders. Interviews with several delegates at the South Carolina GOP's annual convention this weekend revealed basic agreement with the rhetoric of Republican leaders. But many of them also had a hard time expressing the specific ways in which they see the growth of government and of the federal debt impacting their every day lives.
Jim Sullivan, a 63-year-old retired accountant, said, "The big issue for me is the level of federal debt. That translates into the government getting into your life." When asked for specifics, Sullivan said he had heard of new requirements for passports that will collect more information "of a personal nature that I don't think the State Department needs to know," such as employment and school history.
Dan Harvelle, the 54-year-old chair of the Anderson County GOP, said, "A lot of us think America is slipping backwards."
Under the "welfare state … more and more working people are supporting more and more non-working people," he said, also noting that local building codes have begun to incorporate provisions that have their origins in United Nations law.
In his keynote speech at a dinner Friday, Santorum said voters already get the big picture.
"It is now evidently clear to everyone in America what is at stake," he said. "Something big is happening and something very critical is at stake in our country."
But some acknowledged that the issues facing the country are complex, and the stakes are not always black and white. "It's a confusing time we're living in. I'm not sure anyone has a magic wand," said Charles Roberts, a 54-year-old engineer at a construction firm in Colleton County, west of Charleston.
And not everyone in the crowd agreed entirely with Santorum's grim warning.
"It's almost a naive statement, isn't it?" said Will Stallings, a 28-year-old activist working for a reform group aiming to create more school choice in South Carolina. "We vote on everything. Our votes matter. It's a disjointed statement."
But Stallings did not dismiss Santorum's case out of hand and agreed in part that America is at a turning point in its history.
"The value system of the country, the heritage that drives the country, is at risk," Stallings said. "There is a rally toward some core uniting principles of freedom and that is catching on. People feel out of control as the government gains more control."
That anxiety among the GOP base has fueled speculation of a late entry into the 2012 Republican primary, as far into this year as September, only four months before the Iowa caucuses kick off the official process. But so far no one has united the Republican party and the search for a great, exciting candidate continues to bedevil the GOP.
Over dinner in Greenville Thursday night, the mood among a handful of state legislators and Republican consultants bordered on despondent as they discussed the 2012 field. One lawmaker said that if they could combine Newt Gingrich's ideas, Haley Barbour's wit and Santorum's age then they would have a great candidate. The appetite was overwhelmingly for someone who is not yet on the scene. But they didn't really even seem to have anyone in mind as a potential dark horse.
Several people at the state party convention mentioned the name of Gov. Chris Christie of New Jersey, though he has sworn not to run. After DeMint's speech, one lady yelled out for him to run and two others came up to him to ask him to do so.
Former U.S. Ambassador to China Jon Huntsman is likely to announce a presidential bid soon. Indiana Gov. Mitch Daniels is seriously weighing such a run. And despite the fact that Rep. Paul Ryan (R-Wis.) appears resolutely opposed to becoming a candidate, his name also continues to draw attention.
But political operatives have stressed the limits of a potential surprise candidates. Building a winning campaign and fundraising organization takes months to build, they say.
However, the level of concern about the 2012 election could make the conventional wisdom less binding.
There is the "potential for serious upheaval," said LaDonna Ryggs, the chair of the Spartanburg Republican Party.
Calling all HuffPost superfans!
Sign up for membership to become a founding member and help shape HuffPost's next chapter