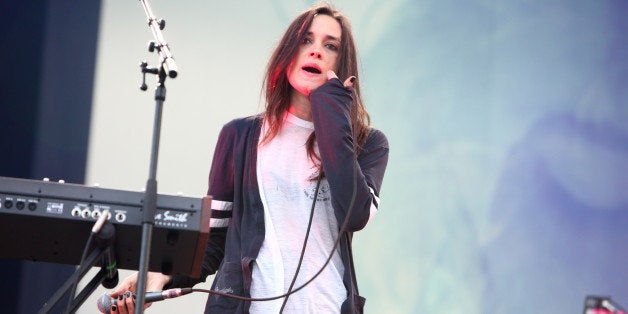 We discussed clickbaiting, the pressure to chase traffic, and how the role of the music journalist has changed due to universal access to music and a digital soapbox. If everyone's a music critic, what makes us special?
The conversation continued through the evening, post-panel, as I thought of things I wished I'd said, better ways to phrase what I did say (why was I talking about 2Pac for so long?) and angles I hadn't previously considered.
Here are my top 5 takeaways.
Authority.
Does anyone care what a music journalist thinks, when we can so easily just decide for ourselves? I think people do. We check to see how our experiences compare to those whose opinions we admire, or simply to know what others are saying.
Luke made a good point -- in a world where the internet can virtually give us an opinion on anything, what we gravitate towards, and therefore desire, is an authoritative voice to tell us what's cool, what's actually good, and also, perhaps, what isn't, and why. We also discussed the need for "hard" journalism, the need, as I see it, for critics who are unafraid to say something sucks and why, not simply because it's funny, as Vice has perhaps done to death, but because it keeps people honest.
Access.
Now that everyone has access, what is the music journalist's role?
In the early '90s, I was a rap-obsessed teenager without cable. The only way for me to discover new records, from Pete Rock and C.L. Smooth and the Pharcyde to Biggie, was to listen to the radio and read music magazines and liner notes.
Whoever had the music first was the coolest. Music journalists, therefore, were cool, and I cared what they thought. They had the music first, sometimes months in advance, and the only way to know what the new Beastie Boys album sounded like was to read their review. Now, thanks to Pitchfork's Spotify app (and the death of Google Reader), one of my favorite things on the Internet, people can decide what to listen based on Pitchfork's score, listen to the album while they read the review, or skip the review, cherry pick all the top-rated records, and form their own uninformed/untainted opinions.
Meanwhile, now that everyone has access to the music, and via social channels, the artists themselves, our access as journalists has diminished. We have less time with the record, for fear of bootlegging, and less time with the artist due to shrinking budgets.
In 2002, when press junkets were still in full-swing, artists would have "online media days." You could virtually feel them rolling their eyes as they delivered their one-word answers. A notable exception was Kanye West, who literally wanted to freestyle rap to anyone with a phone. I recall an interview we did, as he was on his way to record "Two Words" with the Harlem Boys Choir in Long Island. He kept losing reception, and calling back rapping furiously. I never got to ask him any questions, but I did get to hear a large chunk of his debut album, and conclude a) this guy's pretty serious and b) this guy is insane. In 2014, the idea that I once had phoners scheduled with Jay-Z or Nas is equally insane.
Interviews don't seem to be as valued as a promotional tool anymore, so the access we have as journalists has diminished. SXSW used to be a place for bands to make an impression, both on fans and press. One year, I did over 85 interviews there over a four-day period. Now it''s a place for bands to make an impression on CEOs, score sponsorship, or branding. I don't think I did a single interview there this year, nor at Coachella. Trying to secure interviews at Primavera thus far has proven tricky. Bands are in Barcelona, they don't want to do an interview, they want to eat Paella, drink wine and hang out on the beach. I feel them. I want to do the same.
Respect.
At Coachella, I noticed what I took to be a diminished respect for the press. Members of the press were given essentially the same access as a General Admission festivalgoer, with bonus entrance to the "press area" a depressing trailer park with dodgy WiFi and free popsicles.
This was purportedly a place for bands to meet press and conduct interviews, but nobody in their right mind would want to spend time there, especially not a touring band at a festival on a beautiful day in Southern California. Press were no longer allowed access to the VIP or artist areas. To conduct interviews, no easy task at Coachella, due to reception (admittedly, less of a problem this year), tight schedules and general festival confusion, it was suddenly even more difficult to meet artists in a comfortable environment, where they could have a beer and talk about whatever they wanted to promote. To me, it spoke volumes about Coachella's interest in the press. What do they need to facilitate press for, when they sell out before they announce a lineup?
The artist area, meanwhile, was overrun with Perez Hilton mainstays, bottle-service enthusiasts and hangers-on. There were few actual artists. I was thinking about this while loitering in the VIP Primavera, hanging out with John Talabot, an artist on tomorrow's bill, watching Future Islands with him, then heading over to watch Charles Bradley with Future Islands, who had never seen him before. None of which would have been possible without access.
Curiosity.
The way people consume news has changed - we just want things summarized for us, in 140 characters or less.
Laura Snapes said that NME used to run 8,000 word features, presumably before the advent of the online edition. She now has less than 8,000 words to work with her entire features section. Are people curious enough to read an 8,000 word interview or opinion piece anymore? Are people willing to do so online? Are our attention spans shot? Can our interest overpower our weak and scattered attention spans? Do we only care to know the best tracks and latest news?
Advice for Writers.
To conclude the panel, Luke asked each of us for a word of advice to aspiring music journalists. What came to mind, which is as much advice for myself as for anyone else, is as follows:
Read. Read everything you can. Read all the time. If you don't read, how can you expect anyone to value what you write?
Write. Write all the time. For yourself, for others, for work, for fun. Write things you never publish, things no one will ever see. And finish them. You can't be a writer if you don't write, and you need to finish what you have start.
Don't quit. No matter how embarrassing it is for you, how many times you have to write for nothing or pitch someone half your age, you have to keep going. You'll need a thick skin. You will have hundreds of humbling experiences as a writer. I've been writing for publications for over a decade, and have made an actual (not competitive, but reasonable, if you like eating Trader Joe's for every meal) living, solely as a writer for the past six years, and still virtually no one knows who I am. I assume this is a pretty universal experience, until I either publish something of real note (either because it's so good or because it's so bad and offensive), and in either event, I will, most likely, return to relative obscurity/a place where people perpetually pluralize my last name shortly thereafter.
Anyway, long story short, you can't write if you don't write, and you probably won't be very good unless you do it consistently, because you have to, and because you love to do it.
If you need inspiration, read. To paraphrase an early tweet by the inimitable rapper Action Bronson, back when he was just a guy I knew, before any of you Internet critics had ever heard of him, "Read a fuckin book, man."
REAL LIFE. REAL NEWS. REAL VOICES.
Help us tell more of the stories that matter from voices that too often remain unheard.