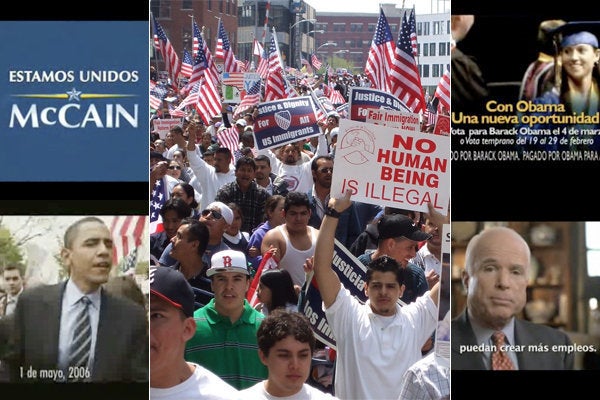 In a year of political milestones, prepare to add one more to the heap. Come this fall, Spanish-speaking Americans -- a community not always paid the greatest attention by presidential candidates -- should be just about as sick of political ads as the rest of their compatriots.
With Latinos appearing key to the respective general election strategies of both John McCain and Barack Obama, experts say spending on Spanish-language media is set to shatter the previous record of nearly $9 million, the overall number achieved by both parties and outside groups during the 2004 race between President Bush and John Kerry.
"The spending is going to be unprecedented," said Simon Rosenberg of NDN, a liberal group that itself spent over $2 million in Spanish-language ads in 2004.
Cecilia Muñoz, a senior vice president at the non-partisan Latino advocacy group National Council of La Raza (NCLR), agreed. "It's hard to overestimate how important [Spanish-language media] is going to be," she told the Huffington Post.
While no one expects the Republican Party to win the Latino vote outright, the difference between McCain earning 30 or 40 percent of the vote could be the difference between defeat and victory in key swing states like Florida, New Mexico, Colorado and Nevada. Likewise, the Obama camp's desire to expand their political map -- outlined by campaign manager David Plouffe last week -- rests to some degree on strong performance among Latinos. And while most current polls show Obama with a healthy lead over McCain in that demographic contest, a potentially decisive 26 percent of that community remains undecided, and up for grabs.
Given the potential impact for both sides, Spanish-language ads could well wind up becoming notable for reasons beyond their anticipated historic number, as the parties' political messaging to the Latino community looks destined to become more substantive and issue-oriented than in past cycles. And, as it happens, the issues in play for that community -- Obama's biography and McCain's desire to hoist the maverick mantle -- are ones that stoke interest in the wider electorate, as well.
In the former instance, Latino voters remain less familiar with the Illinois Democrat than they were with his primary opponent, Hillary Clinton (for whom they largely voted). With McCain, the pivotal issue will likely become whether his once unimpeachable brand with Latino voters, established during his significant and politically risky work on comprehensive immigration reform, suffered irreparable damage during what many in the Latino community viewed as a "xenophobic" Republican primary process -- during which McCain had to disown his own immigration bill in order to survive. (And if McCain touts his past ideological apostasy on immigration too loudly this fall, he could not only look like a flip-flopper, but manage to depress turnout among his own base at the same time.)
Given all these potential benefits and pitfalls, NCLR's Muñoz says the campaign for Latino votes is likely to be more complex in addition to more expensive than in years past. While George Bush badly outspent his Democratic rivals in 2000 and 2004 with paid media, he also skated through the community's vetting process by articulating broad, uplifting themes. By contrast, the increasingly contentious politics of immigration mean that Latino voters will expect more detail from Obama and McCain this year.
Citing their in-depth investigation of policy issues important to Hispanics that "no English-language media covers," Muñoz claims that Spanish-language stations like Telemundo and Univision have become go-to news sources for many bilingual Hispanics, including herself. "People who are selling us our coffee will say, 'Good luck at the markup on Thursday.' Or, 'Can you please tell me about the [Senator John] Cornyn amendment?' They're following the legislative process at a level of detail unlike anything else," she said.
Barack Obama's campaign has signaled that it understands the importance of competing not only on the field of paid media, but in dispatching surrogates for Spanish-language interviews with the Hispanic press. Vince Casillas is Obama's point person for scheduling those appearances. In an interview with the Huffington Post, Casillas described the Hispanic media as a reflection of the Latino community overall. "They sincerely want to get to know the Senator," he said, adding that much of the current fascination still revolves around Obama's biography, as it did during Univision's recent interview with Obama's half-sister.
"And while they want to know where he stands on issues, often times they just want to know who he is, what his background was like," Casillas said. "[Univision] was just really interested to talk to his sister about who was he before all of this happened in the past 17 months, after he declared his candidacy. I think a lot of people in the Latino community are just starting to get to know who he is."
Still, while Obama is filling in his backstory with Latino voters, strategists are cautioning him against missing the opportunity to hit McCain for his apparent flip-flopping on immigration reform, which the Illinois Democrat did during his appearance at a conference organized by elected Latino officials last week. Rosenberg, from the New Democrat Network, is of the opinion that "McCain went from a champion to a betrayer" on the issue of immigration. "That issue could be devastating if used correctly by the Obama campaign," he said.
For her part, however, Muñoz says its not clear whether McCain has suffered lasting damage among Hispanic voters, who she said are "famously brand loyal."
Meanwhile, McCain has tapped Lionel Sosa, Bush's Spanish-language ad wizard, to secure his reputation through advertisements -- some of which are already on the air in Nevada. (Sosa did not respond to the Huffington Post's request for an interview.)
But even as the Arizona Republican pushes aggressively to compete for the Latino vote, there are some early signs of the future heartache doing so could bring to his campaign.
At last week's conference of elected Latino officials, McCain answered a question about immigration reform by calling it his "top priority yesterday, today, and tomorrow." When that quote was isolated and posted on the blog of the conservative National Review magazine, a McCain aide quickly emailed the magazine's White House correspondent to massage more context for the outlet's readership, noting that "border security" was the very next note hit by McCain -- lest the Republican base get the wrong idea.
The next stop on the Latino conference circuit for both candidates will be the one hosted by Muñoz's organization in July. And while she says she believes McCain, with whom she has worked with for years, "has a good heart" on the issue of immigration, she notes that he faces a tough choice.
"Speaking personally," she said, "when he talks about stepping back from immigration reform, I don't know what that means. ... Is the John McCain who's running for the presidency the same one we thought we knew? That's the open question. I would tell Sen. McCain ... to stand up there [at our conference] and say, 'I'm the guy who swam against my party and fought for you. I know there are xenophobes in my party. And I'm not gonna stand up for them.' I don't think he can simultaneously ask for the votes of xenophobes and also ask for the votes of the people they hate."
In preparation for NCLR's July conference, Muñoz told the Huffington Post she has spoken with both campaigns in the last week. "Frankly," she said, "McCain's campaign is really struggling with all of those issues." But she also noted that Obama can hardly expect a cakewalk given his short time on the scene. "In fairness, Obama's campaign is struggling to show that they really mean it, too."
Let the advertising deluge commence.
Popular in the Community