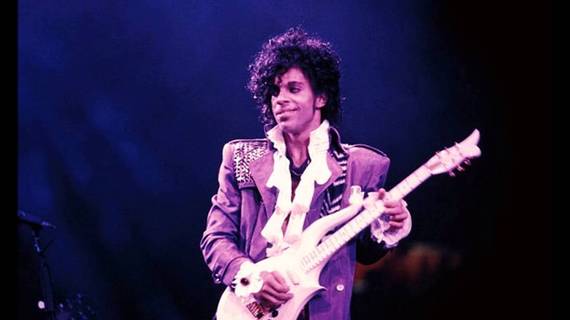 I have Prince's Purple Rain album in heavy rotation in my music stream - and it's been that way without interruption since 1984.
The artist recognized by most as a musical genius released the album just as I was starting to figure out my place in the world. He was provocative, unconventional, fearless and a new type of black man sporting lace blouses and high heels. I was 16 years old.
So the influence of a lifelong rebel on a young girl eager to rebel explains why - almost three decades later - I didn't hesitate one minute when a friend called me in Florida to tell me Prince was doing a show in Chicago. Of course, I would be there. I knew that Prince would break boundaries and defy society's expectations. This was always instructive to me.
Like the rest of the misfits crowded into the United Center in 2012, I saw in Prince the passion to embrace his own identity within the confines of a world that still struggled to categorize and limit him. Even firmly planted in middle age, Prince pushed the limits of what it meant to be a black man. Prince was unabashedly himself. Since my first introduction to him in the early 1980s, I have been moved by Prince's fearless commitment to destroying our expectations about music, style, sexuality, gender norms, artistic expression and conformity. This was an especially important lesson to me as I struggled with my own identity as a weird black kid growing up in Miami.
Prince disrupted the societal confines that fence in minority groups. Whether rooted in stereotypes about race, sexual orientation or gender, these barriers can be crippling. Prince set an amazing example of what it meant to push the limits of authenticity and self-expression. He gave new meaning to the familiar advice we've all heard from our mothers. Indeed, the phrase "be yourself" was set on fire by Prince's style, music savvy, range, and even his penchant for stilettos.
Since his death April 21, other writers have recognized the important role Prince played beyond the musical arena. He has been celebrated for his activism. From his first appearance on Saturday Night Live, where he belted out "Partyup" ("You're gonna have to fight your own damn war because we don't want to fight no more"), to his special Rally 4 Peace performance in Baltimore last year for Freddie Gray, he used his music and popularity to raise awareness about social justice issues. Since his death, Prince has been outed as a generous anonymous donor who used his wealth to privately fund numerous projects to help others; his cause has been cited as "humanity." He proved as eclectic in his philanthropic efforts as he did in other parts of his life, funding a historic Louisville library, the Black Lives Matter movement and #YesWeCode, an initiative that teaches kids from low-opportunity backgrounds how to program computers, and points their way towards technology careers.
But Prince's influence on nonconformists cannot be overstated. His unpredictable appearance and actions blazed a trail that helped free others from the confines of gender, race and other societal boundaries.
Prince was a straight black man who played his first televised set in bikini bottoms and knee-high heeled boots, epic. He made me feel more comfortable with how I identify sexually simply by his display of freedom from and irreverence for obviously archaic ideas like gender conformity, etc."
In America's music industry, where black men are particularly saddled by heteronormative culture, Prince was truly a revolution. His gender-fluidity set him apart. In the Reagan era, his shameless sexuality made him a provocateur. Later in life, his religious conversion and clean lifestyle made him equally provocative. Whatever your expectations were, Prince shattered them.
And much like his ability to seamlessly blend rock and roll, funk, and R&B in his music, Prince had the ability to bring together audiences of different groups. I saw it first-hand at his concerts. Each time I went to a Prince concert, I was joined by rockers, college kids, middle-aged moms and black men in purple fedoras. It was where the church deacon board met the club.
I also witnessed Prince's disruptive power when he played in my hometown as the halftime show for the 2007 Super Bowl. Prince rocked a do-rag at the iconic Miami Super Bowl Performance. I had seen them hundreds of times on brothers in Liberty City. But when Prince donned one -- and complimented it with his signature eyeliner and high heels -- even the do-rag took on a new meaning. It was at once a nod to the 'hood and a provocative challenge to the carefully manicured image the industry usually imposes on artists. Prince had already famously rebelled by painting the word "slave" on his face. This more nuanced rebellion was accomplished through an image that refused to bend to anyone else's beliefs. For Prince, coupling a turquoise suit and a do-rag made perfect sense.
Yes, Purple Rain is an unqualified masterpiece. And Prince is an icon. But above all, Prince was a revelation to misfits, disruptors and other oppressed people. His legacy gives us all permission to be fearless, be unconventional and break boundaries. The lifelong rebel who raged against the machine while wearing purple heels left some big shoes to fill.
Calling all HuffPost superfans!
Sign up for membership to become a founding member and help shape HuffPost's next chapter