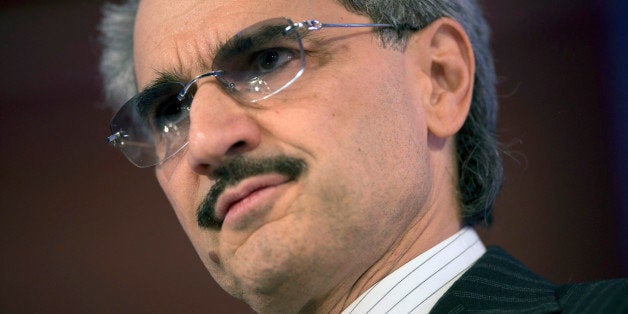 The world will never again see the price of oil at $100 per barrel, according to one of Saudi Arabia's biggest investors.
Prince Alwaleed Bin Talal Bin Abdulaziz Al Saud, the chairman of Kingdom Holdings, spoke with CNBC's "Squawk on the Street" following the death of his uncle, Saudi Arabian King Abdullah. While he admitted that his country—which derives 90 percent of its budget from oil—is feeling the pain of the commodity's collapse, he predicted that Saudi Arabia would not be the first to blink.
He said that a "confluence of events" have led to the fall in oil's price, not—as some have suggested—a Saudi plot to harm America's energy industry.
"I can assure you that Saudi Arabia is not using the oil price right now to impact the fracking industry in the United States," he said, adding that "there's an oversupply and demand is not so high."
The lack of balance between oil's supply and demand means the road back to $60-$70 range will be "not that easy, not that quick," he said.
Given this weakness in oil's price, Alwaleed admitted that the global strength of the Organization of the Petroleum Exporting Countries (OPEC) has weakened.
"I would not say that OPEC is dead, but I think the impact of OPEC as it was years ago is not the same for sure today," he said.
He allowed that "there's a game of who should cut production first" between OPEC countries and non-OPEC nations.
"Eventually there's no doubt that some countries have to blink and reduce their production... I don't see Saudi Arabia or the OPEC countries blinking," he said.
Alwaleed said he thought oil's price could lead to political turmoil in countries like Venezuela that depend so much on the commodity and "don't have a lot of extra wealth on the side for that rainy day"—unlike Saudi Arabia and its neighbors.
Weighing in on the global currency market, Alwaleed simply said "I'm a dollar man." As for equities, he said Kingdom Holdings will continue to maintain its diversified strategy, but that it was interested in some new company's like China's JD.com.
Following reports of Abdullah's passing, former crown prince Salman bin Abdulaziz succeeded him as the new ruler of the world's top oil exporter.
Salman is a reformer at heart, Alwaleed said, and the country will continue down the same paths of financial, social, and political reform as during Abdullah's reign.
Alwaleed said his family had just concluded the burial of the late king, and that there would be a meeting later that night to pay allegiance to the new king and crown prince.
Reflecting on recent political turmoil in Saudi Arabia's southern neighbor of Yemen, Alwaleed said the resignations of that country's prime minister and president means "clearly we have seen the hands of Iran infiltrating that country through its blatant and open support of the Houthis there."
He called it an "unfortunate situation" as Yemen's political vacuum could eventually be a "seat of trouble" in the region.
Calling all HuffPost superfans!
Sign up for membership to become a founding member and help shape HuffPost's next chapter