The Duke of York spoke to members of the media about the loss of his father, Prince Philip, who died Friday at age 99, and said his death has left a "huge void" for Queen Elizabeth. The Duke of Edinburgh and Her Majesty were married for over 70 years.
"I feel very sorry and supportive of my mother, who's feeling it, I think, probably more than everybody else," the duke said. "The queen ― as you would expect ― is an incredibly stoic person. She described his passing as a miracle."
"She described it as having left a huge void in her life. But we, the family, the ones that are close to her, are rallying around to make sure that we're there to support her," he added. "And I know that there is a huge amount of support not just for her, but for everybody, as we go through this enormous change."
Andrew said Philip was "remarkable" and that he loved having him as a father.
"We've lost almost the grandfather of the nation," he added.
The Duke of York, who has been accused of raping a minor allegedly trafficked by Epstein, announced in November 2019 that he was withdrawing from his public duties for the "foreseeable future" after a disastrous BBC "Newsnight" interview. Speaking with journalist Emily Maitlis, Andrew failed to condemn his former friend or express sympathy for his victims, for which he later apologized.
"I can only hope that, in time, they will be able to rebuild their lives. Of course, I am willing to help any appropriate law enforcement agency with their investigations, if required," he said.
The duke has repeatedly denied the rape allegations against him and has yet to cooperate with any law enforcement agency.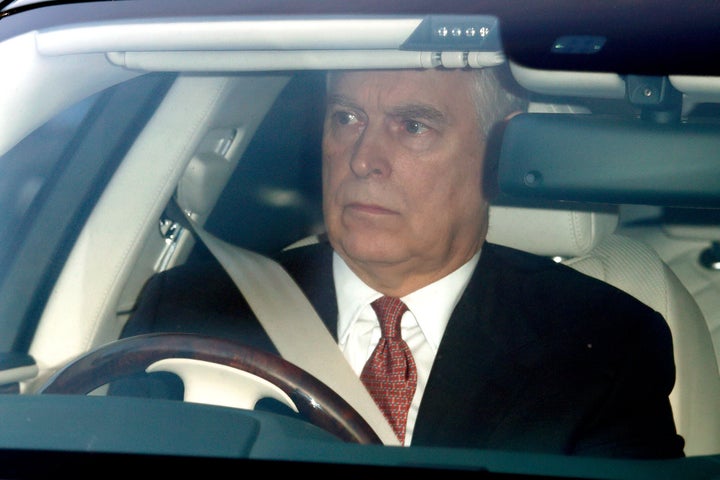 Andrew's comments about his father over the weekend are officially his first public statements since November 2019. He briefly returned to the public eye in early 2020 for a private engagement with China's ambassador to the U.K., but they didn't visit in any sort of official capacity.
If you have tips or comments regarding Prince Andrew, email carly.ledbetter@huffpost.com.
Popular in the Community