Prior to visiting Prince Edward Island, Canada this summer, I only knew one thing about the island - it was the home of Lucy Maud Montgomery's beloved literary heroine, Anne (with an "E") Shirley. Montgomery grew up on the island and in 1908 wrote "Anne of Green Gables." It became an instant hit selling more than 50 million copies and translated into 20 different languages. That book and its subsequent sequels are the cornerstone of the island. Or so I thought.
Yes, there are numerous Anne-related things to see and do throughout P.E.I., but there are just as many other things that make P.E.I. a must-see destination. As I came to know, P.E.I. is also the birthplace of Canada's confederation, has an extensive maritime history, a significant farming industry, delicious seafood and gorgeous beaches and scenery.
Getting to P.E.I. isn't the most convenient trip, but worth the effort. If you come by plane, and want to explore more than P.E.I.'s largest city, Charlottetown, having a car is a must. There are several affordable rental options and driving around Prince Edward Island is easy and picturesque. The island is abundant with charming farmhouses dotting lush farms. If you have read any of the "Anne" books, a drive through the beautiful landscape brings the books to life.
There are a number of historical sites, must-see attractions, places to dine and shop throughout Prince Edward Island but here are my favorite discoveries:
Beaconsfield Historic House - This home, built in 1877 for James and Edith Peake, is located on the southern tip of Charlottetown and overlooks Charlottetown Harbour. When it was built, the house was considered one of Charlottetown's most elegant homes (quite notable in Charlottetown's industrial boom days). It featured the finest in building materials, craftsmanship, but was also equipped with the latest conveniences of the time including imported chandeliers gas lighting, and marble fireplaces supplemented central heat. The Peakes enjoyed the house for only a short time though. James Peake's business was sailing ships at a time when the industry was moving toward steam technology . He wrongly thought the development was only a passing fad. Over leveraged to support his failing business, he lost his fortune and had to leave his beloved home. In 1883, Beaconsfield was sold to Henry Cundall and after his death in 1916 the house became a ladies' residence and then student nurse housing. It's been lovingly restored and open daily for tours. 2 Kent Street, Charlottetown. Admission required.
Anne of Green Gables Heritage Place - This is pretty much the end-all and be-all for Anne of Green Gables fans. Green Gables, which was owned by Lucy Maud Montgomery's cousins the MacNeills, is one of the most notable literary landmarks in Canada and is a National Historic Site. Built in the mid-19th Century, the farmhouse and surrounding area was the inspiration and setting for Montgomery's red-haired, pigtailed heroine. Surrounding the farmhouse are the "Haunted Woods," "Lover's Lane," and "Balsam Hollow," which served as inspiration for Montgomery's novels. Today you can hike through them. The exterior of the farmhouse is pretty much in its original state, however the interior furnishings and décor reflect what was common in the Victorian Period, as well as many references to the Anne novels. Buy the combo ticket for access to Lucy Maud Montgomery's Cavendish Home, which is a short walk from the Green Gables farmhouse and passes Montgomery's gravesite. The Green Gables Heritage Place is open April through November and Montgomery's Cavendish Home is open year-round. Green Gables is located at 8619 Route 6 in Cavendish and the Cavendish Home is at 8521 Cavendish Rd on Route 6. Admission required.
Orwell Corner Historic Village - For a detailed example of 1800s farm life on Prince Edward Island, a visit to the Orwell Corner Historic Village is a must. In addition to seeing an extensive collection of farm equipment at the Prince Edward Island Agricultural Heritage Museum, there are also original buildings and activities: a church and cemetery dating back to 1861 and 1884, respectively; the Orwell schoolhouse that opened in 1895; Clark's General Store and House; a community hall (with occasional live performances); an active farm with horses, goats, chickens, cows and other farm animals; demonstrations at the blacksmith and shingle shops; and much more. Orwell Corner Historic Village is open from April to October. 7 Old Uigg Road, Orwell. Admission required.
MacPhail Homestead - Originally built as a family farm in 1829, the MacPhail family bought the property in 1864. Their son, Andrew, who was born that same year, grew up on the farm but did not care for the life of a farmer. He devoted himself to education, eventually obtaining Arts and Medicine degrees. He moved to Montreal and had a very successful medical practice. Through his professional successes and unfortunate personal tragedies though, his heart was always with Prince Edward Island. Andrew would return to PEI during the summers to oversee continued work on the house and farm thereby supporting the local economy. At the time of his death, Andrew was a renowned doctor, scholar, author and a pioneer in farming techniques. Guided tours of the Homestead give visitors an in-depth look at Andrew and his many accomplishments, as well as his life at the farm. They also have a wonderful dining room serving lunch, brunch, tea and special dinner events. Note: guided tours are not conducted when lunch is served. The MacPhail Homestead is open Wednesdays through Sundays from June to November. The gardens and grounds are open 7 days a week, year-round. 271 MacPhail Park Road, Orwell.
Prince Edward Island Preserve Company - This hidden gem is a must when visiting Prince Edward Island for both shopping and dining. Serving breakfast, lunch and dinner, the dining room is a beautiful, open and airy space with large windows overlooking the River Clyde and extensive 12-acre "Gardens of Hope" and butterfly house. Accompanying many breakfast dishes and included in many of their desserts is their famous homemade preserves and jams. There is also a store that sells a wide selection of gifts and food products, but the star of the shop is their preserves and jams and in particular the strawberry rhubarb! The best part is they will inexpensively ship everything to the United States so there is no worry about breaking things or airport security. The restaurant is open mid-May through mid-October and the retail shop is open year-round (seasonal hours apply). 2841 New Glasgow Road, New Glasgow.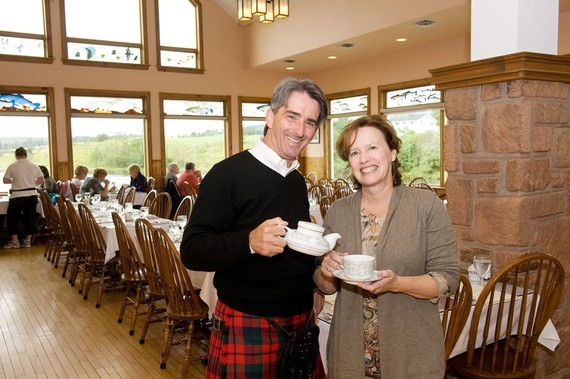 Prince Edward Island Preserve Company Owners Bruce and Shirley MacNaughton
Photo: P.E.I. Preserve Company / Lousie Vessey
Leonhard's Café and Restaurant - If Alexandra Leonhard hadn't come to Prince Edward Island to study English, P.E.I. would not have been lucky enough to have Leonhard's Café and Restaurant. Owned by husband and wife Axel and Alexandra Leonhard, this place is a beautiful jewel-box of take-out café and cozy restaurant with some amazing German-inspired specials. Serving breakfast and lunch every day from 9am - 5pm, many of Leonhard's dishes come with their famous (and delicious) homemade breads. The eggs benedict with smoked salmon is not to be missed! 142 Great George Street, Charlottetown.
The Charlottetown Festival - In addition to their signature musical, Anne of Green Gables - The Musical, the Confederation Centre of the Arts has an excellent program of musicals and concerts including Evangeline (Sept 14-Oct 10), An Evening with Jann Arden (Oct 17), Oh Canada, What A Feeling (Oct 27) and David Myles - It's Christmas (Dec 5). And in the summer be sure to check out "We Are Canadian!" in the courtyard of the Arts center. It's a great musical tour of the cultures that make up Canada. The Confederation Centre also features a large historic art and relic collection for the island, including exhibits on Canadian confederation and the early French Acadian settlements.
The Rustico Bay Wool Sweater Company - This is a great little store that carries a wide and unusual selection of woolen products. Many of their sweaters and accessories are made by local knitters who work out of their homes. The staff are extremely friendly and knowledgeable about the excellent products, as well as other island sites and activities. The store is open daily from May to October and year-round online ordering. 7218 Route 6, North Rustico.

The Great Canadian Soap Company - Be on the lookout for signs along the road for The Great Canadian Soap Company because this is another of those hidden gems on Prince Edward Island. Run by Em Zember and her family, this is an amazing farm store for all things made with goat's milk. Walking into the shop you are immediately surrounded by shelves and shelves of goat's milk soap. Although it's relatively small, you don't know where to look first. The soaps and other products are made from their own goat's milk - you'll see (or at least hear) the goats as you pull into the parking lot - and they also feature natural, high-quality aromatic oils and skin butters. The soaps are fantastic and they are all lightly scented. When I returned home, I even ordered more soap, moisturizing creams, a shaving bar, and laundry detergent. My favorites are the pear, red apple, mango and papaya and the honey and cream goat milk soaps. 4224 Portage Road - Route 6, Oyster Bed.