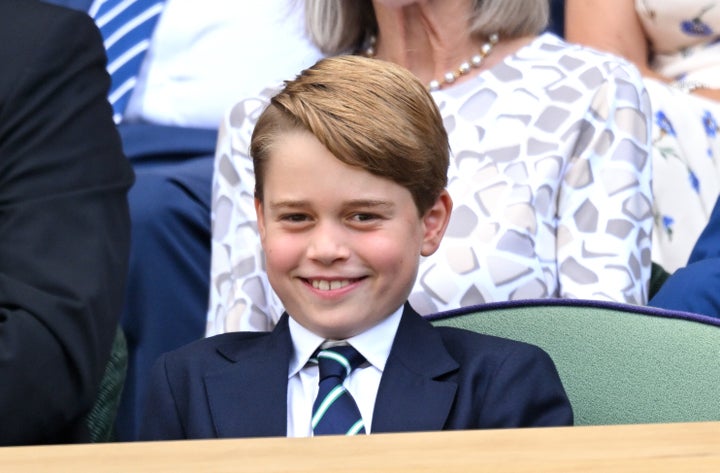 Prince George has bagged himself a very special – not to mention history-making – role at his grandfather's coronation on May 6.
The nine-year-old will be one of King Charles's Pages of Honour – meaning he has a key part to play in the Coronation service itself.
According to official royal communications, King Charles and Queen Consort, Camilla, will each be attended by four Pages of Honour, who will form part of the procession through Westminster Abbey.
A release seen by HuffPost UK states Prince George will be joined by three other boys who are all the King's Pages of Honour.
These include: Lord Oliver Cholmondeley, 13, whose dad is the King's Lord-in-Waiting; Master Ralph Tollemache, who is 12 and whose grandparents are close friends of the Royal couple; and Master Nicholas Barclay.
According to Tatler, Barclay is the grandson of Sarah Troughton, who is a second cousin of King Charles and reportedly a close friend of the Queen Consort, Camilla.
The Queen Consort's Pages of Honour will be her three grandsons, Masters Gus and Louis Lopes, both 12, and Master Freddy Parker Bowles, 13, as well as her great-nephew Master Arthur Elliot, 11.
It's not yet clear if Princess Charlotte, seven, and Prince Louis, four, will have a part to play in the procession.
The update was shared alongside a first look at the King's Coronation invitations, which referred to the Queen Consort as 'Queen Camilla' for the first time ever – a move that raised a few eyebrows.
The coronation will take place at Westminster Abbey, following a weekend of festivities including a concert at Windsor Castle, according to The Telegraph.
On the day itself, the King and Queen Consort will form part of a procession – known as The King's Procession – which goes from Buckingham Palace to Westminster Abbey.
There, they will be crowned in the Abbey in a service led by the Archbishop of Canterbury.
Popular in the Community