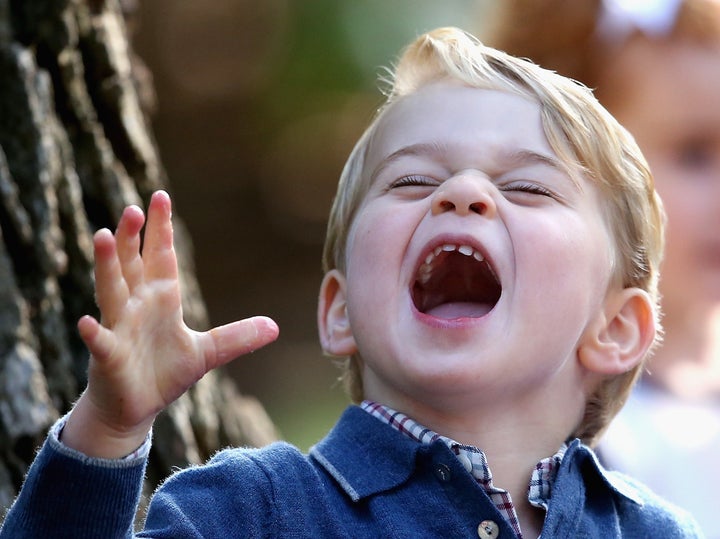 Gary Janetti has made a career for himself as both a television writer and producer, boasting major credits on shows including "Will and Grace" and "Family Guy." In other words, he's no stranger to bringing life to iconic characters.
But what Janetti has most recently accomplished, using mainly images and news headlines, is bring life to one of the most elusive, iconic and complex characters of our time: Prince George.
Using Instagram as his medium, Janetti has created a satirical world in which Prince George is a sassy, snarky mini-monster with a particular vendetta against none other than future aunt Meghan Markle ― although no royal family member is truly safe.
It's the funniest royals-related content on the internet right now.
HuffPost chatted with Janetti ― who said he was "live from West Hollywood in a Starbucks parking lot where I try to come up with this shit" ― to find out how he comes up with this shit.
OK, this seems like kind of an obvious one. But why George?
You know, it just literally happened by chance. There were some photos of him online from his first day of school, and I was struck by how expressive he was ― he cracked me up.
I was like, 'Oh, I'll put a caption with this and give him a little bit of an attitude.' And it got nothing. It was like, no big nothing. A little while later, I was like, 'Maybe I could use another photo? And do another caption?' It just seemed like a blank canvas to put stuff on.
Well, the persistence certainly paid off. Most of the comments appear to be positive. Have any royal fanatics come after you?
It's not that frequent, but I think there are some people who misunderstand, who kind of don't get the joke, you know? They come at me and maybe think I personally don't like Meghan Markle or that it's certainly not appropriate to be giving such adult thoughts, as it were, to a kid.
In general, it's been overwhelmingly people getting it and on board. I kind of see it as a TV series at this point that people are in the process of watching. Sometimes people jump in and don't know what it is you mean. There's some of that reaction. But in general, people know what it is and are on board with it.
One of those people is Lisa Rinna. Her "Gary." comments have become iconic in their own right.
[Laughs.] It's strange how that develops, isn't it? I love Lisa.
Do you find she comments every single time?
Do you have a complex when she doesn't?
No, not at all. Not in the least [laughs].
Who are some other people you've been excited about getting comments from?
What does he love about her?
He admires her. He admires the Kardashians. He respects Kris Jenner and what they have accomplished. He has to give it up for certain things because he is obsessed with celebrities, even though he acts like he's not. Even though he's going to be the fucking king and they're all his subjects, he can't help also being a little swayed by celebrity.
I think there's a little George in all of us.
I think so, too [laughs].
I love when you get Brad [Goreski, celebrity stylist, television personality and Janetti's husband] involved, too.
[Laughs.] I didn't even tell Brad I was doing it. I was just like, 'I wonder if I could mix these worlds.' It was very meta. I treat it as a TV series, and each post is an individual episode. The storylines of the season are the birth of the baby and the wedding, so with putting Brad in, I wanted to make sure that regardless of if the audience knows my connection to him or not, it could stand alone.
It worked! For those who didn't know our connection, he's still recognizable enough that people are like, 'Oh, that's that stylist guy from TV.' So it works, and I was like, 'OK, this is getting really twisted now.'
It's so good. You know, I met Brad at an event once and fell in love with him.
Yeah, he's the best. He's super genuine.
I'm curious how much time is spent talking about the royals in your house.
Well, I'll tell you, it's not a small amount of time. It just kind of evolved. It started out as us never talking about it all, and it kind of took a life of itself on. We don't necessarily talk about the royals, though. It's not that kind of thing. I wasn't interested or not interested in them. I was indifferent. It was only seeing those photos that I thought it could be funny and started expanding how I thought about it.
Based on your construct, Meghan and Harry's wedding is the series finale. Do you have any plans for it? Will you keep going once it happens?
I haven't decided. Everything I have done up until now has been like ― if I can't do it with my phone, I don't do it. There was never any grand plan, I never thought this would be something, but I am enjoying doing it. I've been lucky enough to write for TV shows where I really enjoy writing for the characters. You have an enthusiasm and affection for them, and I consider George this character I'm writing for that I love writing for. I have a great affection for all of them that I hope comes off, even though it's so silly and satirical. It's not meant to be mean. There's no end game, but I'm definitely focused on the wedding [laughs].
You recently wrote an episode of "Family Guy." Speaking of writing for great characters, what do you think Stewie Griffin would think about Prince George?
[Laughs.] Ha. That's a good question. I feel like he would be attracted and repelled by him at the same time. It would be very much a love/hate relationship.
Now that would be a crossover episode worth watching.
Popular in the Community