Prince Harry is currently in the desert Southwest completing the last phase of his Apache Helicopter Conversion to Role Course. He is splitting his time over the next two months between El Centro, California and Gila Bend, Arizona. El Centro and Gila Bend are popular military training grounds for their Afghanistan like conditions (hot, sandy, mountainous). However, they are not exactly hot spots for off-site R&R -- unless you're into fast food chains and bowling.
So, whether you are a royal looking for an authentic Southwest experience or a commoner looking for a royal experience, here are 11 better reasons to love the American Southwest.
1. Gabby: A Story of Courage and Hope. I, like most of the world, fell in love with Tucson, Arizona last January 8, 2011, when an intern, mobilized citizens, an emergency response team and the mind-bogglingly adept Trauma Center surgeons performed in concert to save the life of Representative Gabrielle Giffords. Had even one of those incredible forces for good faltered, a mentally ill gunman who would have succeeded in taking her life. On November 15, 2011, Rep. Gabrielle Giffords and her husband astronaut Mark Kelly will release their new book. Definitely a book to read if you're visiting the Southwest.
2. Saguaro National Park. The Giant Saguaro is only found in a small portion of the United States -- Tucson. Whether you want a stroll or a day-long wilderness trek, don't miss this unique cactus forest.
3. Old Tucson Studios. Family fun enjoying hayrides, guzzling down sarsaparillas and experiencing shoot-outs in the studio where over 300 old Westerns and TV productions have been filmed. Experience what life was really like in the Old West.
4. Ritz Carlton Dove Mountain. Elegant, authentic ambience. From the Southwestern décor, including geodes and quartz crystals, to the backdrop of the Tortolita Mountains, to the evening Native American flute serenade out by the fire pit, the Dove Mountain experience embraces all that is rich and blessed about cowboy country in a comfortable, yet elegant ambiance. Enjoy pool-side cabanas, golf, a giant water slide for the kids, gourmet food, wine tastings, massages, horseback riding and hiking.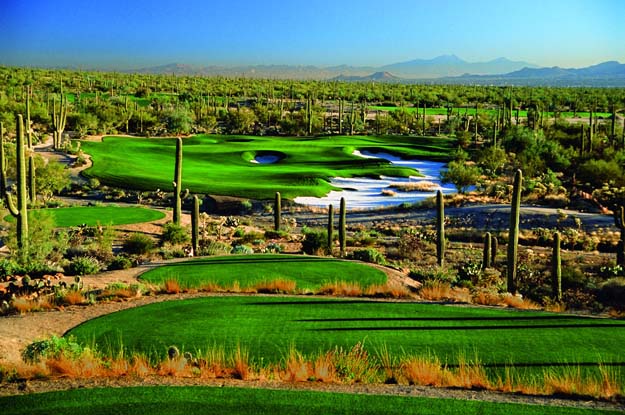 View of the Jack Nicklaus Signature Design golf course at The Ritz-Carlton Golf Club, Dove Mountain.
5. Westin La Paloma Golf Resort and Azul Restaurant. Like the Ritz, La Paloma sits above the city with stunning views of the valley below, and like the Ritz, La Paloma boasts a Jack Nicklaus Signature golf course for golf lovers, and a water slide for the kids. La Paloma is very family friendly, is close to the La Encantada Mall and sports the finest restaurant in the city -- Azul. The only downside of La Paloma is that it feels less like authentic Tucson (no geodes or crystals or flutists) and more like a "resort." However, the room sizes will astound you, the Westin amenities will spoil you and the prices will make your wallet very, very happy as well.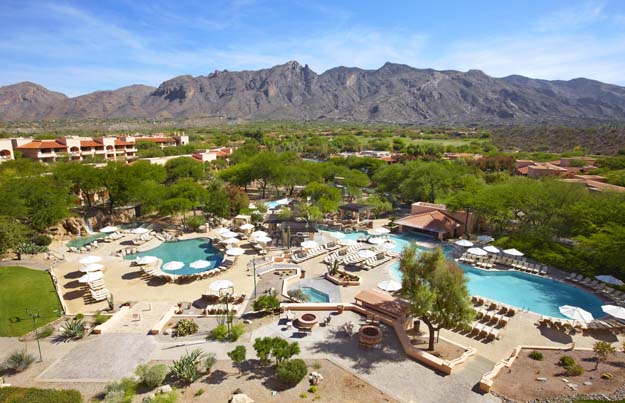 The Westin La Paloma Golf Resort.
6. Azul Restaurant. Serge Yves Delage is the executive chef for La Paloma, and Azul will sizzle your taste buds as much as this gifted chef has sparked the passion of peers and critics around the world. Chef Delage has been named to the Top 100 Names in Travel by Conde Nast Traveler Magazine and is one of only 60 chefs in the United States to have been inducted into the exclusive Académie Culinaire de France. Graze and share to your heart's delight. Don't miss the fuego shrimp, the warm tomato and burrata salad, the mushroom torta, the scallops and polenta, the certified angus filet mignon (melt in your mouth tender) and whatever you do, beg, borrow or steal for a side of the truffle mashed potatoes.
7. Teresa's Mosaic Café. Mosaic Café offers authentic Mexican food prepared with love and only the finest, freshest ingredients. Sample home-made tortillas, fresh salsa, chunky guacamole and creamy frijoles (refried beans). You'll love the enchiladas, the chile Colorado, the chile relleno -- everything is a cut above what you'd expect. However, do yourself a favor and be sure to order the chile and cheese tamale, which is melt in your mouth delicious. The best I've ever had anywhere!
8. La Encantada Mall. This is one of the most beautiful outdoor malls in America, tucked beneath the Catalina Mountains and overlooking the city of Tucson. This is standard mall fare; you won't find any cowboy boots or rainmakers here. However, there are a few good restaurants, including one of my favorite moderately-priced eateries, Firebird's.
9. Firebird's Wood Fired Grill. If you enjoy unique cocktails, be sure to try Firebird's pineapple infused vodka martini. Just the right amount of sweet and kick. I fell in love with the pecan-crusted trout with mango relish and mashed potatoes, while my girlfriend gushed over her steak salad. And if you go at lunch-time, you will be surprised at just how affordable a great meal can be.
10. Anthony's in the Catalinas. Anthony's is an award-winning restaurant with great old school Italian favorites and a unique, award-winning wine collection. Enjoy the best Caesar salad you've ever had, made fresh at your table, house smoked breast of duck, scallops Rockefeller, crab cakes or shrimp chorizo for appetizers. Dinner choices include chateaubriand, roasted rack of lamb, salmon, filet mignon, veal marsala, a grilled vegetable platter, fresh fish of the day and lobster specials on Friday nights. Tucson locals love Anthony's, so be sure to make a reservation.
11. Brushfire BBQ. It's always good to know the cheap, but good go-to meal, and Brushfire BBQ is it in Tucson -- provided you are a meat eater. Melt in your mouth Brisket, ribs, potato salad, grilled corn, yams, cornbread -- tasty comfort food in sizable portions for a very reasonable price.
So, whether you are royal or brave, or just looking for a rich experience for a bargain price, experience the magic of Tucson -- a true Desert Paradise.
About Natalie Pace:
Natalie Pace is the author of You Vs. Wall Street and Put Your Money Where Your Heart Is, and the founder and CEO of the Women's Investment Network, LLC. She is a blogger on HuffingtonPost.com and a repeat guest on national television and radio shows such as Good Morning America, Fox News, CNBC, ABC-TV, Forbes.com, NPR and more. As a philanthropist, she has helped to raise more than two million for Los Angeles public schools and financial literacy. Follow her on Facebook.com/NWPace. For more information please visit NataliePace.com.