Not often do I have the chance to meet with royals who care deeply about orphans. Unable to get out of meetings in Manhattan, I did the next best thing: I requested one of the Global Advisers and patrons of our foundation, Sara Herbert-Galloway, to represent us. Sara lives in Greenwich, is also a supporter of our sister charity, Orphans International Worldwide (OIWW), and had met the Prince on a previous trip. She was delighted to again meet the man who walks in the shadow of Princess Diana, HRH Prince Harry of Wales.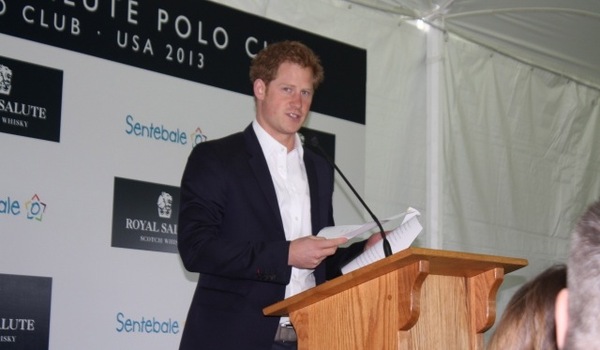 HRH Prince Harry speaks to guests about his charity Sentebale in Lesotho.
Photo: Herbert Collection.
The Prince has been working his way up the East Coast, from meeting Michelle Obama in the White House, Chris Christie in New Jersey, promoting British trade on a double decker bus with British Prime Minister David Cameron in Manhattan - and wrapped up his tour of the U.S. with The Sentebale Royal Salute Polo Cup at the pristine Greenwich Polo Club on May 15th, 2013.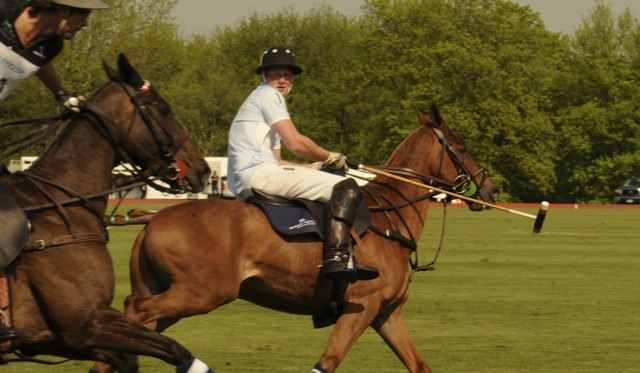 The Sentebale Royal Salute Polo Cup held at the Greenwich Polo Club.
You may know of Harry's military service in Afghanistan, or that he rides well (his team won) - but did you know he co-founded a charity for children including AIDS orphans in Lesotho, Africa? His polo event tours the world raising funds and awareness for the orphanage - Sentebale - combining the Prince's love for children and polo.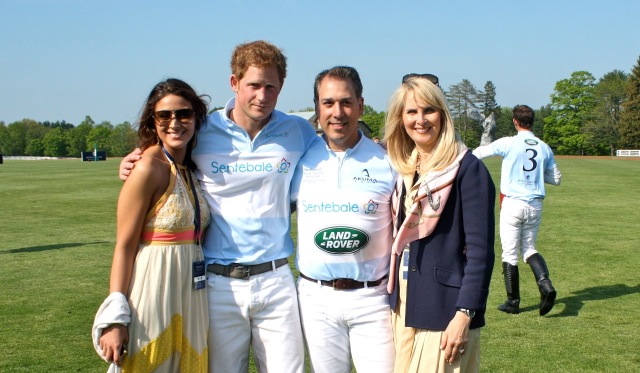 Cynthia Jorge, Prince Harry, Michael Carrazza, and Sara Herbert-Galloway.
Photo: Herbert Collection.
The ultra-exclusive luncheon, hosted by billionaire industrialist and avid horseman Peter Brandt and his wife Stephanie Seymour, was attended by 400 VIP guests and press. Guests were pre-screened a month in advance for security clearance prior to being put on the "list." Sara was especially honored to be among the invited guests as she is particularly proud of her 'Herbert' family's Welsh ancestry that traces back to the 1400's.
The festivities surrounding the young Royal's visit were welcomed by the people of Greenwich, an enclave 30 miles north of New York City. Despite the formidable wealth of the area, its residents have suffered their share of loss during the past few months. The tragic shootings at Sandy Hook Elementary School in nearby Newtown as well as the devastation of Hurricane Sandy were almost too much for any community to bear. The Prince's visit brought excitement and hope.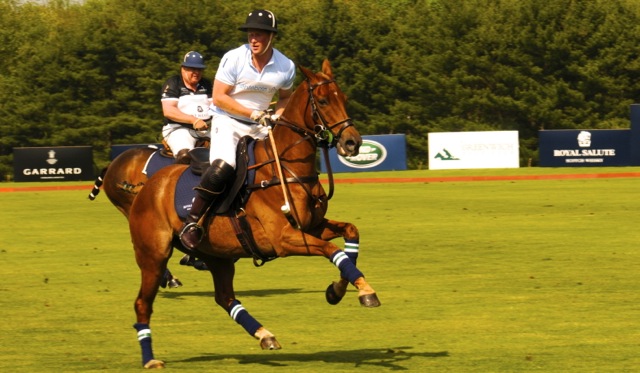 HRH Prince Harry of Wales in Connecticut. Photo: Kate Stoupas.
Sentebale, meaning "forget-me-not," was founded in Lesotho in 2006 by both Prince Harry in memory of his mother Princess Diana, and by Prince Seeiso of Lesotho in memory of his mother, Queen Mamohato. Their common efforts aim to raise awareness of the plight of this small country in mountainous South Africa with a population of almost two million, of which 500,000 are children who ave been left vulnerable, including many living with and/or orphaned by HIV/AIDS.
To raise funds for these children, an annual polo event was established named "The Sentebale Royal Salute Polo Cup." Simultaneous with the Greenwich event and Prince Harry's visit, the local Patriot National Bank launched its own fundraising initiative to raise funds for Sentebale "across the world" and for the Mid-Fairfield Child Guidance Center - "around the corner." How wonderful that HRH's visit resulted in helping children both near and far.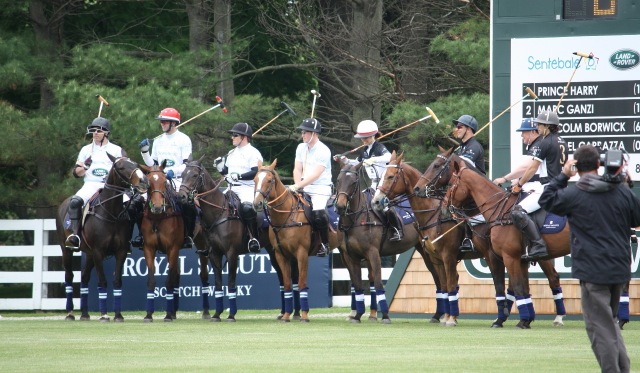 Sentebale Land Rover Team: Michael Carrazza, Malcolm Borwick, Marc Ganzi, Prince Harry.
St. Regis Team: Dawn Jones, Steve Lefkowitz, Peter Orthwein, Nacho Figueras.
Photo: Herbert Collection.
My friend Frank Recchia of Connecticut's News 12 told me, "Our news director Tom Appleby reminded the entire reporting staff that Prince Harry's visit was one of the hottest stories ever to hit our viewing area. Tom told us people were going gaga over this brush with royalty, and we needed to focus more so than ever on the human reaction to this important news event. It was an extremely exciting story to cover."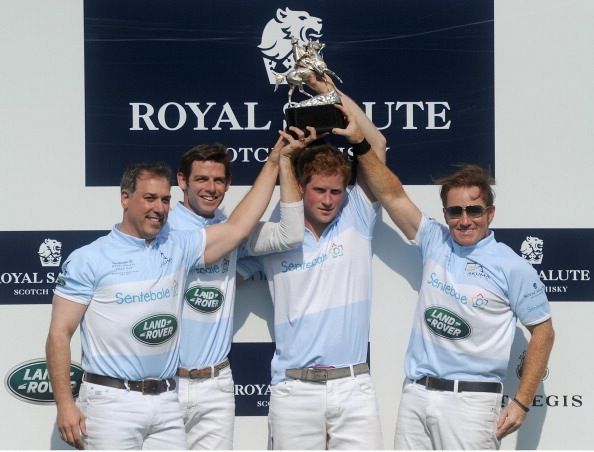 Sentebale Land Rover Team victors: Michael Carrazza, Malcolm Borwick, Prince Harry,
Marc Ganzi. Photo: Getty Images / Jamie McCarthy (used with permission).
Michael Carrazza, Patriot's Chairman and CEO of Solaia Capital, was invited to play on Prince Harry's team in the polo match. He told me, "It was an honor to play alongside the Prince and compete for the Sentebale Royal Salute Polo Cup particularly knowing the thrust of the event was aimed at helping children in dire need - both far and near. Patriot's 'Lend a Hand' fund raising efforts are helping children in Lesotho through Sentebale and locally here in Connecticut through the Mid-Fairfield Child Guidance Center."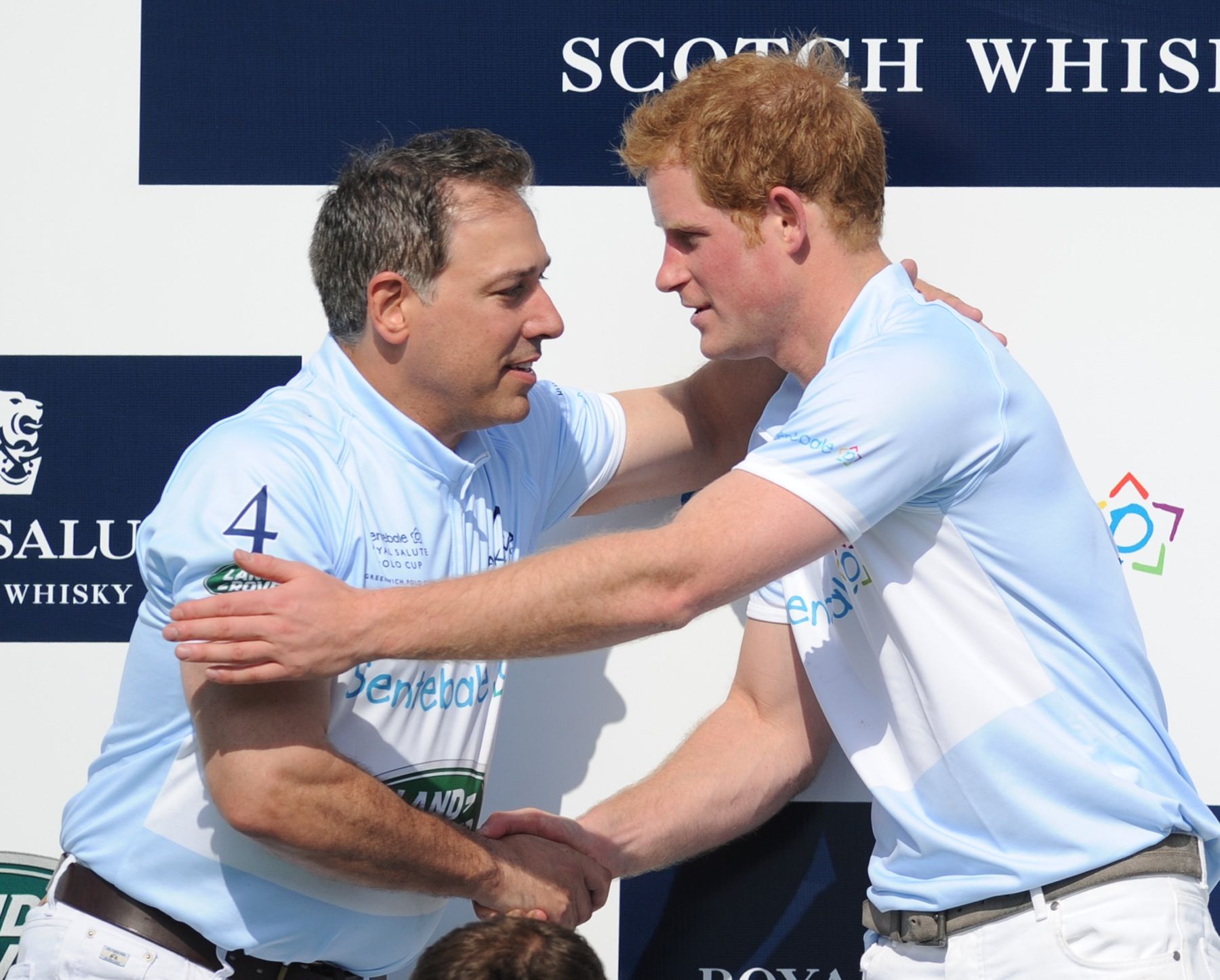 Michael Carrazza, Patriot's Chairman and CEO of Solaia Capital, strongly endorses the Prince's mission to help vulnerable children and made a pact with Prince Harry to raise awareness and donations for Sentebale and to leverage these efforts to help children within the community. Photo: Bob Luckey / Greenwich Time (used with permission).
Michael is no stranger to taking on challenges that benefit the community. In 2010, Michael led the turnaround recapitalization of Patriot National Bank and rescued the failing bank. All told, Michael's plan saved over 130 jobs in the community and taxpayers an estimated $185 million. "Patriot is now in a position to give back to the community and help children around the world, it is our corporate and individual responsibility," he added.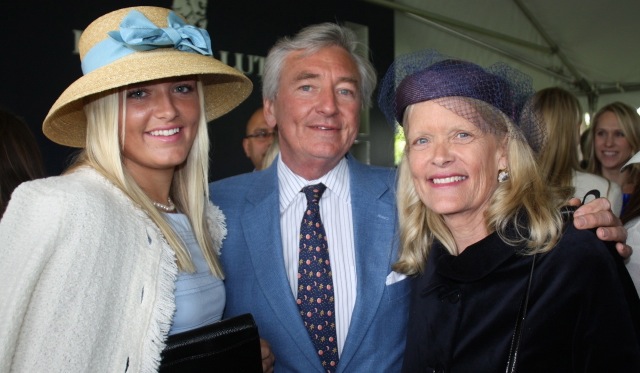 Merritt Piro, Dr. Phil Piro and wife Marion. Photo: Herbert Collection.
Sara reports that Prince Harry exudes the same compassion and empathy to help those in need that was the driving force in his beautiful mother. She tells me his warm, friendly, charismatic demeanor was contagious. He openly shared his love for children. His royal highness is following in Diana's footsteps as a humanitarian. The beloved Princess had an intense interest in helping people inflicted with serious illnesses and health-related matters including AIDS.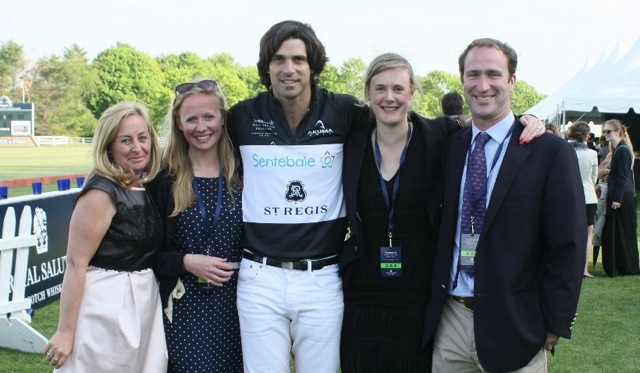 Cathy Ferrier, Sentebale CEO, with the Sentebele Team including Argentine polo player
Ignacio "Nacho" Figueras. Credit: Photo: Herbert Collection.
Sara believes that Princess Diana and Mother Teresa were the greatest humanitarian's of our time. "Unfortunately," she tells me, "I will never meet either of them. Meeting Harry was the next best thing to meeting Princess Diana whose work will live on through him."
Prince Harry addressed the guests at the polo match, stressing that the situation in Lesotho remains critical. "The HIV pandemic continues to leave thousands of children without parents and family structures to guide them through life. Without this support, basic needs such as food, shelter and care remain unmet, leaving children vulnerable and often without very much hope in their lives."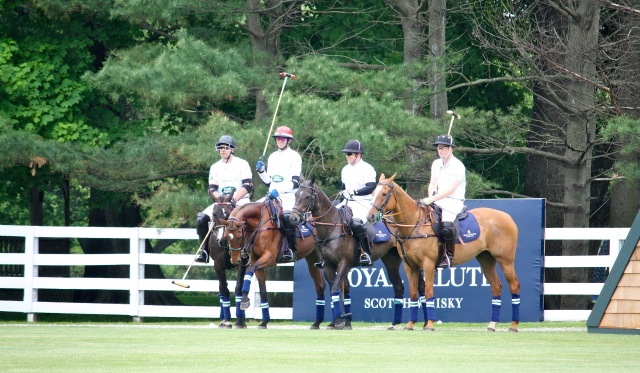 Sentebale Land Rover Team: Michael Carrazza, Malcolm Borwick, Marc Ganzi,
and Prince Harry. Photo: Herbert Collection.
He invited people to visit Lesotho saying, "By giving today, you are directly influencing the next generation of kids in Lesotho that can easily change Lesotho forever." The eloquently spoken Prince humbly thanked everyone saying, "During the past week, I've witnessed the extraordinary generosity of the people of this great nation."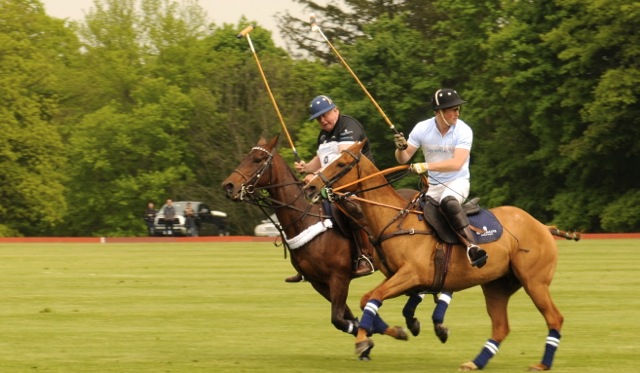 St. Regis Team Peter Orthwein and Prince Harry. Orthwein has had the honor
of playing polo with both HRH Prince Philip and HRH Prince Charles.
Sara had met Prince Harry during his visit to the Greenwich Country Club in 2010. She learned about Sentebale and his remarkable work during that time. "It was enlightening to learn how much the charity has grown," she told me.
Sara spoke at length with Cathy Ferrier, C.E.O. of Sentebale. Cathy said, "The event in Greenwich was incredibly successful. We have so many people interested in supporting us. We are extremely grateful to Nacho and Harry for their support and all they have done. We are grateful to the people of Greenwich and the area who attended and worked to make this event a success."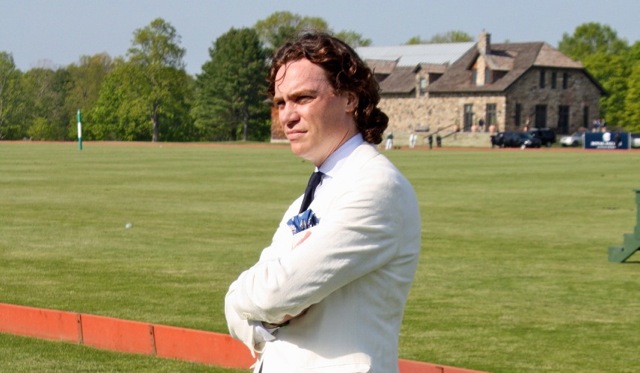 The elite crowd included Jay Fielden, Editor-in-chief Town & Country.
Photo: Herbert Collection.
Our Global Adviser also spoke with a young lady at the event named Dominique Sinagra who stayed a year at the Orphanage Mants'ase Children's Home in Lesotho that is partially supported by Sentebale. Dominique said, "I believe the connection between Prince Harry and the children is very real and means a lot to both him and them. When the children see a picture of the Prince they point to it and say 'friend.'"
Among the guests seated for the tented luncheon were model Karolina Kurkova, Jessica Stam, Jason Wu, Olivia Palermo, Gayle King, Jay Fieldman, Valentino Garavani, Amanda Hearst, Bob Woodruff, Jeff Slonem and Johan Lindeberg. Peter Brandt welcomed everyone. Jokes were made that the English brought the British weather with them to pleasure the guests since it was raining.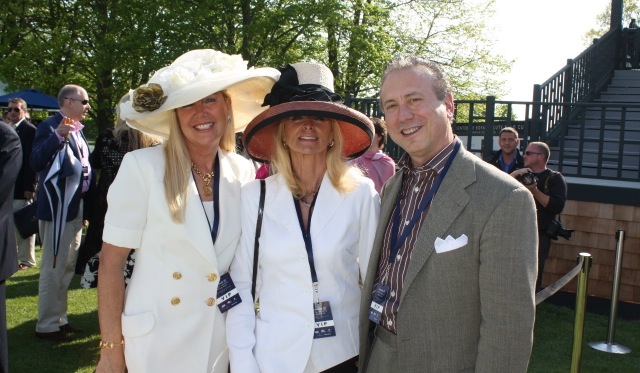 Kate Stoupas, Suzanna Pasque, and Anthony Viscogliosi. Photo: Herbert Collection.
Argentine polo player and Ralph Lauren model Nacho Figueras was introduced as the newly appointed Sentebale Ambassador as well as St. Regis Connoisseur. As if someone turned on a switch, the sun came out and the rain stopped the minute the polo match began. Prince Harry's Sentebale team won 4 -3. Sponsors included St. Regis Hotels, Town & Country, Royal Salute Whiskey, Range Rover, Garrard, and The Greenwich Polo Club.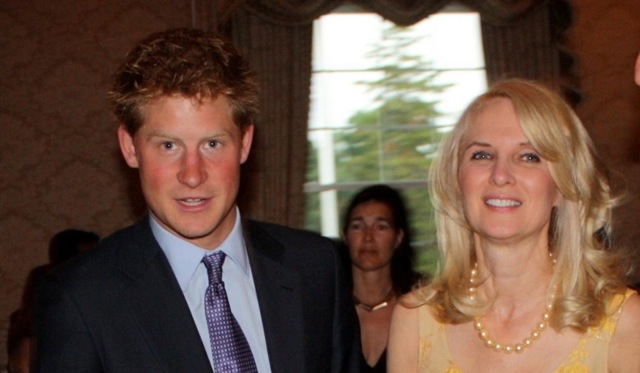 Sara Herbert-Galloway first met Prince Harry two years ago at the
Greenwich Country Club. Photo: Herbert Collection.
During HRH Prince Harry's visit to the U.S., he visited Seaside Heights, a hurricane ravaged Jersey Shore community. While Prince Harry was serving in Afghanistan, he met someone who's home was destroyed by the hurricane. The Prince wanted to see the devastation and show his support to his friend. Prince Harry also showed support to wounded troops. He opened the Warrior Games for wounded service members at The U.S. Olympic Training Center in Colorado Springs. Britain sent a team of 35 wounded soldiers to take part in the games.
There are more orphaned children in the world than any one human can deal with, but with global leadership of thought leaders like H.R.H. Prince Harry of Wales - and Sara Herbert-Galloway, Michael Carrazza, you and me - humanity can make an impact. Princess Diana taught us that.

Related
Popular in the Community