The clash between the two kicked off in June 2018, when Meghan, Harry, William and Kate all met for afternoon tea at the Prince and Princess of Wales' Kensington Palace residence.
Kate brought up that she'd felt hurt when Meghan had made a comment about "baby brain" during a conversation, just after the duchess had recently given birth to her third child, Prince Louis.
"You hurt my feelings, Meghan," Kate said, according to Harry's rendition of the argument.
"Oh yes, I remember: You couldn't remember something, and I said it's not a big deal, it's baby brain,'" Meghan said. "Because you'd just had a baby. It's hormones."
Kate answered, telling the duchess, "We're not close enough for you to talk about my hormones."
Meghan was allegedly confused by Kate's response and said that was how she spoke with her girlfriends.
The book claims that Meghan was later reprimanded for the intimate comment by Prince William, who put his finger in her face, which the duchess asked him to remove.
William pointed at Meghan, saying that her remark was "rude" and "not what's done here in Britain," to which the duchess replied: "Kindly take your finger out of my face."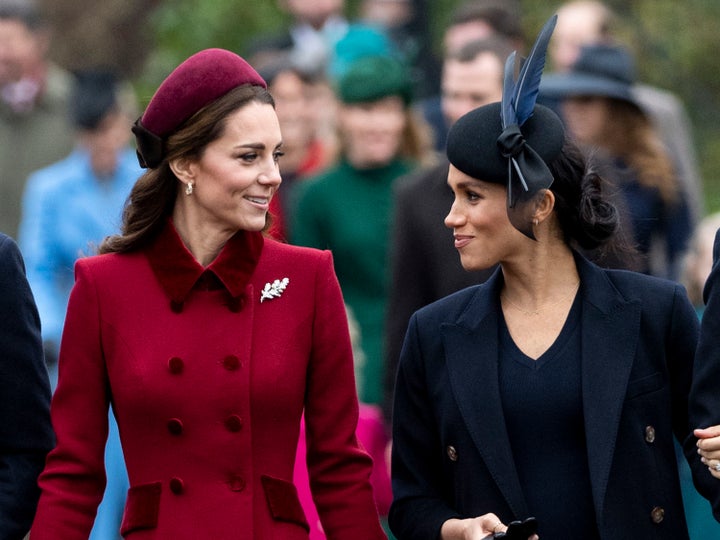 Harry also writes about Meghan and Kate's disagreement over flower girl dresses. The duke shares in his book an exchange from the fight, which left Meghan in tears on the floor after the dispute.
"Charlotte's dress is too big, too long, too baggy," Kate reportedly said. "She cried when she tried it on at home."
"Right, and I told you that the tailor has been standing by since eight a.m. Here. At KP. Can you take Charlotte to have it altered, as the other moms are doing?"
"No, all the dresses need to be remade," the Princess of Wales said.
As things continued to go back and forth, Meghan eventually said, "I'm not sure what else to say. If the dress doesn't fit then please take Charlotte to see [the tailor]. He's been waiting all day."
"Fine," Kate replied. Harry writes that when he returned home, he "found Meg on the floor. Sobbing." He explained that he told her, "Kate hadn't meant any harm."
The next day, the duke said that Kate came around with flowers and a card for Meghan "that said that she was sorry."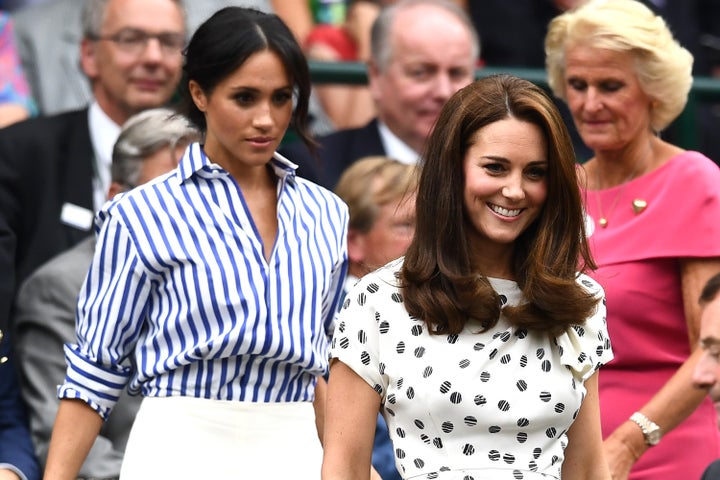 Originally, the press reported that Meghan made Kate cry over a clash about flower girl dresses before the wedding.
Meghan told Oprah Winfrey in her sit-down interview in 2021 that it was actually the other way around.
"The reverse [of what was reported] happened," Meghan told Winfrey in their interview. "And I don't say that to be disparaging toward anyone, because it was a really hard week of the wedding. And [Kate] was upset about something, but she owned it and she apologized and she brought me flowers and a note apologizing and she did what I would do if I knew that I hurt someone, right? To just take accountability for it."
"What was shocking was, six or seven months after our wedding, that the reverse of that would be out in the world," Meghan added.
When Oprah asked why the palace press offices didn't correct the narrative when the opposite version was published, Meghan replied: "That's a good question."
"I would hope that [Kate] would've wanted that corrected," she continued. "Maybe in the same way that the palace wouldn't let anybody else negate it, they wouldn't let her. Because she's a good person."
HuffPost's Lee Moran obtained an early copy of Harry's memoir, "Spare," which accidentally went on sale in Spain days before its official publication date.
HuffPost has updated its translation after the publication of the English version of "Spare," on Jan. 10.
More revelations from Prince Harry's "Spare" memoir and media tour:
Popular in the Community