Prince Harry claimed that his brother Prince William and sister-in-law Kate Middleton urged him to wear the Nazi uniform he infamously donned for a 2005 costume party and "howled with laughter" when they saw him dressed up.
The accusation is reportedly detailed in Harry's upcoming memoir, "Spare," according to Page Six. Harry wrote that he couldn't decide between a normal pilot uniform and that of a Nazi, the outlet reported, leading the young prince to call his brother for help.
"I phoned Willy and Kate, asked what they thought. Nazi uniform, they said," wrote Harry.
When he tried on the uniform for them, he wrote, "They both howled. Worse than Willy's leotard outfit! Way more ridiculous! Which, again, was the point."
Harry was 20 when he attended the "Native and Colonial"-themed costume party. Tabloid photos showed him with a red swastika-emblazoned armband on his biceps. His brother was dressed as a lion.
All I wanted to do was make it right," he continued. "I sat down and spoke to the chief rabbi in London, which had a profound impact on me. I went to Berlin and spoke to a Holocaust survivor."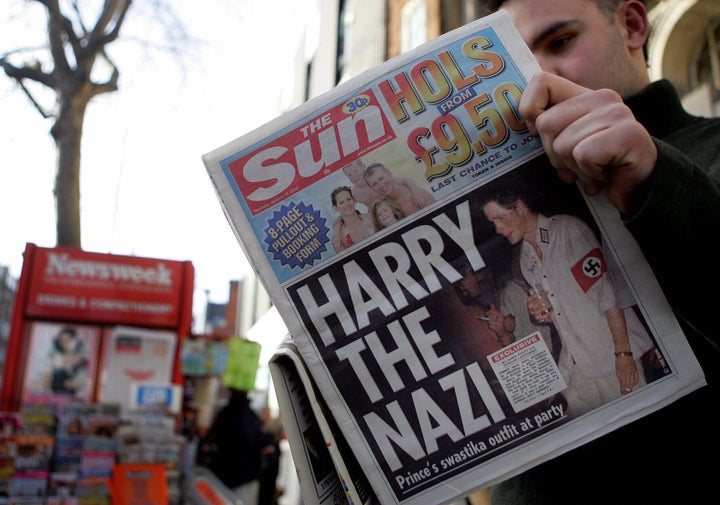 Royal historian Robert Lacey, in his 2020 book "Battle of Brothers," said the costume incident signaled the start of Harry and William's falling out.
"Harry chose his costume in conjunction with his elder brother — the future King William V, then 22, who had laughed all the way back to Highgrove (Charles' country home) with the younger sibling he was supposedly mentoring — and then onwards to the party together," Lacey wrote, per Page Six.
"For the first time, their relationship really suffered and they barely spoke," a former aide told Lacey. "Harry resented the fact that William got away so lightly."
Harry's memoir will be officially released on Jan. 10.
Popular in the Community