Prince Harry, who discusses his fractured relationship with Prince William in his new memoir, told Michael Strahan of "Good Morning America" that he thinks of "Willy" as both his "beloved brother and archnemesis."
In a newly released clip of Harry sitting down with Strahan, the former NFL player asks the royal what his late mother, Princess Diana, would think of the relationship between the brothers now.
"I think she would be sad," said the duke ahead of Tuesday's release of his new memoir, "Spare." "I think she'd be looking at it long-term to know that there are certain things that we need to go through to be able to heal the relationship." The full "GMA" interview will air Monday.
Harry spoke about a physical confrontation with William in 2019 a passage obtained by The Guardian days ahead of the publication date of "Spare."
Harry claims that William came after him after the now-Prince of Wales called Meghan "difficult," "rude" and "abrasive."
"It all happened so fast. So very fast. He grabbed me by the collar, ripping my necklace, and knocked me to the floor," the Duke of Sussex said in the passage shared by The Guardian. "I landed on the dog's bowl, which cracked under my back, the pieces cutting into me. I lay there for a moment, dazed, then got to my feet and told him to get out."
Kensington Palace had no comment on the allegations when reached by HuffPost.
In a preview clip of Harry's upcoming interview with ITV's Tom Bradby, which will air on Sunday, the duke elaborated on the fight, saying that he saw a "red mist" in his brother.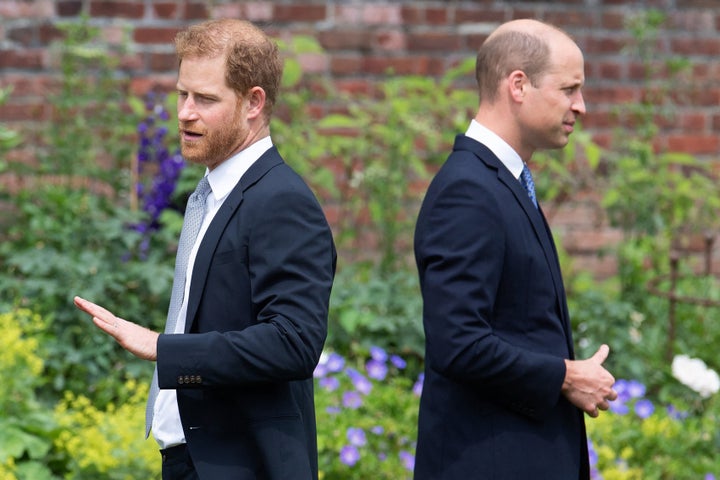 "What was different here was the level of frustration, and I talk about the red mist that I had for so many years, and I saw this red mist in him," he said. "He wanted me to hit him back, but I chose not to."
Harry's memoir, which officially comes out on Jan. 10, was leaked in its entirety when bookstores in Spain shared the book on Jan. 5, and multiple news outlets obtained copies.
More bombshells from Prince Harry's leaked memoir, "Spare:"
Popular in the Community