LONDON, Jan 21 (Reuters) - Britain's Prince Harry says he killed Afghan insurgents during sorties against the Taliban while on his second tour of duty in Afghanistan where he was a gunner in Apache attack helicopters.
Queen Elizabeth's 28-year-old grandson, third in line to the British throne, will return home later this week after a 20-week posting with NATO forces at the Camp Bastion military base in the southern province of Helmand.
Asked before he left Afghanistan if he had killed insurgents during his tour, he said: "Yeah, so, lots of people have. ... Yes, we fire when we have to, take a life to save a life, but essentially we're more of a deterrent than anything else.
"If there's people trying to do bad stuff to our guys, then we'll take them out of the game, I suppose," the second son of heir-to-the-throne Prince Charles and the late Princess Diana said in one of several interviews released to the media.
The Taliban had said it would do its utmost to kidnap or kill Harry during his tour, and an Afghan insurgent warlord labelled him a drunken "jackal" out to kill innocent Afghans.
His base was attacked on his birthday last September, but it was never clear if he was the target or if the Taliban raid, in which two U.S. marines were killed, was in response to a film which was seen as insulting to the Prophet Mohammad.
Known in the military as Captain Harry Wales, he was deployed to Afghanistan four months ago, shortly after pictures of him frolicking naked with a nude woman at a hotel in Las Vegas were published around the world.
"I probably let myself down, I let my family down, I let other people down," he said of the Vegas incident. "But it was probably a classic example of me being too much army, and not enough prince."

Harry's job as an Apache co-pilot was to man its weapons system when his 662 Squadron unit flew sorties in support of ground troops fighting Taliban or accompanying other helicopters on missions to evacuate casualties.
However, he said killing the enemy was not what had inspired him to become a gunner on a helicopter carrying rockets, missiles and a machine gun.
"It's not the reason I decided to do this job. The reason was to get back out here," he said.
Harry served as a combat soldier on the front line in Helmand for 10 weeks between 2007 and 2008, calling in air strikes as a "Forward Air Controller" for NATO forces, becoming the first British royal to be engaged in combat since his uncle Prince Andrew flew helicopters during the 1982 Falklands War.
However, his first assignment was cut short after media leaked news of his presence. This time, the media were allowed to say he was on active duty in Afghanistan although giving exact details were forbidden.
In the now-released interviews, Harry said he thought his elder brother Prince William, a Royal Air Force search and rescue helicopter pilot, would "love" to have been in Afghanistan too.
"To be honest, I don't see why he couldn't," the royal said, adding he had received no special treatment while on deployment - eating, sleeping and relaxing with the other pilots.
"Yes, you get shot at. But if the guys who are doing the same job as us are being shot at on the ground, I don't think there's anything wrong with us being shot at as well. People back home will have issues with that, but we're not special."
Harry's military role has enhanced his status in Britain and helped shed a reputation of a royal wild child who admitted dabbling in marijuana and under-age drinking, and who made headlines when he donned a Nazi uniform to a costume party.
As one of the most world's most eligible bachelors, his private life remains a source of huge media attention. However, he said his antics in Vegas, where he was letting off steam ahead of his Afghan tour, should have remained private.
Unsurprisingly, he said he was more comfortable in his "normal" life in the army than as a British prince.

"My father's always trying to remind me about who I am and stuff like that," said Harry, who wore a "Go Ugly Early" badge attached to his helmet - Ugly being the Apache call sign - and joked that he honed his weapons' pilot skills playing PlayStation and Xbox computer games.
He also repeated his dislike of intrusions by the British media, something close to his heart after his mother, who spent most of her adult life in the media spotlight, was killed in a Paris car crash while being chased by paparazzi when he was 12.
"I think it's fairly obvious how far back (the mistrust of the press) goes. It's when I was very small," he said.
He always read what papers wrote about him, he said.
Britain has announced it will withdraw almost half its 9,000 troops from Afghanistan by the end of the year, with nearly all the rest due to pull out when the NATO mission finishes in late 2014, ending a war that has cost the lives of 440 British army personnel since the U.S.-led invasion in 2001. (Editing by Louise Ireland)

Support HuffPost
The Stakes Have Never Been Higher
Related
Before You Go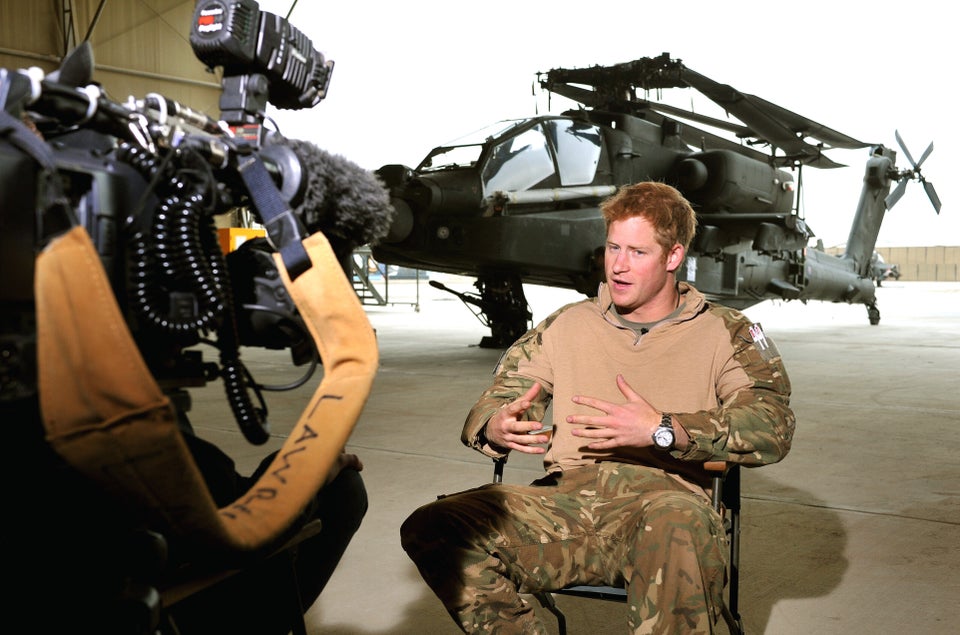 Prince Harry tour of duty in Afghanistan 2012/2012
Popular in the Community