Prince Harry has shared his views on "The Crown," admitting he often finds himself "fact-checking" while tuning into the divisive Netflix drama.
The Duke of Sussex is currently on the promo trail for his new memoir Spare, which culminated in an interview with talk show host Stephen Colbert on Tuesday night. During the interview, the presenter commented that Prince Harry has "got to have watched some of 'The Crown,'" which sparked some laughter in the studio audience.
"There's people laughing at that but yes, I have actually watched 'The Crown,'" Harry revealed.
He then confirmed he'd watched both "the older stuff and the more recent stuff". When Colbert questioned whether "you fact-check it while you watch", Harry mimed taking notes in front of the TV, before saying with a laugh: "Yes I do, actually."
Gesturing towards his book, he added: "By the way, [that's] another reason why it's important that history has it right."
"Of course, it's not strictly accurate, of course not, but loosely it gives you a rough idea about what that lifestyle, the pressures of putting duty and service above family and everything else, what can come from that."
Harry also named Damian Lewis as the actor he'd like to see portray him in a future season of the Emmy-winning drama, adding: "I'm way more comfortable with 'The Crown' than I am seeing the stories written about my family or my wife or myself.
"[The Crown] is obviously fiction, take it how you will. But this is being reported on as fact because you're supposedly news. I have a real issue with that."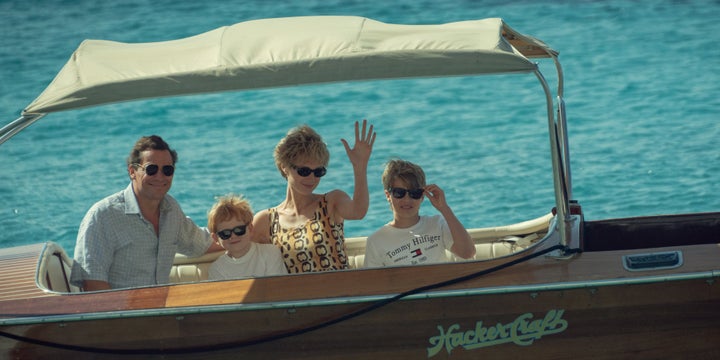 In recent years, "The Crown" has come under fire from some critics who suggest it does not do enough to highlight to viewers that it portrays a fictionalized version of real events. All five seasons are now available to watch on Netflix, with the sixth and final series expected later this year.
Watch the interview here:
Popular in the Community