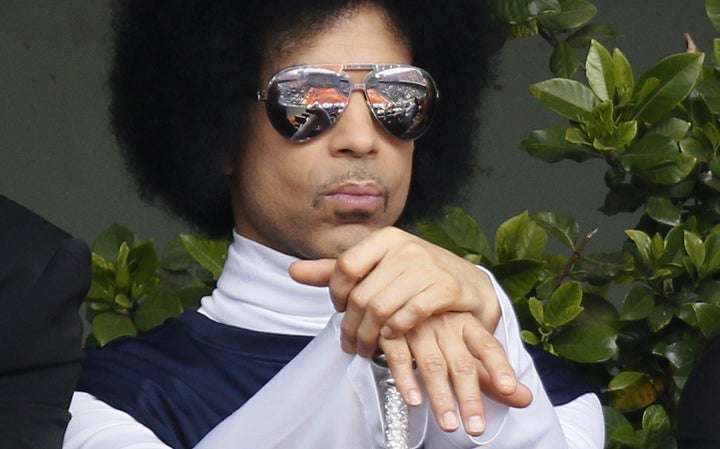 Prince left a pop music legacy when he died Thursday at age 57, but you can't listen to his work everywhere online. In July, he pulled all but one solo track from Spotify. Meanwhile, he has a sparse Vevo presence and nothing on Apple Music. Tidal and iTunes offer his music to stream and download, respectively, but otherwise, there's something of a "Purple Rain" draught on the Internet.
That's because Prince did not much care for it.
In 2010, the artist declared that "the Internet's completely over" in an interview with the UK's Mirror. Although he believed "in finding new ways" to distribute his music, he compared Internet distribution platforms like iTunes to MTV -- once hip, now outdated.
"They [Apple] won't pay me an advance for it and then they get angry when they can't get it," Prince told the Mirror. "Anyway, all these computers and digital gadgets are no good. They just fill your head with numbers and that can't be good for you."
Prince didn't just object to Internet companies' payment structures. He also hated the computerized format itself.
"I personally can't stand digital music," he said the next year. "You're getting sound in bits. It affects a different place in your brain. When you play it back, you can't feel anything. We're analogue people, not digital."
The artist eventually pulled his catalog from most streaming services -- including Spotify, Deezer and Rdio -- in July and later expressed his concern for musicians' futures. But perhaps his issues with the Internet should be seen more as an extension of his decades-long battle with the music business.
Famously, Prince fought with Warner Brothers over the terms of his publishing contract throughout the '90s. In 1993, he changed his name to a symbol in an ill-fated attempt to disrupt his contract, which prevented him from releasing albums more often and from owning the master tapes of his work. In 1996, he left the label, and in 2000, changed his name back to Prince. Finally, in April 2014, he re-signed with Warner Brothers and regained control of his catalog.
But through his final years, Prince remained a voice for artists' rights in a time when artists became increasingly critical of its online distribution.
Speaking to a small group of journalists in August, Prince advocated in favor of streaming services paying artists directly, cutting out record companies, whose contracts he likened to "slavery," NPR reported.
Asked whether he still thought the Internet was "over" in a November interview with The Guardian, Prince further clarified his stance.
"What I meant was that the Internet was over for anyone who wants to get paid, and I was right about that," he said. "Tell me a musician who's got rich off digital sales. Apple's doing pretty good though, right?"
As of this writing, "Purple Rain" was the top-selling single on iTunes, and "The Very Best of Prince" its top-selling album.
Popular in the Community