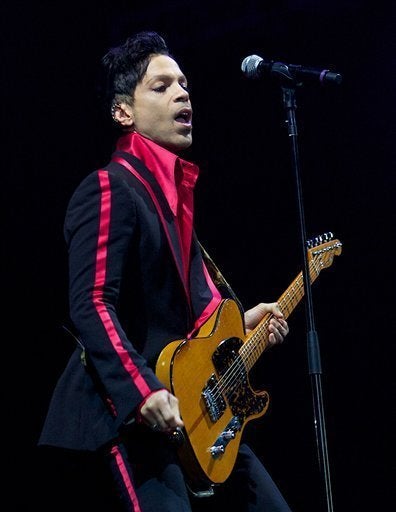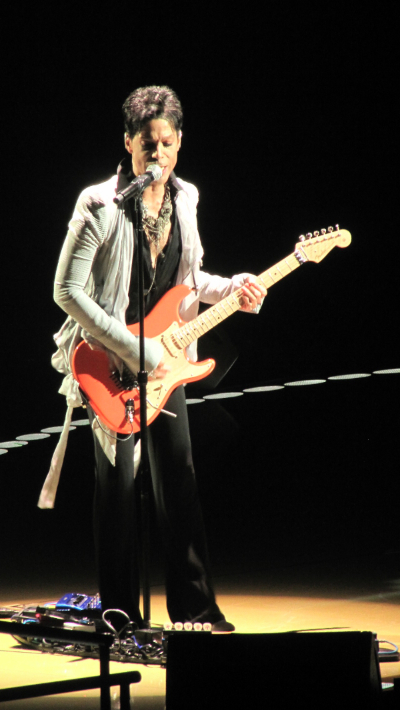 Photo by Keyvon Pierre.
Prince's ambitious concert residency at the Los Angeles Forum offered a packed house a gorgeous evening of "real music by real musicians" on Thursday night, April 21. No lipsyncing allowed. Prince's guitar virtuosity, sweet vocals, fantastic funk, and indelible dance moves makes the Rock and Roll Hall of Famer the performer of his generation. His tour de force remains the best Super Bowl halftime show ever performed.
Prince's signature glyph creates the shape of the central stage for this Welcome2America tour, which has so far made stops at New York's Madison Square Garden and IZOD Center, New Jersey, as well as Oakland, CA and the Carolinas. After a few sly flickerings of the Forum's house lights to build anticipation, Sheila E., along with Pete Escovedo and the E Family, including Juan and Peter Michael, warmed up the crowd with a half-hour set of textures mixing salsa, jazz, hip-hop, and pop. Sheila E. made her percussion speak every mood, and every nuance of poetry, during her family's opening numbers, and throughout the evening as she joined Prince for a multi-course feast of songs from his vast repertoire. She looked exquisite in a sequined mini-dress and towering high heels, beating her drums with unstoppable force the whole wild night long.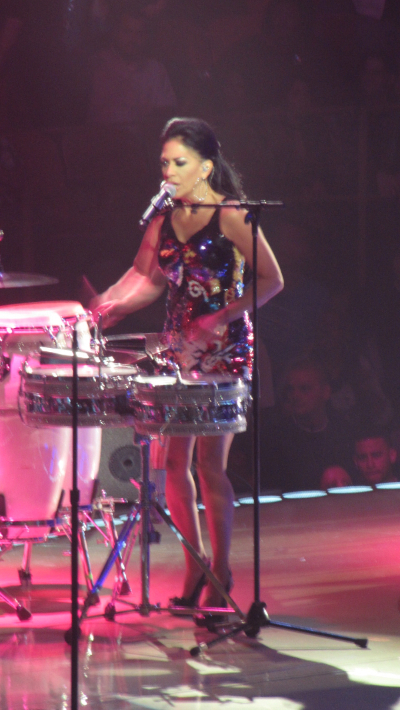 Sheila E. Photo by Keyvon Pierre.
Prince mixes exaltation and flirtation, transcendence and sensuality. His famously sexual songs are doors through desire designed to take you higher. He's Tantra joined to old time religion, Hendrix-level bliss and Lennon-McCartney catchiness. He looks impeccable at 52. He moves like a dream. He displays a quick wit, using it to posit beauty and bravado as means to first inflame, and then to tame, the human heart. He's the most unusual performer working, and he's "Everyday People." He's simply the best songwriter of our times. Yes, he sang "Little Red Corvette," Purple Rain," "1999," "Kiss," "Let's Go Crazy," "Raspberry Beret," "Controversy," "Cream," "U Got the Look," "Nothing Compares 2 U," a cool cover of "Crimson and Clover" and so much more. Yes, he commanded his guitars to sound out articulations of grace. And fun. And he's offering to do this for Los Angeles a total of 21 times. Keep your ear tuned for word of the next release of $25 tickets for Prince's "21 Nite Stand" at the Forum in Inglewood, a venue once home to Magic and MJ that Prince says he hopes to save from obliteration. An evening with him in these troubled times just saved my optimism. One of the 21 performances might soothe something in you, too. I'm definitely going back for more.
REAL LIFE. REAL NEWS. REAL VOICES.
Help us tell more of the stories that matter from voices that too often remain unheard.