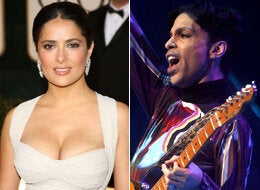 Prince has the hots for Salma Hayek. As Us Weekly points out, the Jehovah's Witness praises the star in his new song "Valentina," which happens to be the name of Hayek's 18-month-old daughter.
"Hey Valentina, tell your mama she should give me a call/ When she get tired of runnin' after you down the hall/And she's all worn out from those late-night feedings/and she's ready for another rock and roll meeting," the lyrics go.
Prince also expresses interest in Hayek's good pal Penelope Cruz.
"If Penelope wants to Cruz there ain't no way that we ain't gon' dance," Prince sings.
Hayek has served as musical muse before. Boy band O-Town serenaded Salma in 2001's "Liquid Dreams":
Angelina Jolie's lips to kiss in the dark

Underneath Cindy C's beauty mark

When it comes to the test well Tyra's the best

And Salma Hayek brings the rest
WATCH:
Popular in the Community