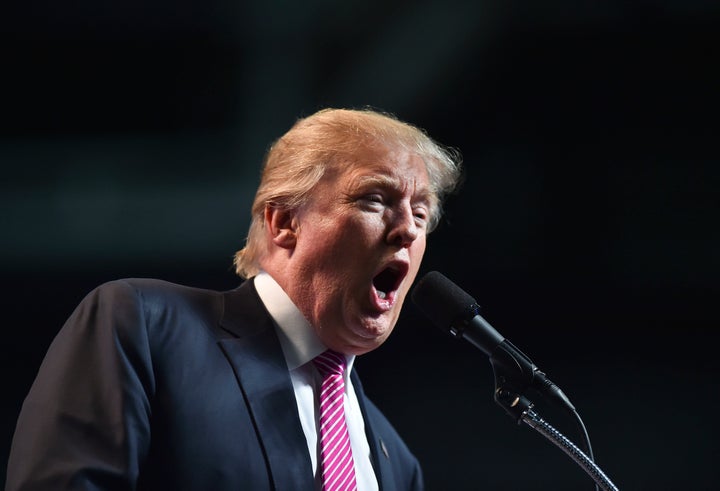 WASHINGTON -- Representatives of foreign allies tend to tiptoe around the issue of U.S. elections, hesitant to risk offending a candidate who may later be elected president. But the ascension of real estate mogul Donald Trump to the position of the presumptive Republican nominee has compelled some foreign officials to try to sway American voters away from backing the bombastic candidate.
With carefully chosen words, Prince Turki al-Faisal, a former ambassador to the U.S., warned against a Trump presidency. "For the life of me, I cannot believe that a country like the United States can afford to have someone as president who simply says, 'These people are not going to be allowed to come to the United States,'" Turki said on Thursday evening, referring to Trump's proposal to ban Muslims from entering the country.
"It's up to you, it's not up to me," Turki continued, speaking at a Washington Institute For Near East Policy dinner hosted at the Mandarin Oriental hotel. "I just hope you, as American citizens, will make the right choice in November."
The former top Saudi intelligence chief is known for his close relationships with U.S. officials and his ability to charm an American audience, even as the United States grows more critical of the Gulf state's dismal human rights record at home and high-casualty war in Yemen.
As a student in the 1960s, Prince Turki said he enjoyed "the spectacle" of American elections, which he described as "sometimes uplifting, other times the opposite." Later on, as ambassador, he told U.S. lawmakers he should get a vote since American policies have such a direct impact on the kingdom.
"When we have elections in Saudi Arabia, you can vote there too," Prince Turki assured the crowd, a self-aware joke at his own country's undemocratic monarchical system of governance. (Robert Satloff, the executive director of the Washington Institute and the moderator of the event suggested that if the prince enjoyed the "spectacle" of American elections so much, he should perhaps try them out in his own country.)
Former major general Yaakov Amidror, who served as national security advisor to Israeli Prime Minister Benjamin Netanyahu until 2013, also referred to Trump at Thursday's event. Amidror offered a more by-the-book response to the Trump question and simply expressed his hope that his government would "be clear immediately that we will work with any president which will be elected."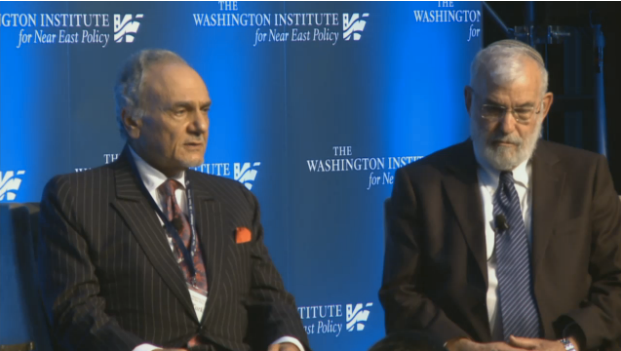 Though neither Amidror nor Turki are currently serving as government officials, the presence of two high-level influential figures from countries that do not have diplomatic relations and typically keep intelligence and security cooperation relegated to behind-the-scenes discussions, was a rare event.
The duo spoke before 400 political operatives, U.S. government officials, think tank representatives and diplomats. These included Yousef al-Otaiba, the United Arab Emirates' ambassador to the U.S -- who is known for his efforts to gin up support in Washington for a more aggressive American role in the Middle East in partnership with Gulf countries -- and Israeli ambassador Ron Dermer, who lobbied aggressively against the Iran nuclear accord.
Traditionally divided over the Israeli occupation of the Palestinian territories, Saudi Arabia and Israel have a shared fear of an empowered Iran and an increasing level of distrust and contempt for President Barack Obama's policies in their region. Both countries see him as a leader who has prioritized a nuclear agreement with Iran with a lack of reverence to longstanding allies.
Obama, more than past presidents, has allowed his frustration with Netanyahu to become public knowledge, and he suggested in an April interview with The Atlantic that Saudi Arabia and other U.S. allies in the Gulf are "free riders" who are overly dependent on the United States to ensure their security.
Satloff, who has criticized the nuclear agreement, kicked off the Washington dinner conversation by pushing both sides to air their grievances. "In recent months and years, both of you come from countries that have had, shall we say difficult moments with the Obama administration," he said, citing Prince Turki's written rebuttal to Obama's "free-rider" comments.
Asked if he believed the U.S. is equally committed to guaranteeing regional stability in the Middle East as it was when it challenged Iraq's invasion of Kuwait 25 years ago, Prince Turki was blunt in his response but diplomatic in his reasoning.
"I don't," he said. The American people, he continued, "perhaps feel that too much used to be expected of them and that they should not be in that position where they're obliged to undertake personal responsibilities that they used to do before.
"That does not mean a divorce. On the contrary, it means a very mature relationship between adults."
The Saudi prince's response was perhaps more nuanced than could be expected given the frosty relations between the U.S. and his kingdom, and its growing frustration with Washington's unwillingness to take more aggressive action against President Bashar Assad in Syria. But mixed in with his understanding tone was the implicit threat of actions that the kingdom might take if the U.S. failed to counter Shiite influence in Iran and Syria.
Saudi Arabia has accepted the Iran nuclear deal, which lasts 10-15 years, Prince Turki said. But what happens after that is "open to question."
"That's why I've always maintained that we … must consider all options, including the acquisition of nuclear weapons," the prince added -- though he emphasized his preference for a nuclear weapons-free zone in the region.
Amidror, who has warned that the nuclear accord will make a military confrontation with Iran more likely, predicted on Thursday a "devastating" war with Iran's proxy Hezbollah in Lebanon and a potential conflict with Iranian fighters in the Israeli-occupied Golan Heights, near the border with war-torn Syria.
"Israel will defend itself by itself," the former major general said. Military aid, which the U.S. supplies bountifully, is appreciated, but Israel will do as it sees fit to fight against Iran and its proxy Hezbollah, which operates across Israel's borders in Lebanon, he added.
Obama administration officials argue that the nuclear accord will delay if not destroy prospects of Iran obtaining nuclear weapons, thereby minimizing the threat of a nuclear arms race in the Gulf. And they insist that provocations against Israel in Lebanon and the Golan Heights, would exist with or without the nuclear agreement.
But the fear among Saudi and Israeli officials is that the nuclear accord with Iran could foreshadow greater rapprochement between the U.S. and its longtime adversary -- and that at the very least, the nuclear deal frees up some cash for the Iranians.
Even with that shared concern, Prince Turki made clear on Thursday that cooperation between the kingdom and Israel would remain limited in the absence of a two-state solution between the Israelis and Palestinians. When he broached the topic of the of the aging Saudi-backed Arab Peace Initiative, Amidror was dismissive of the plan, echoing his former boss's line that Israeli-Palestinian peace needed to come from direct negotiations -- and that Palestinian president Mahmoud Abbas was an unfit negotiating partner.
"Don't expect too much from this," the prince said at the end of the evening.
Before he traveled to Washington, Prince Turki said he saw people on Twitter speculating that the encounter between him and Amidror was a sign that the kingdom was readying to recognize Israel and the two countries would move toward normalized relations.
"None of that is going to happen. It's unfortunate but it's true," he said, insisting his country could not have diplomatic relations with Israel in the absence of a Palestinian state.
"I'm afraid it's not going to happen in my lifetime. My hope is that in my children's lifetime and their grandchildren's lifetime, we will have overcome these differences."