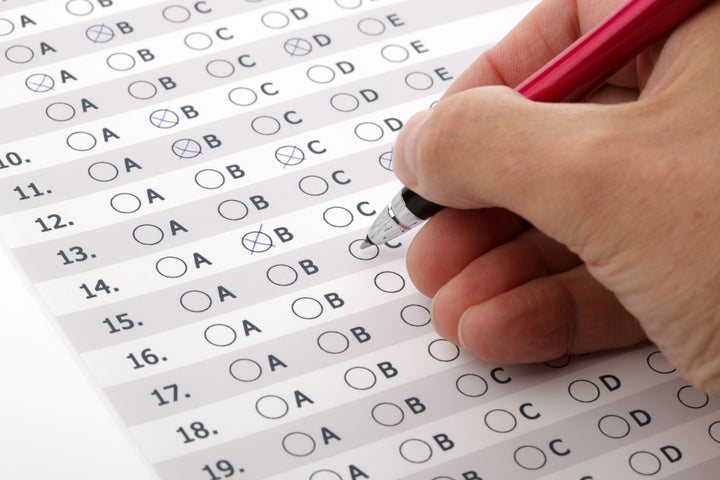 Students at a Virginia school district had to retake standardized exams after five teachers were found to have given "inappropriate assistance" to students during the tests, the Washington Examiner reports.
About 30 students were affected, and two teachers were put on administrative leave, Prince William County Public Schools spokesperson Phil Kavits told the Examiner.
The incidents, which range from allegations of teachers changing answers to giving cues to students on the Standards of Learning tests, happened at four elementary schools across the district. The five educators will be retrained in test administration, and may be barred from administering future exams, but are considered isolated incidents in the district of 5,400 teachers.
"Teachers like to help students, that's what they do," Virginia Department of Education spokesperson Charles Pyle told the Examiner. "Sometimes that instinct gets the better of a teacher, and they go, 'Oh no, I just crossed the line.'"
One teacher reportedly provided a student with definitions to mathematical terminology, while another admitted to shaking her head, indicating an incorrect answer and exclaiming, "you go!" when the student selected the correct one.
The SOL testing program sets learning and achievement standards for K-12 students in the core subjects of English, math, science and history, and was implemented as a response to No Child Left Behind. Students in grades 3-8 take the English and math tests, as well as those in certain high school classes, and science and history SOLs are given to students in grades 3, 5 and 8, as well as upon completion of high school courses in those subjects.
Analyses found irregular wrong-to-right erasure ratios, unusual gains in test scores and scores within a classroom that don't fit a bell curve.
Investigators at the time implicated 178 Atlanta educators involved in test tampering, including erasing students' incorrect answers on standardized tests and replacing them with correct ones. The findings revealed one of the largest cheating scandals in American public school history, shaking the country and "stunned" U.S. Secretary of Education Arne Duncan.
Calling all HuffPost superfans!
Sign up for membership to become a founding member and help shape HuffPost's next chapter
BEFORE YOU GO