At the offices of the Lewa Wildlife Conservancy in Northern Kenya, a terrible hush descends when news filters through that poachers have slaughtered yet another rhino. Recently, a two-day-old calf was shot dead, found lifeless next to its dead mother unceremoniously shot with an AK47 rifle bought from Russia. The mother had had her horns hacked off with a machete. Two other adults, relatives of the murdered mother and baby, were slaughtered too, their bloodied faces also missing their precious horns.
The gloomy atmosphere that descended at conservation HQ, silenced the good-natured banter between work-mates for weeks. For Lewa's chief executive officer Mike Watson the losses were a bitter blow. "I feel a huge mixture of emotions. Frustration and sadness, but what's worse is when you try to explain to your six-year-old son what's happened and why it's happened, that's always quite emotional."
Meanwhile, in the Lewa rhino nursery, Yusuf, one of the rangers, is feeding aptly named Hope, a seven-month-old male white Rhino whose mother was slaughtered by poachers on a neighbouring conservancy called Ol Pejeta.
"I must give him milk every three hours," he said. "It is impossible not to get attached to these rhino. They do become like your children." Hope, has two playmates: three-month-old Kilifi, whose mother is blind, and 15-month-old Nicky who himself is blind.
Hope and Nicky are rolling in a waterhole, coating their wrinkled hides in sticky mud, while Kilifi rolls over to have his tummy tickled. He sighs with delight and squeaks, making a sound like a large mouse. It's awful to think that one day these delightful toddlers could be killed for their horns.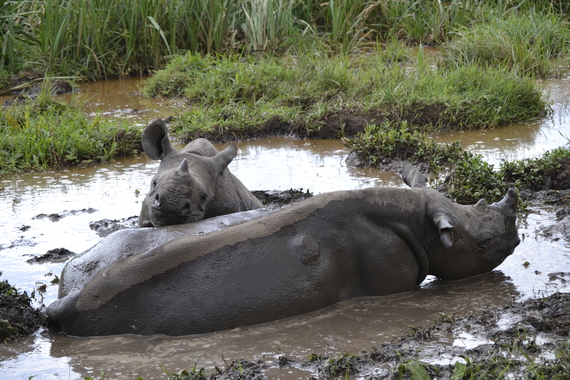 Lewa was a safe haven for the rhino, which had lost none between 1983 and 2009. Now 11 have been poached since the beginning of 2012. The 26-year rapprochement ended with the slaughter of three rhino in 2010 and 2011, and the aim to save and increase Lewa's herd of 62 white and 60 black rhino (which is listed by the World Wildlife Fund as critically endangered) was placed under threat. There are less than 5,000 left in the whole of Kenya and worldwide, one rhino is poached every 11 hours.
In fact, if the slaughter of rhino across Africa goes unchecked poached animals will outnumber live births by 2016 and numbers will begin to drop. It could mean the end for the prehistoric looking rhino.
There are barely 25,000 left on the African continent as it is, and so far this year, 704 rhino have been slaughtered in South Africa where three-quarters of Africa's rhino population live. Compare that with 668 in 2012, 448 in 2011 and only 13 in 2007 and their future looks bleak.
All this bloody devastation is so that wealthy Chinese and Vietnamese -- who are the main consumers of rhino horn -- can use it in powdered form as a cure all. Users think it treats everything from colds to cancer, although there's no basis for this in Chinese medicine. There is also no evidence that rhino horn cures cancer although it does seem to have fever reducing properties -- but so does aspirin.
This rumour of miracle cures means that the Vietnamese now have no indigenous rhino, which were declared extinct there in 2011, mostly poached for their horn. The result is that the value of Rhino horn has soared and is worth more than its weight in gold fetching up to £37,000 a kilo - 24 carat gold costs around £26,000 a kilo.
For the barrel-bellied, short-sighted, wrinkly rhino, this means its two protuberances, which weigh around nine kilos, have a hefty £330,000 price tag.
There is also disturbing new evidence that terrorist organisations like al-Shabaab, the Islamist group who killed dozens of people at the Westgate shopping mall in Nairobi last month, have jumped on the poaching bandwagon. Watson says: "There is strong evidence to suggest this is the case but no arrests have been made yet."
For poor Kenyans living near Lewa who want a percentage of that price tag, the rewards for risking their lives poaching rhino horn are considerable, with payouts of up to £8,000 for information leading to a successful kill. If caught, the penalties are harsh. Four poachers were shot dead on Lewa earlier this year by rangers, and four were caught last month, picked up after a tip off from locals. They are currently on remand, unable to pay the 4 million Kenyan Shillings bail (£29,000) set by the judge and will face three year prison sentences if convicted. They're lucky, from next year the sentence will be life.
Conservationist Ian Craig, who owns Lewa, welcomes the change in legislation. "Three years is a nominal sentence but that will change next year when you will get life for poaching elephant or rhino. Hopefully that will be more of a deterrent.
"I was absolutely sickened after the recent deaths on Lewa. We've lived 26 years without losing a rhino and then in a few years we lost 14.
"We've reinvested in security for the protection of these animals and we're back on track again. We haven't lost a rhino for six months."

Lewa Downs is a breathtaking wildlife paradise covering 62,000 acres of savannah, and has been owned by the Craig family since 1922. Overlooked by Mount Kenya, it's red earth is dotted with thorny acacia trees and straw coloured grass. The occasional explosion of green anywhere near a waterhole brings the whole landscape to life.
As well as rhino, Lewa is home to small herds of elephant, graceful reticulated giraffe, the much feared buffalo, the rare Grevy's zebra with it's comical Mickey Mouse ears, (also critical status on WWF), lions, cheetah, leopard, Oryx and lots of species of deer like Impala. Not to mention over 300 species of birds.
It's also where Prince William spent his gap year, where he nursed a broken heart during his temporary split with Kate Middleton and where ultimately, he proposed to Kate at a safari lodge in a remote part of the conservancy. It means everything to him and as patron of the conservation charity Tusk Trust, he is determined to join the fight against poachers.
He told delegates at the inaugural End Wildlife Crime Conference he hosted with Prince Charles earlier this year: "We know how devastating the illegal wildlife trade is in destroying species. My fear is that one of two things will stop the illegal trade. Either we take action to stem the trade or we'll run out of animals. I hope that my generation is not the first to consider elephants, rhinos or tigers as historical creatures, in the same category as the dodo.
"Our children should have the same opportunities as us to enjoy these animals."
As a new father, his quest is even more urgent as he is desperate to take Prince George to Lewa when he's old enough. "I'm sure he'll love it," he said in a recent documentary. "I hope he'll follow in my footsteps and will love the animals as much as I do."
Mike Watson and his team have worked closely with the Prince. Watson said: "Prince William is passionate about conservation generally and is passionate about Northern Kenya and Lewa.
"When he was here he spent time with the security department, with the rhino monitoring department and the fence repair department working to repair holes in the fence.
"What we all recognized in him was how engaged he was with all the issues. He recognized the bigger picture that had been achieved here, not just for the animals but the value for the communities.
"He realises that communities play an integral part in ensuring that wildlife continues. If communities don't benefit and if communities are not involved and have ownership in this process of conservation, then we will not succeed. He very clearly and very quickly seemed to identify with that and resonate with that."
It's a surprising fact, but tourism underpins conservation and is vital to its success. Prince William was quick to highlight that poaching not only destroys animals but economies too: "It's a form of economic sabotage," he said.
If tourism is hit because holiday-makers stop booking safari tours either because they think they are in danger from poachers, or the recent terrorist attack at the Westgate Shopping Mall in Nairobi puts them off, the whole system of conservation could begin to collapse.
Charlie Mayhew, founder of the conservation charity Tusk Trust, agrees. "Without tourism it will be very hard to continue to protect the wildlife." So does Dr Rob Brett, director of the charity Fauna and Flora's Africa Programme who says: "The money generated by tourism is vital to keep projects going."
The truth is that without visitors, the indigenous Samburu community in Lewa would lose schools, clean water projects and clinics as each tourist who stays at one of the four safari camps on Lewa pays a charge which is then paid to the Samburu.
Watson explains: "Conservancy fees are £56 ($90) per person per night which generates £622,400 ($1 million) a year from tourism. The Kenyan Government doesn't have the capacity to provide everything for everyone, so that money then flows back into the community.
"It costs £1.75 million ($2.8 million) to run Lewa, and we raise another £1.25 million ($2 million) to build schools, water projects and clinics. So far we've built 18 schools, two secondary and 16 primary, and we're currently building another secondary. We've also built four clinics, and we've developed nine water projects supplying clean drinking water to 20,000 -- 30,000 people."
Award-winning safari operator Stefano Cheli, has a special interest in conservation, and funds his own projects helping the Samburu. As managing director of Cheli and Peacock -- who own Lewa Safari Camp, one of the safari lodges on Lewa, and another six in Kenya -- he despairs each time some new disaster puts Kenya in the news.
"Tourism is vital to conservation work," he says. "When something like Westgate happens people do think twice about coming to Kenya, partly because all the old problems get dragged up like the riots after the 2007 elections.
"No one ever mentions the terrorist attack on the twin towers in New York when they talk about tourism in the U.S., or the 7/7 bombings on the London underground when they talk about coming to the UK.
"The reality here is that safari lodges are hundreds of miles away from Nairobi and security is tight. Poachers aren't interested in tourists they want rhino horn or elephant tusk and they get them when no one is around."
For Ian Craig, losing the battle against poachers is not an option and he hopes the British government will follow President Obama, who last month launched a campaign to crack down on poaching in Africa. Obama plans to destroy 6 million tons of confiscated ivory to prove he's serious, as soon as the public service pay crisis is solved. Hilary and Chelsea Clinton are also helping and have launched a campaign pledging £50 million ($80 million) to fight poachers in Africa.
Britain is poised to join the fight. This weekend, Environment Minister, Owen Patterson, will visit Lewa to discuss what help Britain can offer. Craig said: "He's taking a personal interest. Any money would support the Kenyan wildlife service, community law enforcement agencies and would focus on reducing demand.
"It's also about awareness. We might feel that affluent westerners don't buy wildlife products, they do. We need to recognise that buying an animal product is killing an animal in Africa so boycotting ivory and rhino horn is essential.
"If I go to someone's house and I see something made out of ivory I find it totally unacceptable, it catches my eye instantly. It's revolting and socially unacceptable to have a piece of ivory in your house, even old ivory."
Craig's ivory free, rhino horn free, thatched home sits on top of a hill, blending perfectly with its surroundings and overlooking the Lewa savannah his family have nurtured for over 90 years. It's also where he can enjoy the wildlife. "Out of my shower every morning I see elephant, rhino, buffalo and if I don't it's a bad day." He said. "If it gets to a stage where there are no rhino to see because they've all been killed, it would be a terrible day."
Calling all HuffPost superfans!
Sign up for membership to become a founding member and help shape HuffPost's next chapter