It's been nearly two decades since Princess Diana died, but her legacy continues to protect vulnerable people in need.
Mozambique, a country that was riddled with landmines after 15 years of civil war, was declared mine free on Tuesday, Halo Trust, the nonprofit behind the clearing campaign, said in a statement. The accomplishment was, in part, a testimony to Princess Diana's commitment to freeing the world of the weapons of war that lead to grievous injuries and death. 
Halo Trust's mission to rid the globe of landmines rose to prominence in 1997, when -- shortly before her death -- Diana visited Angola to bring the world's attention to the underreported issue. 
At the time, she watched workers clear about 5,000 mines, CNN reported. She then advocated for the same cause in Bosnia, where she also met with victims who had lost limbs due to land mines.
"Probably her greatest legacy has been the massive increase in interest she has generated in this subject, which will hopefully result in funding and adequate resources being devoted to the whole issue," Paul Heslop, Halo Trust's then-director, told CNN.
Since 1993, Halo Trust has cleared 171,000 mines in Mozambique, which was considered one of the most mined countries in the world. During the civil war, landmines were used as a weapon, and in the aftermath of the conflict, caused hundreds of deaths and injuries a year.
On Tuesday, the government declared Mozambique mine free after Halo Trust destroyed the last known mine on its territory. 
The initiative has enabled Mozambique to safely cultivate crops and graze livestock. It also helped the country to develop its infrastructure, access vital commodities such as gas and coal and increase tourism.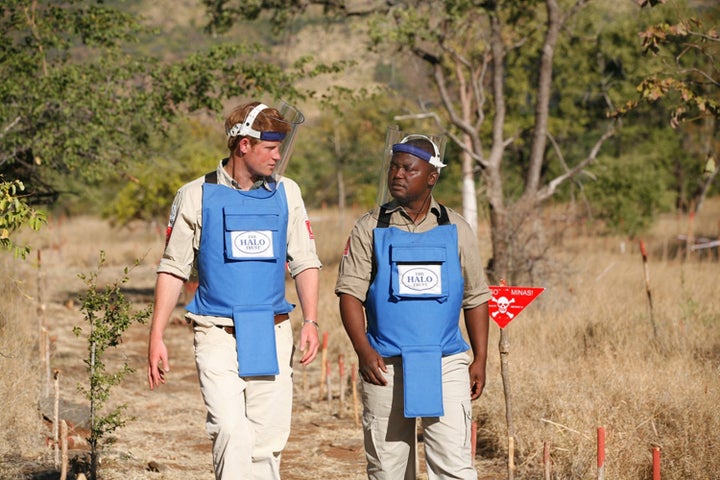 To help continue his mother's mission, Prince Harry has spent years working closely with Halo Trust.
He took his commitment one step further in 2013 when he became a patron of the organization's 25th anniversary appeal.
When he visited Angola again that year, Harry expressed his frustration over the lack of urgency surrounding the issue. 
"[The prince] is irritated about the countries that supplied these landmines are not actually putting in any funds to clear them 25 years later," Guy Willoughby, Halo's chief executive told Sky News. "He has got quite a bee in his bonnet about that, and that is good."
REAL LIFE. REAL NEWS. REAL VOICES.
Help us tell more of the stories that matter from voices that too often remain unheard.