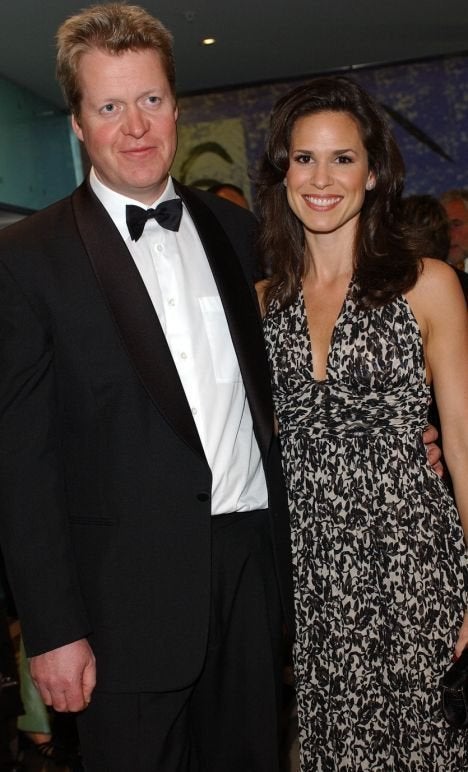 Going home has not been easy. One moment she was on the edge of becoming the chatelaine of ancient Althorp House, with its old masters, priceless antiques, endless acres and unique history as the resting place of Princess Diana.
The next she was returning to a little wooden house with a vegetable garden and a pole flying the American flag, in the dusty township of Bonny Doon, south of San Francisco, explaining to her police sergeant father why things hadn't turned out as they'd hoped.
Friends had warned television presenter Coleen Sullivan that she'd never end up a countess but just another notch on Earl Spencer's aristocratic bedpost. And so it has turned out.
'She was in love with the bastard,' shrugs a former television colleague. 'What else could she do?'
Nearly two years ago, the glamorous Coleen threw up her career - and a long-term fiance - to make her life with Charles Spencer in England after going to interview him at Althorp about his sister, Princess Diana.
At around the same time, Spencer cruelly walked out on his second wife, Caroline, and their two children, including his daughter, Lara, aged just four months. Caroline - 'Pidge' to her friends - was 'devastated' - the same word that friends of Coleen have been using about her this week.
Back home in Bonny Doon, a wine-growing township with a church and two fire stations but no shop, her family are putting on a brave face. Her stepmother, Lisa Sullivan, assured one well-wisher: 'She's fine.'
But the truth is very different. Once again, the 9th Earl Spencer had raised a young woman's expectations to dazzling heights only to dash them with a callous finality.
'Charles attracts women by displaying a certain vulnerability - something of a little boy lost. It's real, not phoney,' says one of his oldest friends.
'But he gets bored with a woman the moment he realises he has total control over her. It is not a pretty characteristic, but there it is. I'm sure it goes back to his childhood when his mother ran off with another man. He loves the chase of women, and seducing them, but he can be ruthless with them.'
Calling all HuffPost superfans!
Sign up for membership to become a founding member and help shape HuffPost's next chapter