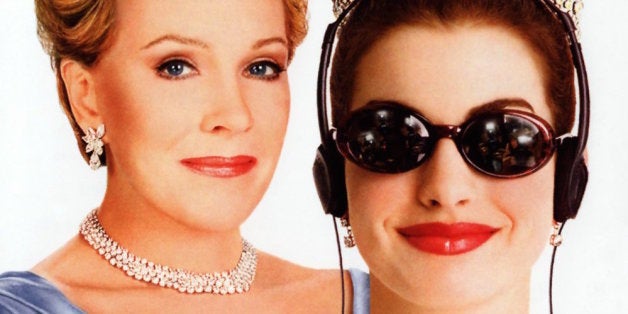 UPDATE: A source close to Disney confirmed to The Huffington Post that the studio is not in talks to make a third "Princess Diaries" film.
EARLIER: The Crown Princess of Genovia may be back again.
According to the Tracking Board, Disney is reportedly moving forward on "Princess Diaries 3." The website reports that the plot for the third movie is being kept under wraps, but that it may or may not involve Anne Hathaway.
When Access Hollywood asked Julie Andrews about the possibility of a third "Princess Diaries" back in 2012, the actress said she'd be open to return. "I would never say no because Disney's so wonderfully clever and inventive," Andrews said, "but I would think they'll stay with just the two because of Annie." If Andrews doesn't even think her co-star would return, chances seem slim.
However, there is also the possibility that Disney may plan to reboot the "Princess Diaries" franchise, according to the Tracking Board. As the Dissolve points out, there's a lot of room for possibilities for a whole new era of Mia Thermopolis-like stories since Meg Cabot's Princess Diaries book series has lots of material to borrow from. The 2001 Disney movie was based on Cabot's 2000 novel of the same name, but there are nine other volumes of the young adult series, as well as multiple half volumes. Cabot also just released the first adult installment of her series, The Princess Diaries, Volume XI: Royal Wedding.
Disney and reps for Hathaway and Andrews were not immediately available for comment.
Popular in the Community