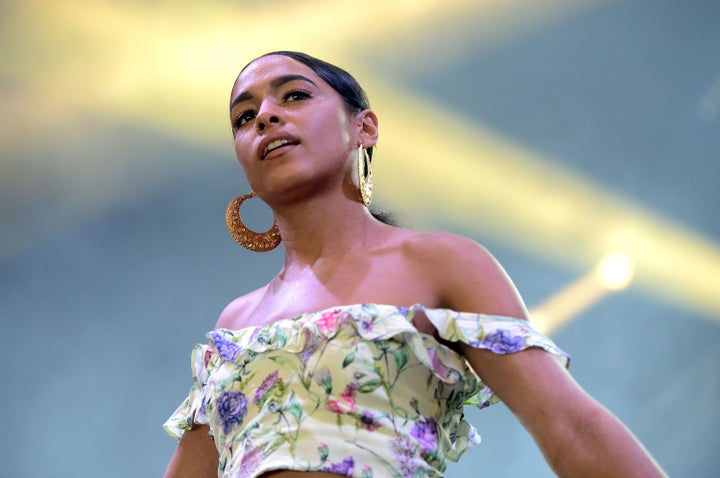 Princess Nokia is taking credit for throwing soup on a racist subway passenger recently.
Footage of a drunken white man identified as Paul Lawson repeatedly calling a group of black teens a racial slur has been making the rounds on social media since Tuesday. Holding a Lime-a-Rita on the L train in New York City, the man verbally assaults the group while another man tries to block his path to the passengers. 
"I talk shit cause I know I can cause I'm a lawyer. I went to NYU Law," the man said. He then shouts "First Amendment" and says "n****r" several times. Passengers confront the man and the train comes to a stop.
"Say it again. This man is a racist. This man is on the L-train on the way to Brooklyn saying the N-word," Princess Nokia is heard saying as she holds up a phone. "I'm going to put this on the news. Everybody's going to know what a bigot you are."
As the doors open, passengers force the man off the train. When he tries to board the train again to get his belongings, the Afro-Puerto Rican rapper throws soup on him and she and another passenger try to kick him off. 
Nokia, whose legal name is Destiny Frasqueri, tweeted her account of the incident early Wednesday morning. She said she slapped the man after he called the group of teenage boys the racial slur. It was a "painful and humiliating" experience, but the Harlem rapper said that she "will do anything to defend the honor of my brothers and sisters."
Lawson addressed his racist outburst on Facebook in a post Gothamist captured in a screenshot. He said he used the word to "mak[e] a point" and that he feels "bad" but he's "not that sorry." He also said that he's "getting help." The local outlet also reports that Lawson said he was a "race-baiter in this context, not a racist," and that he "enjoys getting a rise out of people."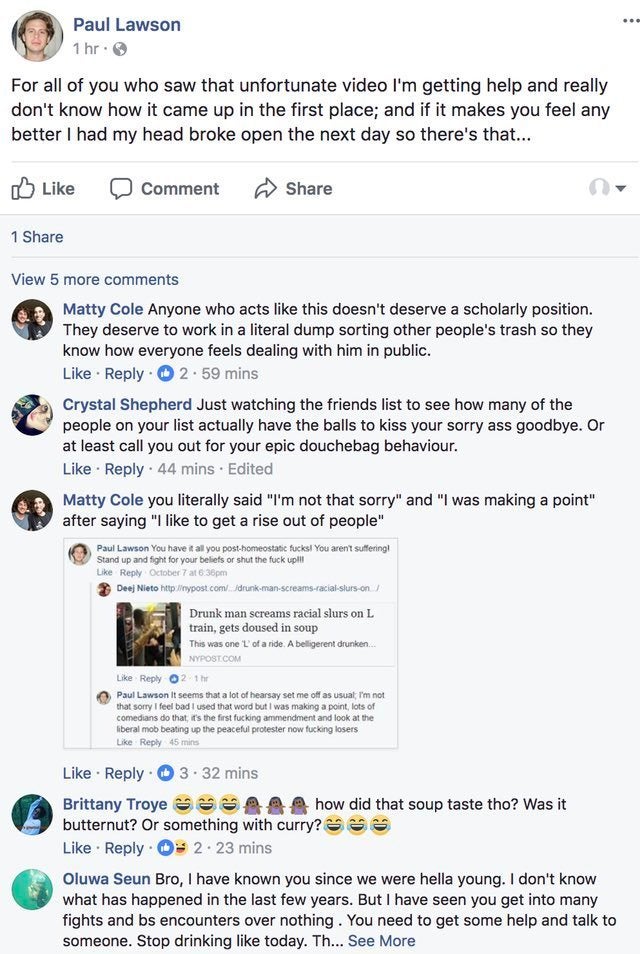 Lawson has gone on a racist rant before, according to Gothamist. In May, he reportedly taunted a black man on a train for 20 minutes. Joe Fuller captured that incident on video. 
"The black guy is like, 'You're yelling racist and hateful things at people, we don't do that in New York, that's just not what's going to happen,'" Fuller told Gothamist. "[Lawson] kept saying that black people shouldn't live in Bed-Stuy ... so the guy pushes him off the train and he tries to come back —  the same way in the other video — and the guy punches him in the face twice and the doors shut on him. Everyone clapped."
HuffPost has reached out to Princess Nokia and will update this story accordingly.
Calling all HuffPost superfans!
Sign up for membership to become a founding member and help shape HuffPost's next chapter
BEFORE YOU GO
PHOTO GALLERY
Fighting Racism And Discrimination Everyday