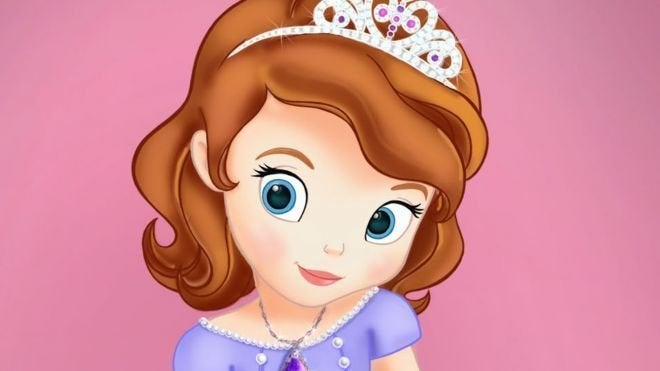 By now, many of you have heard about Disney's "Sofia the First" controversy. Is Princess Sofia Latina? If so, is she Latina enough?
What I've said in relation to "Sofia the First" has been misunderstood by some and distorted by others. I was quoted as saying "If you're going to promote this to the public, and Latinos in particular, do us a favor and make it a real Latina." I'll begin by saying that the mother of my first two daughters is white. One of our daughters is blond with green eyes and the other has light brown hair with hazel eyes. Both are very fair and would never be immediately recognized as Latinas, although they both proudly identify as such. What makes a Latino a Latino is not the complexion of the person, although the majority of U.S. Latinos come from indigenous roots and are in many cases morenos. Latinos come in all shapes and sizes, in all colors and races, but what makes a Latino a Latino is culture. Whether we come from Uruguay or Mexico what defines us is: the Spanish language, at whatever level we speak it or don't speak it; traditions, many of which many come from the Catholic faith such as the Quinceañera; food -- beans and corn are a staple for many; a shared history of emancipation from Spain; and a value system we share with the rest of the world, but in an order of priority that sets us apart here in this nation.
Within this value system, parents are highly respected, children are valued as treasures, and friends and neighbors are welcomed and cherished. Individual values such as loyalty, openness, collaboration and the show of affection are valued and encouraged. It is a rich culture with positive, caring values in an energetic and creative community that is eager to work, create and be part and parcel of the fiber of this nation.
Unfortunately, Latinos, especially more conspicuous brown-skinned Latinos, have not had the same opportunities as other people have had to move ahead in this country. The present amount of prejudice and discrimination against Latinos in this country hasn't been equaled since I was a kid and saw signs that read "No Dogs or Mexicans Allowed" up and down the state of California. Prejudicial and discriminatory legislation that has been introduced and passed in Arizona, Alabama, Georgia, Utah and numerous other states didn't happen in a vacuum. This has occurred in part because of the way Latinos are negatively depicted by mainstream media, in television shows, films, on conservative talk radio, which represents 90 percent of all talk radio programming, and by the news outlets, especially Fox News, which made a business decision to blast Latinos day in and day out because it generates a large audience that listens to this kind of bigoted programming.
Anti-Latino rhetoric has also led to an increase in hate crimes against Latinos -- by 47 percent between 2010 and 2011 here in California, by 40 percent in our nation's capitol, Washington D.C., and we're seeing similar increases around the entire nation. I've given a great deal of thought to what has to change to stop this victimization. White America has to look at Latinos in a more favorable light and recognize and appreciate the contributions Latinos bring to the nation. All Latinos have to be appreciated; especially the brown complected who have historically been excluded from advancement, especially in the media. Up to a very short time ago, even Spanish language television networks had nothing but blonds anchoring the news, completely ignoring the majority of Latinos in the U.S. that are brown in complexion.
And so, when I called for Disney to give us a real Latina princess, I am referring to a culturally identifiable Latina who can relate to those among us who need it the most. When it appeared that Disney was claiming Sofia as a Latina, without endowing her with any identifiable Latino cultural attributes, it didn't make sense as anything but an attempt to capitalize on the Latino market in the most shallow way possible. We now know that the producer misspoke in saying "Sofia the First" was a Latina, because the character was never intended to be so.
NHMC recently released a number of studies and a national poll (summarized here in a document entitled, "The Power of Media to Breed hate, Impact Health and Shape Opinions") that demonstrates the important role that media plays in the perception of Latinos. After viewing just one minute of media content, people change the way they view Latinos, from how intelligent we are, to how patriotic we are. You can imagine how much more impact media has on children This is why it is so important that when Disney creates a Latina character for children around the world to meet and befriend that it be a real Latina -- one aware and proud of her cultural heritage.
Alex Nogales is the president and CEO of the National Hispanic Media Coalition (NHMC). NHMC is a non-partisan, non-profit, media advocacy and civil rights organization created to advance American Latino employment and programming equity throughout the entertainment industry and to advocate for telecommunications policies that benefit Latinos and other people of color. Learn more at http://www.nhmc.org. Receive real-time updates on Facebook and Twitter @NHMC.
REAL LIFE. REAL NEWS. REAL VOICES.
Help us tell more of the stories that matter from voices that too often remain unheard.