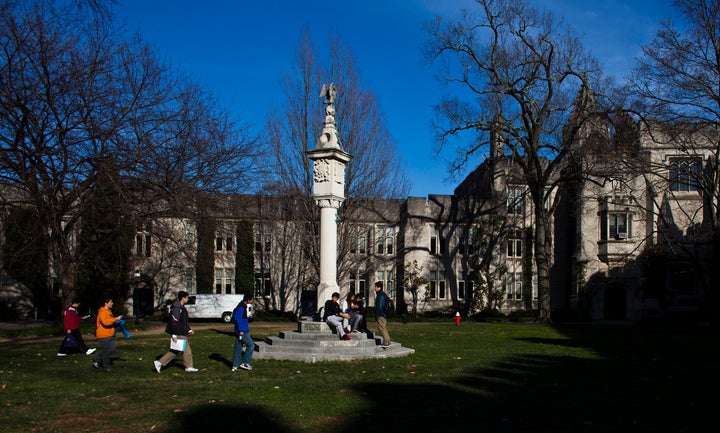 "I think differently, I process differently," Rachel Barr wrote in her application to become a Ph.D. candidate at Princeton University.
She was accepted to the Science, Technology and Environmental Policy Ph.D. program at the university's Woodrow Wilson School of Public and International Affairs, but says Princeton officials denied her accommodations for her disability and made disparaging remarks to her while she was a student.
Barr filed a complaint against the university in November 2014, alleging the school had violated her rights as a student with disabilities under the Americans with Disabilities Act. Officials from the Education Department's Office for Civil Rights say they opened an investigation into the school last January, for disability-related issues.
Although no longer a student at the university, Barr started a hunger strike on Tuesday that will continue "as long as necessary for Princeton to take actions that convince me that administrators will stop the vicious cycle of ducking their commitment to students and civil rights," she said.
Barr sees her diagnosis of dyslexia and attention deficit disorder as a potential benefit, because she is forced to approach problem-solving differently than other people. She wants to dedicate her career to finding solutions to address climate change, since conventional strategies haven't worked.
"My time at Princeton has created an opportunity to change the campus climate at Princeton," she told The Huffington Post. "While it isn't the type of 'environmental' work I envisioned, a change of climate is necessary for individuals with disabilities like dyslexia to have a shot at realizing their academic potential."
She used three emojis to describe how Princeton has responded to complaints about its treatment of students with disabilities: 🙈🙊🙉.
The university said it could not comment on specifics of Barr's case due to federal privacy laws, but spokeswoman Min Pullan said Princeton "has always been sympathetic and attentive to Ms. Barr's concerns."
"We believe this matter has been handled fairly and consistently with the established processes Princeton University has for providing all reasonable accommodations for disabilities, and for addressing complaints," Pullan said in a statement.
According to Barr, the school's director of disability services told her at their first meeting in May 2011 that "disability is not part of the zeitgeist of Princeton." She says she emailed multiple university officials to tell them about the interaction, and that she heard the comment several times before leaving the school in 2014.
The woman who allegedly made this comment no longer works for the university, Pullan confirmed to HuffPost.
One professor told Barr in June 2013 that she should "put aside the idea that you think differently," according to a copy of an email shared with HuffPost. The professor also asked Barr if she wanted to "fit into a grad student mold," which "certainly isn't for everyone."
During one exam, Barr said the text-to-speech software she used malfunctioned, and she was granted a chance to retake it when her grade wasn't up to par -- but the school denied her request to retake the test orally, and exam graders were not informed that she was permitted to take extra time to finish. Subsequently, she received a B- when she needed at least a B+ to keep the university from terminating her student candidacy and enrollment.
This was discriminatory against Barr, she argues, "because I didn't have full access to the testing accommodations that I needed to have an equal opportunity to succeed on the exam as a non-disabled student."
Barr appealed her grade over the alleged denial of accommodations. The university looked into the matter, but denied Barr's claims on Sept. 8, 2014, she said. Princeton terminated her student status a few days later.
Barr said her complaint has been folded into a larger inquiry of Princeton's approach to students with disabilities. The Education Department opened a second investigation on Sept. 30 in response to allegations that the school had violated Title IX by mishandling a sexual assault case and Title VI by failing to provide academic adjustments for people with disabilities, a department official said.
The Education Department declined to elaborate on specifics of the investigations, except to say they both remain ongoing.
"The Office of Disability Services (ODS) has a careful and holistic process through which their staff work individually with each student to provide necessary academic accommodations," Pullan said in the university's statement. "The overwhelming majority of accommodation requests are approved by ODS. The Office of the Vice Provost for Institutional Equity & Diversity has a well-publicized grievance process that gives thorough consideration to any complaints about discrimination of any kind."
This article has been updated with a comment from Pullan.
Popular in the Community