A graduate student at Princeton University says that engineering professor Sergio Verdu sexually harassed her over the course of two months and, despite being found responsible, was required only to attend a training as punishment.
Yeohee Im was 23 when she left her hometown of Busan, South Korea, to travel halfway across the world to work with Verdu, a renowned electrical engineering professor.
In August 2015, Im enrolled in Princeton University's electrical engineering graduate program. She had recently finished her master's in South Korea and was excited to learn from Verdu, a tenured professor who had won dozens of awards for his work in the electrical engineering and information theory fields. She began working with Verdu during her second semester at Princeton in January 2016, when he became one of her thesis advisers. It wasn't until a year later, Im says, that Verdu began behaving inappropriately toward her.
According to documents obtained by HuffPost, in April Im filed a sexual harassment complaint against Verdu with Princeton's Title IX office, which deals with issues of gender discrimination. The complaint came after two incidents in February and March, when Verdu allegedly sexually harassed Im in his home while the two were alone, touching her upper thigh and stomach during two incidents.
After a two-month investigation, Princeton found Verdu "responsible for sexual harassment," but he was not suspended or terminated from his position, according to documents obtained by HuffPost.
Verdu responded to the accusations in a statement to HuffPost: "The university advised me not to reply but I categorically deny that there were any advances or any sexual harassment."
According to Im, Verdu's punishment was to attend an "eight-hour training" session, and he is teaching at Princeton this semester.
Princeton declined to comment to HuffPost on the details of Im's case or the type of punishment Verdu received but said that "when a member of the University community is found responsible for violating our sexual misconduct policy, a range of penalties may be imposed."
After the Title IX investigation, Im said she began hearing about other women who Verdu had behaved inappropriately toward. The dean of faculty at Princeton, Deborah Prentice, admitted in a recording obtained by HuffPost that there was "a broader set of allegations" made against Verdu by other women but that no one was willing to come forward on record.
Because of these other allegations and her own experiences, Im believes Princeton did not do enough to penalize Verdu.
"In that moment, I was just panicking."
Im had been to Verdu's house once before to watch a soccer game, so she didn't think much of it when he invited her over to watch a movie in February. However, she was a little nervous that he had chosen the Korean film "The Handmaiden" for them to watch, which is known for its sexually explicit story.
Im texted one of her classmates to get advice: "My advisor asked me to watch some movie at his place. But I think he asked that only to me. I am not totally sure but last time he and I watched soccer and no one else was there. It is weird."
"Prof. Verdu? Um.. if it's only you two, that does not sound good..," her classmate responded.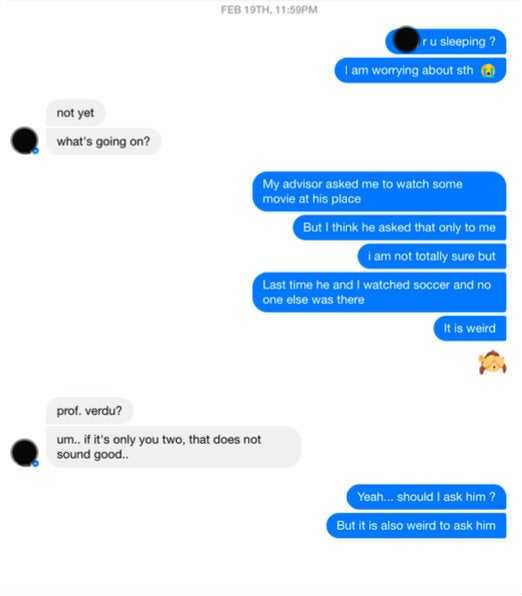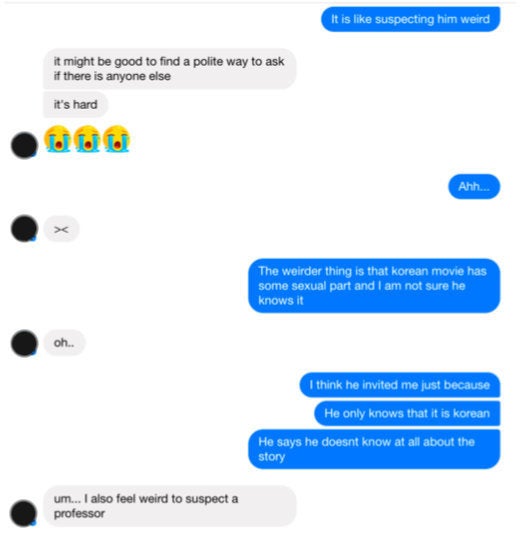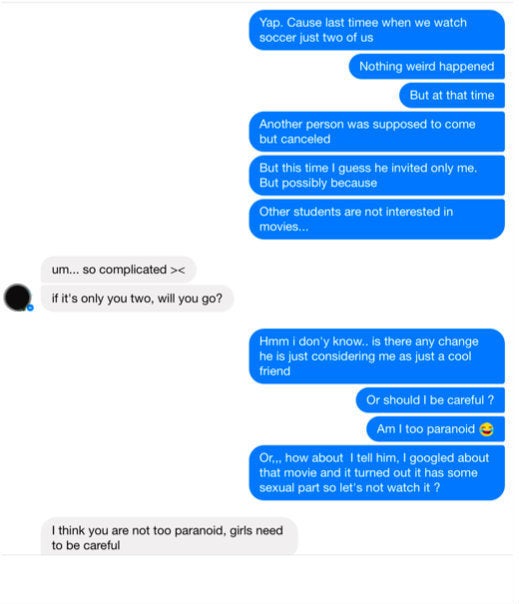 Im says she emailed Verdu a few days before they were supposed to meet asking if they could watch something less sexually explicit.
"I was curious about the movie handmaiden so I googled it," Im wrote to Verdu in an email obtained by HuffPost. "It seems to have explicit contents and I am usually not good at watching those. How about we watch another Korean popular movie or anything else you like?"
According to the emails, Verdu responded that he wanted to see something by that director but Netflix only offered "The Handmaiden." Im acquiesced and agreed to watch "The Handmaiden."
After class on Feb. 23, Im says she approached Verdu asking when he wanted to leave to watch the film. "He led her outside of the room and suggested that they meet in the parking lot, in her opinion, because he 'didn't want anyone to hear,'" according to a Title IX complaint report obtained by HuffPost.
When they arrived at Verdu's home, Im says they poured some drinks and turned on the movie. Im says she sat at the edge of one of the two couches in Verdu's living room. Verdu chose to sit on the same couch and sat "right next to [her]" with their "arms touching at least some of the time," according to Im.
While the movie was playing, Im says Verdu asked if she had a boyfriend and put his arm around her shoulder for "a short time." Im says she was very confused and started to panic.
"It was happening in his home," she said. "And right in front of me there was a photo of him and his daughter. I was panicking, can this be sexual harassment? I know that his daughter is a similar age to me. I was wondering, is he doing this because I am a similar age to his daughter? In that moment, I was just panicking."
After the film ended, Im headed home a little shaken and confused about what had just happened. She said she knew something felt wrong, but she didn't know what to do.
Fast forward to the 2:40 mark to see Verdu featured in the welcome video for the electrical engineering graduate program.
A week later, on March 9, Verdu reached out to Im again asking if she wanted to watch a movie titled "Old Boy," which was directed by the same person who directed "The Handmaiden." During this email exchange, obtained by HuffPost, Verdu told Im to "please call me Sergio," along with a smiling emoji.
Im still didn't know what to think about the previous incident, so she agreed to watch another movie with Verdu. She hoped that Verdu's behavior toward her had been a misunderstanding.
"The power imbalance is extreme."
On March 10, Verdu drove Im to his home, where, according to the Title IX complaint, they each drank two glasses of red wine. During the movie, Im says, Verdu told her she was "drinking too slowly."
The Title IX complaint outlines what happened next, according to Im:
During the movie, [Verdu] "made a joke" about a sex scene in the movie, saying, "that was fast," implying they had sex quickly. While they were watching the movie, his right arm was "wrapped around [her] shoulders," such that his armpit was touching her shoulder, with his right hand on her shoulder. While his arm was around her shoulders, he was "softly brushing his hand up and down" on her shoulder, "like [people] do when they want to arouse each other."
Im said she realized she had spilled some red wine on her white sweatshirt. When she attempted to get it off, Im said, Verdu came over with soap and a napkin and tried to clean it off himself. She kept telling him it was a cheap shirt and he didn't need to bother, but he proceeded to try to clean the stain on the stomach area of her shirt for "more than 30 seconds." When Im tried to move her shirt away from her stomach so Verdu wouldn't touch her stomach outside of her shirt, he put his hand inside her shirt, touching the bottom of her bra with his hand as he attempted to clean the wine stain, she said.
"You don't have to do this," Im told Verdu.
Then, according to Im, Verdu put his hand on her thigh next to her underwear line. He left his hand there "for a long time," Im said, around a minute. Im says she stood up in order to get out of the situation and said she needed to use the bathroom.
"I kept asking myself, is he doing this because he's from Barcelona?" Im said, referring to the fact that Verdu is from Spain. "Is this OK in Barcelona? Maybe it's different than in Korea."
Genie Harrison, a sexual harassment and assault victim rights lawyer who regularly deals with Title IX cases, told HuffPost that Verdu's actions are typical "grooming" behavior, which often consists of "touching a thigh, touching a hand ... talking about his own sex life."
"The power imbalance is extreme in a situation like this. This is her adviser who basically has control over her ability to succeed in this graduate program, and her ability to get papers published and get a job in the business world," Harrison told HuffPost. "Everything is hanging on this relationship, which is unique, I think, to a graduate degree adviser and student. Everything is riding on this person helping you and continuing to support you in your graduate studies."
"If I hadn't done anything, other students would be in the same danger I was."
The morning after Im got home from Verdu's house she wrote him an email telling him she was not comfortable with what happened the night before.
"After I came home, I realized I wasn't comfortable with you touching my leg. I consider our relationship solely as advisor and student and would appreciate if you do so," she wrote. "I think it would be nice to set some boundaries."
Verdu responded that he agreed and asked if they could meet in person to discuss.


Although she still felt uncomfortable, Im says her relationship with Verdu was cordial and professional after their discussion, and the two continued working together.
Im told another professor what had happened with Verdu a few weeks later, and that professor ended up reporting her story to Princeton's Title IX office. On April 13, both Im and Verdu were notified that there would be a Title IX investigation into the two incidents.
Almost two months later, on June 9, Princeton's Title IX office emailed Im notifying her that the investigation was complete. The panel found Verdu "responsible for sexual harassment" but Verdu was not suspended or terminated.
Princeton's Title IX coordinator, Michele Minter, sent a letter, obtained by HuffPost, to Im detailing the investigation's findings. The investigation found Verdu "responsible" for violating Princeton's policy on sex discrimination and sexual misconduct and determined that "discipline is warranted."
According to Im, Verdu's "discipline" was an eight-hour training session.
Im met with the Prentice; the school's Title IX administrator, Regan Crotty; and one of Im's other advisers and the dean of the graduate school, Meghan Krause, to discuss the Title IX office's findings.
Prentice told Im that Verdu's conduct didn't call for his termination.
"In connection with you, [Verdu] clearly behaved highly inappropriately, there's no question, and that's why there was a penalty," Prentice told Im in the meeting, a recording of which was obtained by HuffPost. "But when you indicated to him that he was behaving inappropriately he stopped and took no further action, so under those circumstances, and given that we were treating it as a first-time offense, it doesn't warrant his termination."
While Im said she's not comfortable talking about the other allegations against Verdu, she feels that "he's going to do the same thing" to other women.
"Before I shared my experience with other students, no one was able to find out that he had been charged with sexual harassment except for a few university officers," Im said. "If I hadn't done anything, other students would be in the same danger I was. A penalty should have a preventive effect. If the university had suspended him even for a short period of time, students would know he had been suspended and it would reduce the chances that any more students are harassed."
Harrison told HuffPost that she wouldn't be surprised if Verdu had done this to other students.
"This is, I believe, a really serious case," she said. "I think that something significant should've been done if [Im's] allegations were substantiated. In my experience, people who do this have done this before."
When contacted by HuffPost, Princeton spokesperson Michael Hotchkiss said the university could not comment on Verdu's penalty and issued the following statement:
The University takes any accusation of sexual misconduct very seriously, investigates thoroughly, and takes appropriate action based on our findings. We are committed to providing an inclusive and welcoming educational and working environment for all members of our community.

When a member of the University community is found responsible for violating our sexual misconduct policy, a range of penalties may be imposed based on the facts of the case, including but not limited to warning, probation, loss of leave or other privileges, suspension and dismissal. We require counseling and training for every individual found to have violated our policy, with the goal of stopping inappropriate behavior.

The details of specific Title IX investigations are kept confidential to respect the privacy of parties involved and the witnesses who provide information. In this case, penalties were imposed in addition to the required counseling.

Importantly, in sexual misconduct cases we also focus on providing support and necessary resources to victims to facilitate their continued success at the University.
Harrison believes that Princeton's disciplinary actions are "woefully insufficient."
"I think Princeton is exposing itself to a major, major potential exposure and financial consequences if this guy does this again," she said. "Because the message to him is we're going to slap you on the wrist and we're going to keep it quiet. You're not going to lose your job. We're not going to have a big public hearing. His behavior is extremely alarming and Princeton's actions against him, to me, are woefully insufficient."
After the Title IX investigation was completed, Im switched advisers and stopped attending Verdu's classes. She ended up changing her focus of study because she said she "would be too nervous to be in the same field as [Verdu] is." She also told HuffPost that since the harassment occurred she has begun seeing a therapist and taking antidepressants. She also said that she still has to see Verdu every day because they work in the same building.
"Although it is not easy to share how I was taken advantage of, I am speaking out," Im said. "Because I hope more people become aware of how dangerous sexual harassment is, so they can avoid the same situation. I hope this story can give the university a lesson on what kind of actions they have to take in order to protect victims and prevent this from happening again."
Popular in the Community