For over a century and a half, Princeton University neither acknowledged nor investigated its historical ties to slavery, despite the fact that the first nine presidents of the school owned slaves at some point in their lives.
This month, that changes. Students, faculty and anyone else walking past Princeton's Maclean House will lock eyes with an object ― a sculptural relief, to be exact ― depicting the face of Samuel Finley, the fifth president of Princeton, along with the faces of the man, woman and child he possessed as slaves.
The work is part of the Princeton & Slavery Project, an initiative launched by history professor Martha A. Sandweiss in 2012. The ongoing research project focuses on the slave-holding practices of Princeton's founding trustees and faculty members, taking into account how the university (and New Jersey at large) profited from and grew out of slave labor, a practice that was not abolished in the state until 1865.
"I was ignorant. I was curious," Sandweiss told HuffPost of her desire to dive into Princeton's ties to slavery. "Since Princeton was founded in 1746, I knew there would be a story. Every institution was implicated, but nobody had investigated it."
Sandweiss, previously a museum curator and director, launched an undergraduate research seminar on the subject of slavery at Princeton in 2012, examining how the university's paradoxical embrace of liberty and servitude echoed the contradictions that have always marred early American values.
Over the next few years, students and faculty collaborated to piece together a dark history of the school their predecessors had failed to reckon with. The initiative has uncovered stories of women like Betsey Stockton, a former slave of former university President Ashbel Green who went on to become a prominent educator, and Moses Tyler Pyne, who was one of Princeton's most generous benefactors and whose family owned a sugar trade business reliant on the slave economy.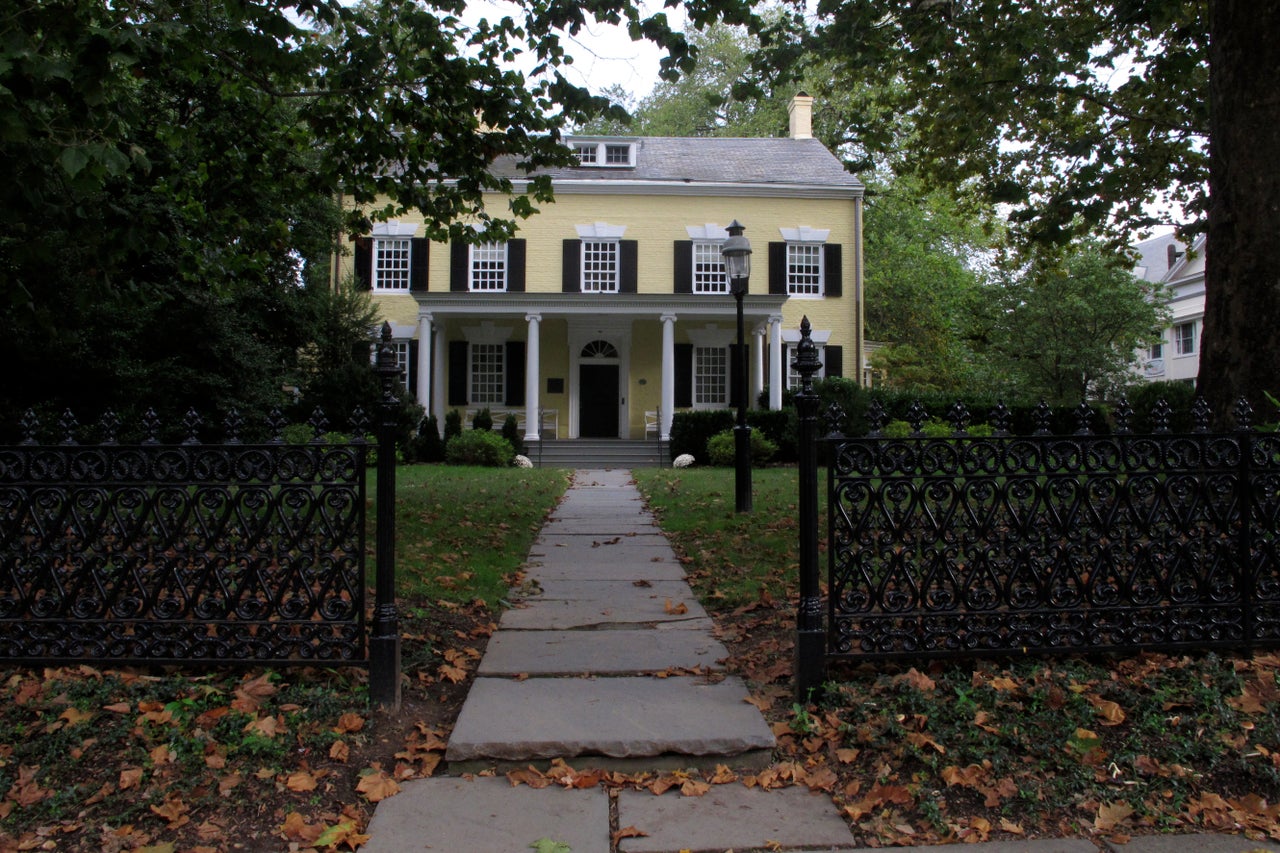 Thanks to her experience in the art world, Sandweiss realized early on that when strict historical inquiry fell short of producing a full story, her team could turn, at times, to other forms of creative expression to fill in the blanks. History is tethered to documents and dates, but art, she felt, offers space to imagine, extract and interpret.
"I really understand what the boundaries of history are," Sandweiss said. "I live and die by footnotes. That means that I can't imagine what's inside people's heads unless they left me a record. I can't invent dialogue unless people left their own words for me to find. I thought it would be interesting to work with creative artists that aren't bound by the same rules that I am."
Sandweiss relied on these contemporary artists to communicate the pain, mystery and loss that facts could signal but never quite explain. And in 2017, a Princeton selection committee ― co-chaired by Princeton University Art Museum's director, James Christen Steward, and University Architect Ron McCoy, and made up of members of the Campus Art Steering Committee and other stakeholders ― invited a range of artists to submit proposals for a work that would incorporate the Princeton & Slavery Project's findings.
Artist Titus Kaphar was selected from the invited applicants, his artistic practice falling eerily in line with Princeton's vision. Kaphar's "Impressions of Liberty" was installed on Princeton's campus in mid-November. "Kaphar's work does something that academic history can't," Sandweiss said. "It just brings history alive in a different way."
Although the Michigan-born artist, who's painted activists in Ferguson, Missouri, and composite mugshots of women named Destiny, wasn't previously aware of the university's experience with slavery, he wasn't surprised either. "There are very few corners of the country that weren't in some way impacted by slavery," he said. "We like to imagine that the 'North's' hands are totally clean. And that's not historically accurate."
"There are very few corners of the country that weren't in some way impacted by slavery."
Finley, a former Princeton president, owned slaves until he died in 1766. After his death, Finley's possessions were auctioned off on the university's campus, including furniture, books, grain, farming utensils ― and two women, a man and three children. One of the documents Sandweiss and her team unearthed was an advertisement in the Pennsylvania Journal published July 31, 1766, announcing the sale of Finley's estate. It describes the man, women and children to be sold: "The Negro Women understand all Kinds of House Work, and the Negro Man is well fitted for the Business of Farming in all its Branches."
This brief announcement is the only surviving description of the individuals Finley enslaved. The auction itself took place on a spot on campus near the President's House, also known as Maclean, marked by two Sycamore trees ― dubbed "liberty trees" ― which were reportedly planted in 1766 to honor the repeal of the Stamp Act. The fact that people were sold on land adorned with "liberty trees" was not lost on Kaphar.
His sculpture, positioned in front of the President's House, is a continuation of Kaphar's "Monumental Inversions" series, which the artist describes as "an investigation into the American tradition of monument making." The exploration is certainly timely; this year, monuments across the nation are being called into question for being offensive or inconsistent with American values today. Bronze tributes to Confederate General Robert E. Lee, which haunted black Virginians decades after the Civil War, and a statue of Dr. James Marion Sims, a New York doctor who experimented on enslaved black women in the mid- to late-1800s, are among the contested figures.
Sandweiss understands Kaphar's sculpture as a monument, in that it commemorates a person, place or event. However, Steward, the director of the university's art museum, sees the piece as more of an "anti-monument."
"Monuments often purport to speak timelessly and to engage in a fixed notion of history," he said via email. "Monuments are often erected to memorialize fallen heroes or otherwise reinforce a particular idea of the past. In that light, I think Titus Kaphar's work is more 'anti-monument,' drawing our attention to forgotten histories and to the idea that history itself is being constantly rewritten. It is that understanding of history as fluid (and as a tale of both who is depicted and who is omitted) that indeed drew us to his work."
Another difference: while most monuments are fixed permanently, Kaphar's will only be on view until Dec. 17. Steward believes that by not aspiring to permanence, the work "can heighten our sensitivity to a past that can never be fixed in time or place."
Whether or not Kaphar's work should be categorized as a monument, it certainly illuminates the strange role monuments play in our culture, their ability to reach back into history and reshape it. "There is something slightly propagandistic about monuments and the way they play with timelines," said Alva Noë, a philosophy professor at University of California, Berkeley. "They have the ability to shift time."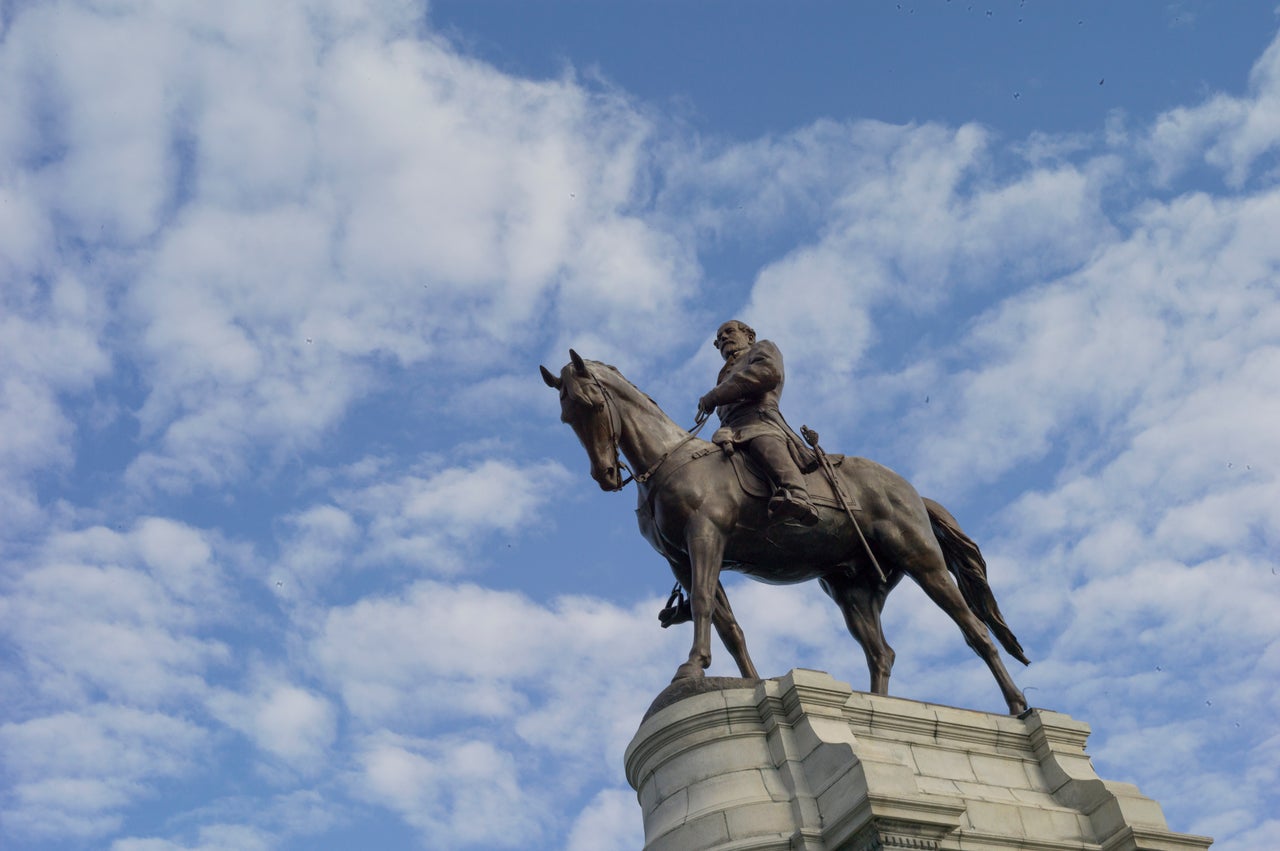 Noë recalled discussing the Robert E. Lee memorial in Charlottesville, Virginia, with a woman he met in the Netherlands. She believed removing the statue would be erasing a crucial trace of the Civil War. "But that monument wasn't built until 60 years after the Civil War," Noë said. Such statues were built in the era of Jim Crow laws as "explicit symbols of white supremacy," though this context has faded out of public knowledge.
Monuments often suggest that history is as clear and unchanging as their bronze bodies. Their imposing and authoritative presence consecrates them as emblems of power and shapers of our collective historical memory. Kaphar, in his early 40s, offers an alternate model that he contends better represents history's fluidity, complexity, thorniness and ambiguity. A figure that doesn't lionize or condemn, but represents, and in doing so, promises to remember. It is temporary and in flux, dependent on the viewer's perspective.
Typically, monuments take up physical space, echoing the way historical figures take up space in our historical memory. Kaphar's "Impressions," however, is a relief within a relief within a relief, a series of carvings that recede into nothingness like a cave or a gasp. The sculpture's emphasis on negative space recalls not so subtly the glaring absences in our nation's shared story that Kaphar has long been interested in.
If history has a body, Kaphar has long been digging it up and ripping it open, exposing what's been swallowed, hidden or purposefully forgotten. His art historical interventions before "Impressions" examine American and European traditions between 1700 ­and 1900, highlighting what ― and who ― is deemed worthy of being immortalized through paint. As if orchestrating corrective surgeries, Kaphar shreds, carves, peels and paints over portraits to illuminate and address the latent discrimination embedded in our visual language.
"I taught myself how to paint by going to museums and looking at images like this," Kaphar said in a recent TED talk, referencing a painting by Frans Hals. The image features five people standing before a tree, one of whom is black.
"There is more written about dogs in art history than there is about this other character right here," the artist said, pointing to the black figure. "I can find out more about the lace that the woman is wearing in this painting, about the manufacturer of the lace, than about this character right here. About his dreams, about his hopes, what he wanted out of life."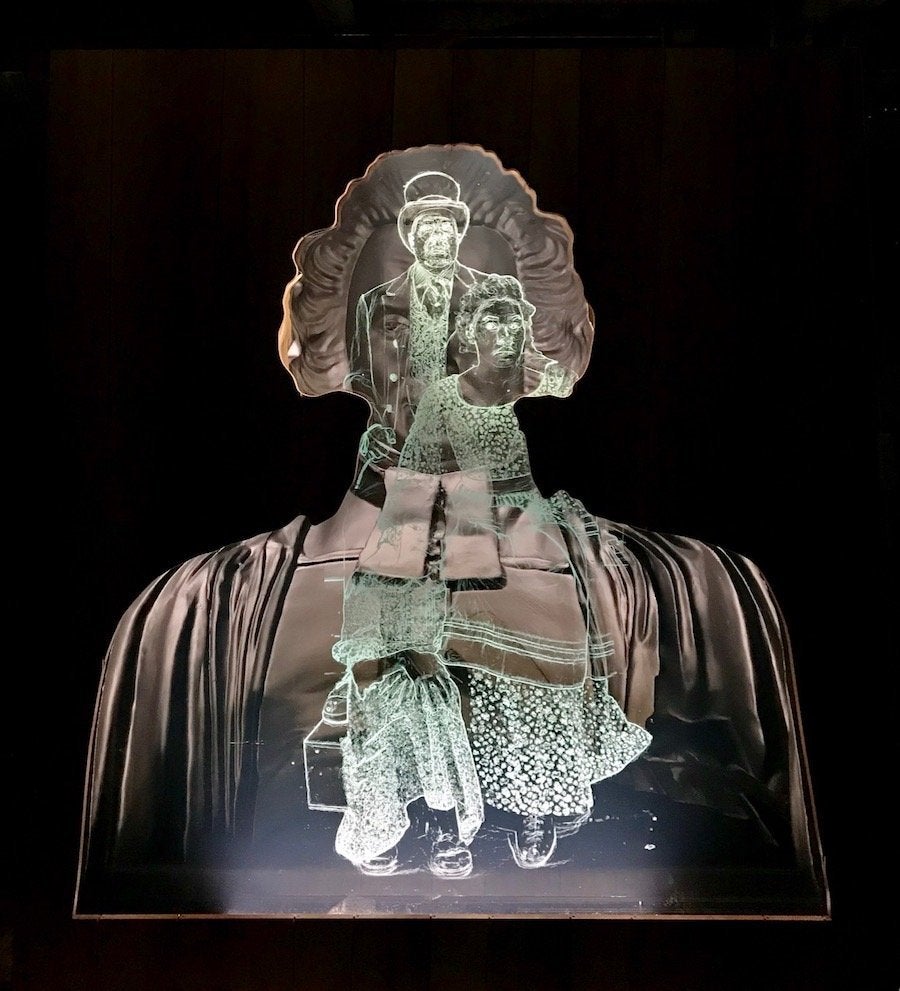 With his Princeton sculpture, Kaphar similarly teases out the relationship between what is visible and unseen. Finley's bust is carved out of a sheet of sycamore wood, the same type of wood as the "liberty trees" that surround it. The material, Kaphar expresses in his artist statement, "appears more akin to skin than grain."
Finley's silhouette, with its powdered wig and regal posture, resembles so many of the white men whose portraits reside in gilded frames. Yet, unlike other art historical subjects, Finley's insides are carved out. In that sunken place inside his edges reside a man, woman and child who Finley owned as slaves. Little is known about their lives, a fact that, Kaphar wrote to HuffPost, "did not surprise me."
Their bodies, etched in white, glow each evening when the sun sets and shift ever so slightly as viewers shift their gazes. The sculpture greets passersby on eye level; their reflections materialize from various vantage points. The figures remain, however, inescapably fixed to Finley's encroaching self.
Monuments are typically, as Noë and Steward reiterated, physically imposing, structurally inviolable and ideologically accessible. They cement a human being into history, ensuring that this singular vision of the past is the one carried forward into the future.
Kaphar's "Impressions of Liberty" proposes a different way to summon the past into the present without solidifying a singular perspective from which to view it. His piece leaves space for contradictions, ambiguity, ugliness and unknowns, providing the viewer the responsibility to read the image, sit with it, let it make its impression. Finley's bust is neither didactic nor fixed, instead it gently beckons passersby to come closer, ask questions and take a second look. The past isn't always as it seems.
American history is not all worth glorifying, but it is worth staring in the face. We might not need another hero. We might not need another monument. But we should look and listen to the stories we have buried. In their representations, we just might see ourselves.
Titus Kaphar's "Impressions of Liberty" is on view until Dec. 17, 2017, at Princeton's Maclean House.
Support HuffPost
The Stakes Have Never Been Higher
Popular in the Community