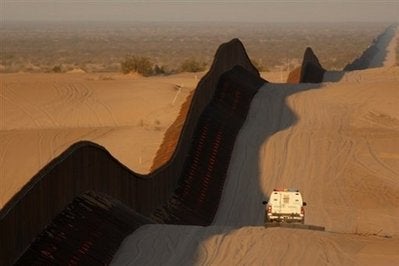 As the immigration debate heats up in the Republican campaign, some experts argue that illegal immigration rates are actually cooling down.
"The Mexican immigration boom of the 1990s and early 2000s is unlikely to be repeated ever again," Shannon K. O'Neil, an expert on Latin American studies at the Council on Foreign Relations, wrote last week.
Despite all indications that unauthorized migration is not the problem it once was, GOP candidates carry on with the politically amenable "more border enforcement" mantra while remaining vague on the harder question: What do we do with the 11.2 million undocumented immigrants already here?
Doug Massey, head of the Princeton's Mexican Migration Project, says that for the first time in decades, illegal immigration has actually reached a net zero.
After a rapid immigration spike, experts still debate what factors contributed to the fast decline in Latino immigration in recent years. O'Neil of the Council on Foreign Relation says that increased economic prosperity in Mexico, shrinking Mexican families, and increased criminal activities on the border are among the reasons given for the swift fall. Some also attribute lower immigration rates to new tougher border patrol strategies and higher deportation rates. However, the dip seems to have started far before the nation's harsher state immigration laws (like those in Alabama and Arizona) came into effect.
As immigration rates fell, Republican candidates ratcheted up their anti-immigrant talk, pledging aggressive measures to secure the border.
Herman Cain suggested installing an electrified fence and placing armed troops with "real bullets" on the border, Michele Bachmann called for "a secure double fence", and Perry pledged to send more Air Force Predator drones on enforcement missions over the Mexican-American border.
Rick Santorum said in a September debate that, "until we build that border, we should neither have storm troopers come in and throw people out of the country nor should we provide amnesty."
He said "we'll have that discussion" of what do with the 11.2 million after a wall across the entire border is built.
Popular in the Community