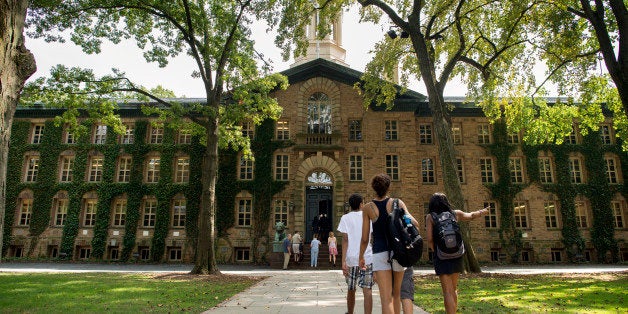 Princeton University violated the gender equity law Title IX in its handling of sexual assault cases by favoring the rights of accused students over those of their reported victims, the U.S. Department of Education announced Wednesday.
The Education Department's Office for Civil Rights ended its four-year investigation of the school with the unusual announcement that the New Jersey university violated federal law and will have to reimburse some tuition for three reported sexual assault victims, in addition to making other changes outlined in a resolution agreement.
OCR determined in the case of the three students "that the University failed to provide a prompt and equitable response to complaints of sexual harassment, including sexual assault/violence, as required by Title IX," and in at least one case allowed "the continuation of a hostile environment."
The agency also said Princeton violated the rights of rape survivors by using a standard of proof for sexual assault cases higher than the federally recommended standard, which requires a "preponderance of evidence" for responsibility.
S. Daniel Carter, director of 32 National Campus Safety Initiative at VTV Family Outreach Foundation, who was involved in filing the complaints that prompted the investigation, said the evidentiary standard had been an ongoing challenge that contributed to the lengthy federal review.
OCR determined that the higher burden of proof was one of a number of examples in which Princeton tilted the scales in favor of the accused. For example, accused students at Princeton could appeal a decision made by the university committee investigating sexual assault cases, but students who reported an incident could not.
Accused students also were provided reports that detailed the alleged misconduct, as well as the names of the committee members. During the committee review process, accused students could request that anyone with information about the accusations appear before the committee and could question them; accused students were permitted to have an adviser in the process, could submit character statements in writing and could make a closing statement, according to OCR. Reporting victims were not allowed any of these.
The investigation concluded that Princeton did not provide any timeframe for complaint resolution or appeals, did not provide clear information about how to file a report, and the policy did not provide an assurance that the university would take steps to prevent ongoing harassment.
On its face, Princeton corrected many of its mistakes in a new sexual misconduct policy implemented earlier this year, OCR said. Princeton will now have to provide OCR with documentation of its response to and handling of reports of sexual misconduct, and summarize any allegations reported to the university in the last year, their resolution and the outcome of any associated Title IX investigations.
"I applaud Princeton University for its commitment to ensuring a community-wide culture of prevention, support, and safety for its students, staff, and community," Catherine Lhamon, the Education Department's assistant secretary for civil rights, said in a statement. "We look forward to continuing to work cooperatively with Princeton to implement this agreement."
Princeton University President Christopher L. Eisgruber said in a statement that the resolution agreement "reaffirms our commitment to address all matters of sexual misconduct in ways that are fair, effective, and transparent, and our determination to ensure a campus climate that places high priority on prevention and support, and on ensuring safety and freedom from discrimination for all members of our campus community."
OCR's investigation included a review of each of the three students' cases from the academic years 2009-2010 and 2010-2011, as well as documents from those years through today.
In one case during 2009-10, a student was found responsible for sexual assault and suspended. However, the offending student appealed and then withdrew from the university without telling the reported victim. Upon appeal, the university once again found the student responsible for sexual assault and reimposed the suspension. OCR determined the "appeals process was unduly long," and the university didn't impose a "no contact" order between the two parties until nearly a year after the victim had filed the complaint.
A student in a second case from 2010-11 said the university discouraged her from filing a complaint. When that student ultimately did file a complaint, the school conducted an investigation and did not find in her favor. While OCR ruled that the case was conducted promptly, it noted that the accused student was allowed many opportunities not provided to the reported victim.
Alexandra Brodsky, a Yale University law student who filed a complaint against her school in 2011, told HuffPost that she doesn't want schools to lose all of their federal funding -- currently the only financial sanction OCR can impose. Legislation proposed this summer would allow OCR to fine a school up to 1 percent of its operating budget -- which in Princeton's case, for example, could have meant a penalty as high as $16.4 million.
"I do think that, in the meantime, the public declaration of noncompliance is important," said Brodsky, a co-founder of the advocacy group Know Your IX. "That was one of our main demands in our first meeting with OCR: You have to tell the public when schools are violating the law. That's not something they had done before this year, and the change in practice shows the department is listening to student voices."
Carter said he's glad to see "justice done" for the victims at Princeton, but is disappointed it took four years.
"I don't believe that justice is truly done for the students involved, or for the university for the matter, when all the people who were involved were likely to have graduated [by now]," Carter said. "It's not timely."
Related
Popular in the Community