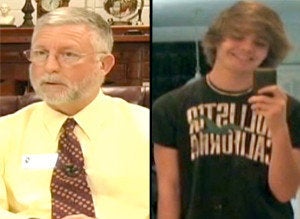 When Wesley McKinley went to his principal George Kenney for help in becoming more focused and outgoing in school, Kenney performed the solution he typically called upon to help students: hypnosis.
But something different happened this time.
Mckinley, 16, committed suicide the next day. The student from North Port High School in Florida's Sarasota Schools District was found dead in a vacant home near his own on April 8, the Sarasota Herald Tribune reports.
There's no clear link between the hypnosis and the suicide. Scott Ferguson, spokesman for the school district, tells ABC News that the well-liked principal and the situation is currently being investigated. Ferguson says that the district allowed Kenney to hypnotize kids as demonstrations in psychology class, and parents and friends were even invited to sit in. But the district didn't know he was doing one-on-one sessions.
Ann Brandenberger, a North Port teacher and parent told the Herald Tribune she never raised an eyebrow.
"I observed him in different demonstrations," she said. "It was nothing nefarious or unusual."
Kenney, North Port principal since 2001, had been performing the practice for years to help students focus on academics and athletics. He's a licensed hypnotherapist and published author in the field and even had permission from the 16-year-old boy's parents.
But the Herald Tribune reports that Sarasota Schools Superintendent Lori White released a statement saying Kenney's techniques are very worrisome.
"Dr. George Kenney has been an effective administrator in the Sarasota County School District for many years. However, his use of techniques that are outside the scope of normally accepted student counseling practices is cause for serious concern."
McKinley's parents say they didn't want the investigation to happen, but they did believe Kenney should stop hypnotizing students, ABC reports.
A Facebook page has been set up by students to show support for the principal.
After a year in which the school has been rocked with multiple student suicides and deaths, many write that Kenney is the foundation of the school community. Student Marissa Fiata posted on Facebook:
"He is an amazing man and has kept our spirits high. He is what holds our school together. We need him back!"