Pringles are known for being deliciously salty, slightly crunchy and perfect for duck faces. But when it comes to Pringles holiday flavors, the game changes entirely. Yes, the crisps (Pringles uses the term "crisp" rather than "chip") are still good for duck faces, but the holiday flavors, both old and new, leave much to be desired.

Pringles' official word on the holiday flavors is this:
"Combining the classic crisp and fun shape with flavors of the season, Milk Chocolate, Tortilla Cinnamon Sugar, Pecan Pie, Cinnamon & Sugar and White Chocolate Pringles crisps are sure to add a unique flavor to holiday snacking."
Unique is the key word here because in fairness, the flavors are very unique. They're just not all very tasty or appealing, in the way that say, Pringles Sour Cream & Onion crisps are. But since they were delivered with little Santa hats, they get a few extra points for festivity and cuteness.
1. Pringles Milk Chocolate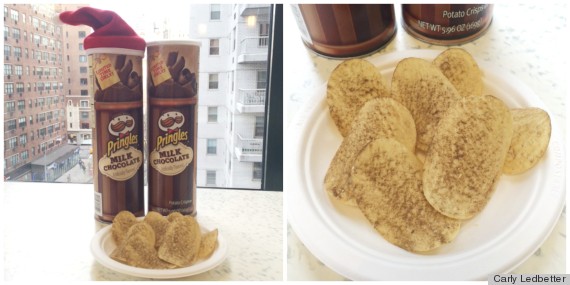 My initial thoughts upon seeing the milk chocolate dust on the chips were, "These look like moldy Pringles." Upon tasting, Associate Taste Editor Alison Spiegel said, "I wish the chocolate flavors were dipped in chocolate." Everyone else who tried the crisps felt the same way, as the marketing on the can kind of makes you think that they're milk chocolate coated Pringles (which is a good idea for next year, Pringles).
2. Pringles Pecan Pie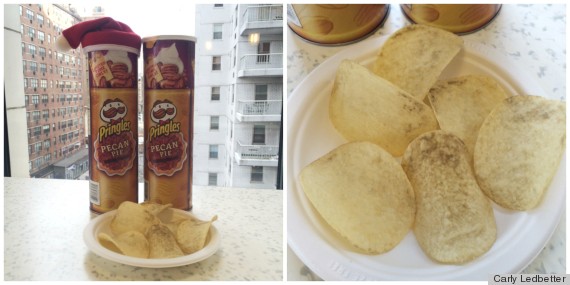 Again with the moldy-looking Pringles! I don't want to intentionally eat something that appears to be a few months old. Though, I must admit, this is my favorite of all the flavors. It has the the strongest saturation and tastes like syrup. My colleagues feel differently, and were neutral about the chip last year and feel the same way about them this year. "The pecan pie is so overwhelmingly fake maple that I feel like I should be eating breakfast. It's too weird," Spiegel said.
3. Pringles Tortillas Cinnamon Sugar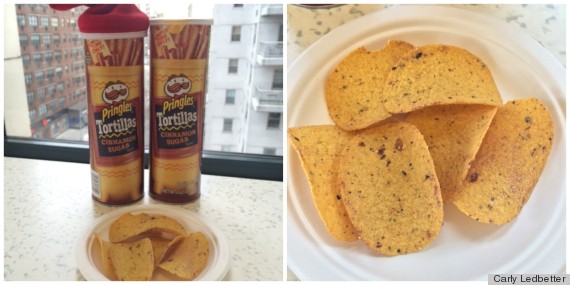 "I have to say, the cinnamon-sugar tortilla chip tastes a lot like Cinnamon Toast Crunch. Otherwise, I'm not sold," said Kristen Aiken, Executive Taste Editor. My colleagues consider this chip to be "by far the best," but are not entirely enthused by the tortilla twist. "The tortilla texture is a little confusing because I was expecting the classic Pringles light crunch, but it's not bad -- i just miss the classic Pringle," Spiegel said. Overall, this one gets our highest recommendation. If you're going to buy a Pringles holiday flavor, pick this one.
4. Pringles White Chocolate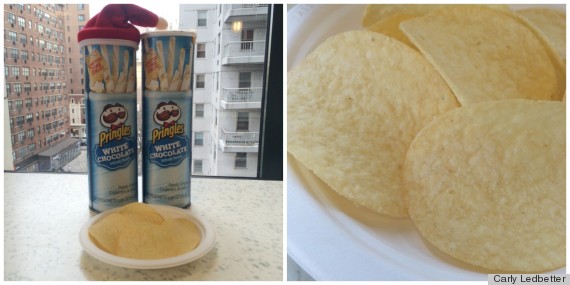 If you want to try a new holiday crisp, but only want a little bit of "unique" flavor, then White Chocolate is for you. The crisp is barely coated in flavor, and tastes like an original Pringles with sort of a weird dust that accidentally fell on them. There isn't much white chocolate taste at all.
In one of our last Pringles reviews, we emphatically said "Go home Pringles, you're drunk," and that's kind of how we feel this year. "None of these have enough flavor saturation, so it leaves you wanting WAY more. I have to give them credit for toning it down from last year's terrible White Chocolate Peppermint flavor, but this isn't a giant improvement," said Aiken, who's tasted new holiday flavors every year they've come out.
Since this is my first year eating holiday-flavored Pringles, I enjoy the novelty of the idea, but am less excited after eating the crisps. Coat them in chocolate, and my opinion will totally be different.
If you'd like to try the flavors yourself, they're $1.69 per package. Pringles Pecan Pie, Pringles Cinnamon & Sugar and Pringles White Chocolate flavors are available at stores nationwide, but you'll have to run to Walmart if you want to try Pringles Milk Chocolate and Pringles Tortillas Cinnamon Sugar. Until then, I'm sticking with the regular flavors.
Pringles provided samples for review purposes.