Priorat, located within Catalonia, has all of the elements to be one of Spain's most celebrated wine regions. The other regions that qualify would probably be Rioja, Ribero del Duero, Penedes, Jerez and the surrounding Andalucian towns, and the up and coming sub-regions of Galicia. Although the press has already discovered Priorat some time ago; Priorat still has a few issues to iron out in regard to their high alcohol levels, and super concentration. Located inland of Spain's eastern Mediterranean coast, in western Tarragona, and west and slightly south of Barcelona; this stunningly beautiful mountainous region has a very long wine history. In 1194 the Carthusian monks discovered this spot in the foothills of the majestic Monsant, and built an altar for their Church. The subsequent monastery is known as the Carthusian Monastery of Saint Mary of Scala Dei. The Carthusian monks fostered the initial cultivation of grapevines in Priorat.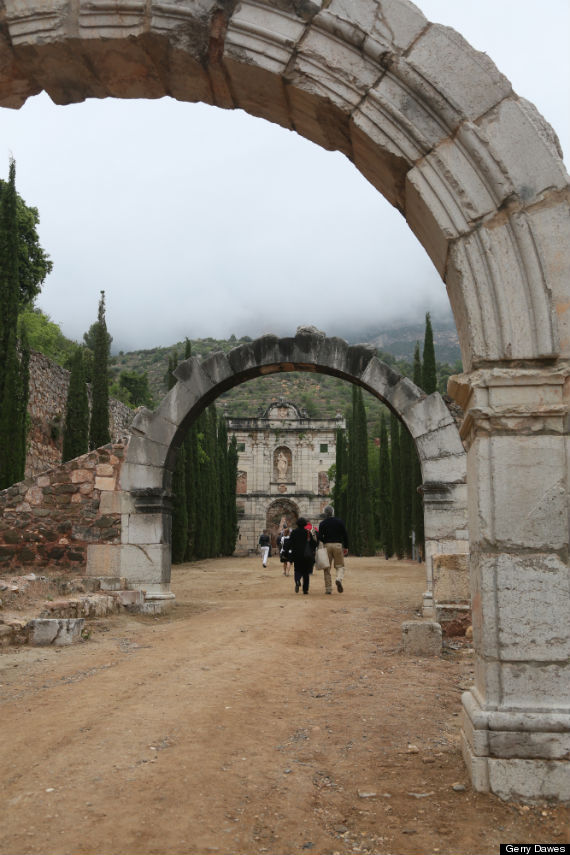 The ruins of the 12th-century Scala Dei monastery in Priorat. Photograph by Gerry Dawes©2013.
The majestically beautiful Monsant looms in the background of Priorat. The silence, and the awe striking shadow of the Monsant, make this region of peaks and valleys, a mystical image, that must have been within the decision-making for the building of the Scala Dei monastery for the Carthusian monks when they first arrived, back in the 12th Century. The soil, a mix of quartz and black slate is referred to locally llicorella; and is a perfect home for the Garnacha (Grenache) and Carinena (Carignan); which are the dominant red grapes; with some Cabernet Sauvignon, Merlot, and Syrah sprinkled in. Priorat is red wine country, and although whites are produced, the Garnacha Blanca, Macabeo (Viura), Pedro Ximenez, and Chenin Blanc are a small percentage of production, and do little to enhance the reputation of wines from the region.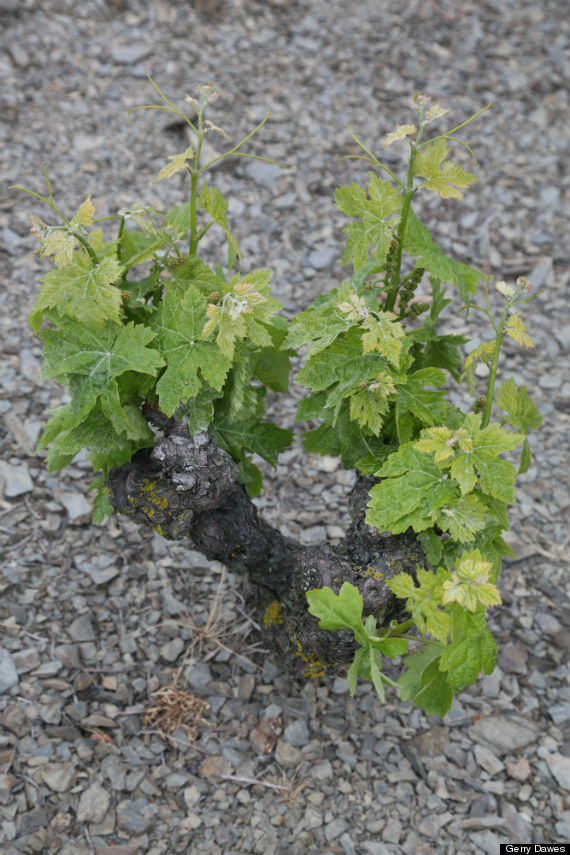 Licorella, or slate-based, old vine vineyards in mountainous Priorat. Photograph by Gerry Dawes©2013.
Phylloxera & The Consequences
In 1893 Priorat was devastated by the root louse phylloxera. At that time, there were approximately 17,000 hectares of vineyard land in the region. The entire region was wiped out. Over an entire century there was an emigration from the Priorat to the cities, that according to Catalan journal Esplai, in 1934, what remained in Priorat was "more houses than people."
Resurgence In Priorat During the 1980's
Priorat, after almost a three quarters of a century of depressing wine activity, was brought back into wine prominence by five winemakers; Rene Barbier(Clos Mogador), Alvaro Palacios(Alvaro Palacios), Dafne Glorian(Clos Erasmus), Carles Pastrana(Clos Obac), and Jose Luis Perez(Clos Martinet). They all shared a modest winemaking facility in the beginning, and their subsequent successes allowed all of them the financial ability to create their own facilities. Their successes helped spur on a period of growth that today has grown to a total of 608 vine growers. Along with the local grapes; the initial sensibilities of the original five producers was that Cabernet Sauvignon would help to create an identity for Priorat with critics and consumers. As Priorat's reputation grew, the local grapes became more and more important, while the use of more international varietals faded. Cabernet Sauvignon, in particular, is still a prominent grape, but it is clearly in decline as the local grapes seem to have increased.

Modern Trailblazer
The issue with the sun-drenched mystique of the Mediterranean, and the thought process that wines will naturally be boosted in alcohol from the intense sunlight, does not take into account the cool mountain nights, and many vineyards planted on northern facing slopes, to lessen the effect. Priorat has some winemakers that seem to realize that high alcohol and huge fruit extraction lead to wines that are out of balance; and they are leading to planting in places where their fruit will have more acidity, and the alcohol levels will be lessened.
One of those producers is Terroir Al Limit owned by Dominick Huber, a native German, who teamed with famed winemaker South African Eben Sadie, and Jaume Sabate; to make modern smart wines that are sophisticated, clean, and bright, and balanced with no alcohol levels exceeding 13.5 percent.
They farm biodynamically. Their most distinctive vineyards are northern facing, extremely steep mountainsides, that take heroic viticulture to farm. The grapes must be harvested by hand, and the cellar practices are minimalistic, with storage of wines in neutral clay, and large older neutral oak barrels. The vibrancy of these wines is much lighter and cleaner than much of the region. I hope Priorat takes a turn toward the possibilities that Terroir Al Limit, and a few others are showing is possible to achieve.