WASHINGTON ―Priorities USA, a leading Democratic super PAC, launched a major digital advertising campaign on Friday afternoon to promote town hall meetings in key Republican districts during next week's congressional recess.
The campaign, conducted in conjunction with the upstart activism network Indivisible, publicizes information about these events on social media and internet search engines. It's targeting Americans in over a dozen Republican congressional districts who have already shown an interest in the progressive demonstrations against President Donald Trump and congressional Republicans.
People who click on the advertisements are routed to an Indivisible webpage that asks whether they can attend a local town hall, and gives them information about what to do ahead of the event to ensure it has the greatest possible impact.
A Planned Parenthood-sponsored citizen town hall in Nevada and a constituent town hall to be held by Rep. Leonard Lance (R-N.J.), are among the specific meetings that Priorities USA plans to publicize. Nevada Sen. Dean Heller (R) is running for re-election in 2018 in a state that Hillary Clinton won. Clinton also won a majority of votes in Lance's 7th congressional district in New Jersey.
"The upcoming recess week promises to provide even more scenes of grassroots activism by everyday citizens concerned about our country's future," Priorities USA chairman Guy Cecil said in a statement.
"We are inspired by Indivisible and couldn't be prouder to partner with them to empower those who want to make their voices heard and engage in social action," he said. "Republican lawmakers who refuse to stand up to Donald Trump should be prepared to answer for that to their constituents over the coming week, and beyond."
The advertising initiative is Priorities USA's first media buy of the Trump administration. Although the super PAC declined to specify the size of the purchase, its decision to partner with Indivisible and target town halls is a clear vote of confidence in the nascent anti-Trump grassroots protest movement.
In December, longtime Democratic political operatives published The Indivisible Guide to help progressive grassroots activists emulate the success of the conservative Tea Party movement. Indivisible, the organization that grew out of this effort, quickly became a national clearinghouse for liberal activism in the Trump era with chapters springing up all over the country.
Local activists, often acting spontaneously with guidance from Indivisible and other organizations, have already used numerous town hall meetings to grill Republican members over their plans to repeal Obamacare and demand details of a replacement for the landmark law. The lawmakers, who often lack answers adequate to mollify their indignant audiences, have at times sought early exits from the meetings or tried to hide information about when and where future events will occur.
Before You Go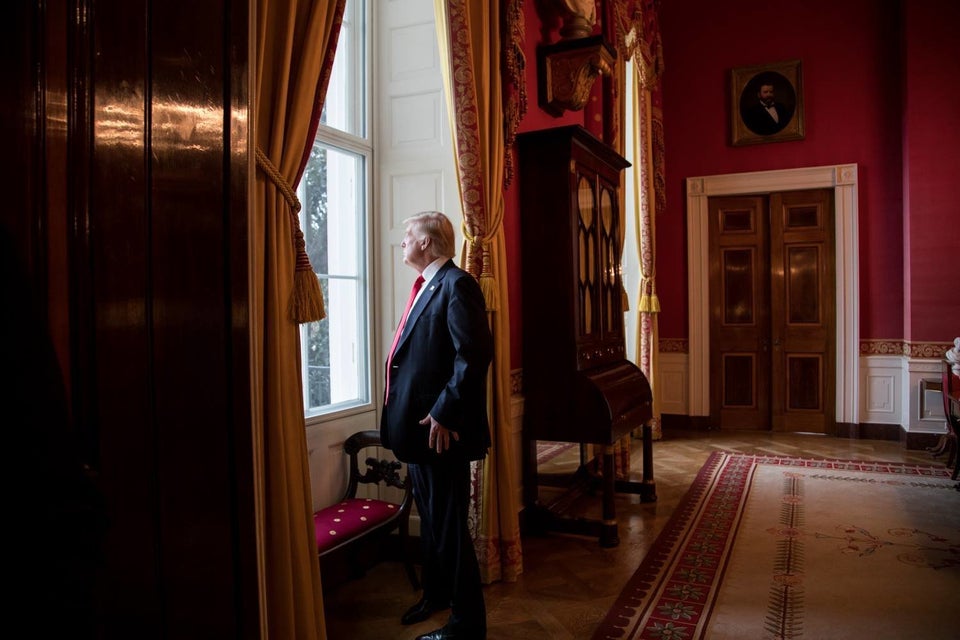 Trump's First 100 Days
Popular in the Community