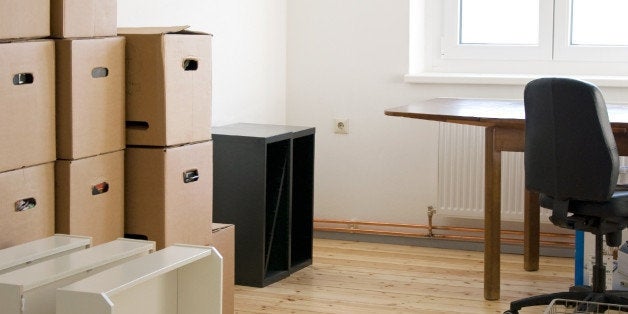 Okay, that headline's sort of a lie. Relocating your business, whether you're moving across town or across the country, is rarely a cinch. (And there are really six C's to consider, but a smart business move is all about consolidating the details.)
A company move is seldom flawless. There will be unexpected pitfalls, and slogging through the muck of details can make even the heartiest of business owners want to crawl back under the desk and hide -- but keeping these three priorities at the core of every move-related decision can make it easier. The priorities you must consider and re-consider before, during, and after your move are:
1. Checklists and Calendars
Because every business is unique, every business relocation checklist will be unique, as well. However, your checklist will be informed by dozens (or hundreds) of questions that you must ask yourself before you begin planning your move. For example:
Why are you moving, and what are your long-term goals for the move? Are you relocating simply because the lease is up? Do you want to expand? Create a better working environment? Need a larger parking lot? What are the risks and rewards of relocating? Will you lose employees who don't want to move with you? Will you need to recruit and hire? What if your new building can't grow with your technology infrastructure? When will you move? Where will you move? Where are your potential new clients located? Will you be creating new products for an as-yet-unknown market? And how much is this going to cost, anyway? To insure success of your new location, create surveys to learn what changes your employees and community want.
Are you tired yet? Tempted to crawl back under your desk? Once you've deemed the move worth it and given it a thumbs up, create your checklist. But don't reinvent the wheel. Try starting with a checklist you can customize for your needs, add a calendar, and start checking the boxes.
2. Communication and Communities
Who are your communities? Again, they're unique to you and your business. But consider current customers, former customers, potential new customers, your advisory board, business neighbors in the present and new locations, community leaders, your insurance agent, the post office, and your social media followers. Your communities include anyone who needs to know about your move.
A crucial community, and one who can make or break your move, is your staff. Get them on board early, and make sure they understand why the move benefits them, as well as how it benefits the company and customers. Ask for their help and engage their skills in planning the move.
A move is the perfect time to look for ways to better get to know and expand your communities. How well do you know your staff? Perhaps they use public transportation and the move affects their commute. It's possible some employees may not want to move, so you'll need to recruit for the new location.
Ask yourself how well you know your current customers. Will your relocation make it easier to get to you? Or more difficult?
Maybe your new location offers you and your staff an opportunity to get to know your business neighbors, up close and in person. You might hand-deliver cupcakes or small presents with your logo and an invitation to a grand opening party.
And then there's your online community. Use your social sites to share the story of your move in pictures and video. Moving is a sign that you're successful and it's a good reason to communicate with past and present customers. Atlantic BT, a tech services company in North Carolina, used their blog to tell the story of their growth and move.
Your community communication checklist can be nearly as comprehensive as your moving checklist. Again, don't recreate the wheel. You clearly don't have time.
Let's back up for a minute and go back to that long string of questions you asked yourself before you started planning and focus in on one: how much is this going to cost? Experts agree that it will likely cost more than you budget, and recommend adding 10 percent for hidden and unexpected costs.
Your business moving costs will depend on your specific needs, but common costs will include paying movers, business downtime, employee hours for pre- and post-move, down payments, closing costs, additional insurance, cleaning fees, and so much more.
You'll need a budget checklist, of course. Consider starting with a basic spreadsheet and customizing it to your needs.
Remember to keep some cash on hand for moving day. You'll want to tip your movers, buy pizza for the staff and generally be prepared for out-of-pocket surprises.
A business move is a complex undertaking with lots of moving parts, but doing your homework and keeping these three C's at the top of your priorities list will help you get on with the business of moving your business.
Related
Popular in the Community