With America unique among developed and most developing countries in its rising maternal mortality, it's especially encouraging to see significant progress in mothers' and newborn survival in sites across the developing world.
The massive global effort to achieve the Millennium Development Goals made enormous strides in reducing maternal and newborn mortality worldwide. Together with other non-governmental organizations (NGOs), WomenStrong International has focused on maternal and neonatal survival as a vital first step toward furthering the health and economic empowerment of women, families and whole communities. Our projects in Haiti, Ghana, India and elsewhere illustrate the very real progress being made across the developing world, even as our own country falls far behind.
In northern Haiti, in the commune of Borgne, a new operating room and surgical team at the Alyans Sante Borgne Hospital is enabling women to receive emergency Cesarean sections for the first time, in this remote, mountainous region of 80,000 people. Pregnant women in distress have to walk as many as 8-12 hours down treacherous mountain paths to reach the hospital, where, previously, they would then be put in the back of a truck and carted another two hours over rutted dirt roads to the nearest facility capable of delivering by C-section.
For Lousena Thalès, that additional two hours on a rough road might have been fatal. The 23-year-old mother-to-be arrived in great pain, facing a possible uterine rupture, fatal hemorrhaging and the loss of her child. Instead, thanks the sterile facility, a team of two obstetricians/gynecologists, an anesthesiologist and a blood-banking expert, Lousena gave birth to a healthy son.
In the southern Indian city of Madurai, over a scant 18 months the extraordinary Dhan Foundation has screened and treated thousands of pregnant women and girls for anemia, a leading cause of maternal mortality and low-birthweight babies. The 80+ percent of the women and girls found to be anemic were quickly treated and given lifesaving guidance on health, nutrition and infant care. The screenings also afforded the girls and young women the opportunity to form or join Self-Help Groups through which they are able to save enough to purchase health and life insurance, open bank accounts and train in financial literacy and an array of job skills, setting them on a path toward improving not only their own wellbeing, but also that of their families and communities.
Meanwhile in Africa, low-cost, low-tech Neonatal Units in Kumasi, Ghana's second largest city, have been selected for nationwide scale-up by the Ministry of Health and the Ghana Health Service. This innovative model was designed and implemented by Israeli neonatologists from Ben Gurion University to treat premature babies and other newborns for mild-to-moderate conditions, help mothers nurse and bond, and decongest the neonatal intensive care unit (I.C.U.) at the national teaching hospital, freeing it to focus on the desperately sick infants the unit was set up to treat. Kumasi's first two new Neonatal Units, designed expressly for low-resource settings, eased congestion by 33% in the neonatal I.C.U., where overcrowding formerly contributed to exorbitantly high mortality rates.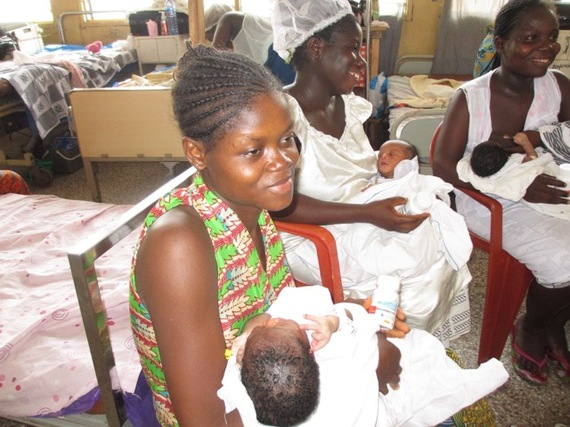 This innovation, led by our partner organization Women's Health to Wealth, has been joined with training for hundreds of midwives in using ultrasound and in two brilliant American Academy of Pediatrics protocols focused on saving mothers and newborns. These midwife trainings have resulted in the safe births of more than 27,400 infants in a region where neonatal and maternal mortality rates had been sky-high.
Strategic investment in such projects has allowed these tiny non-profits to leverage additional partnerships that can create truly momentous interventions. The Government of Israel, Columbia University, Johnson & Johnson and AmeriCares, as examples, all contributed to these remarkable outcomes in Ghana; WomenStrong's own investment in the new Haiti operating theatre, at the cost of just $1 per person across the entire northern commune, triggered the engagement of the Haitian Ministry of Health and other partners, illustrating as well the potential for targeted, cost-effective financing.
But here in America, it appears we don't believe that public investment in the lives of women and babies is worth the trouble. The Institutes of Health Metrics and Evaluation has just reported the rates of maternal mortality to be particularly high in New Jersey, Georgia, Arkansas, and Washington, DC. And what can we even begin to say about the state of Texas, where women's pregnancy-related deaths more than doubled between 2010-2014, to an astonishing 35.8%? This shocking maternal death rate is unmatched anywhere in the developed world.
The United States as a whole was recently certified as second only to Mexico in having the highest maternal mortality rate among the 31 OECD-member countries, considered the world's most developed. With such dubious recognition, one really has to ask, 'What does it mean to be a "developed nation," if we won't prioritize the survival of our mothers and babies?'
Perhaps it's time for us to redefine America as a "developing" nation. At least then, some generous, far-sighted and humane foreign government or NGO might step in, to help our own families, communities, states and nation do what it takes to save our mothers' and newborn lives.
Support HuffPost
The Stakes Have Never Been Higher
Related
Popular in the Community