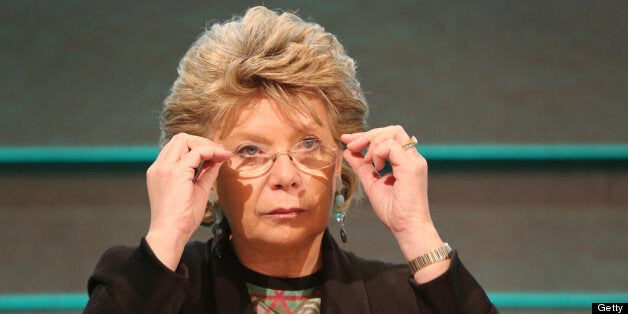 The EU has written to the US attorney general demanding swift answers about a huge American Internet spy programme and warning of "grave adverse consequences" for the rights of foreign nationals, officials said Wednesday.
Viviane Reding, the EU's Justice Commissioner, sent a letter on Monday to US Attorney General Eric Holder saying that the answers he gives when they meet in Dublin this Friday could affect the transatlantic relationship.
She set out seven detailed questions about the so-called PRISM spy programme, which were leaked by whistleblower Edward Snowden and revealed by The Guardian and Washington Post last week.
The top-secret intelligence dragnet operated by the US National Security Agency (NSA) collects and analyses data from Internet and phone users around the world.
"Programmes such as PRISM and the laws on the basis of which such programmes are authorised could have grave adverse consequences for the fundamental rights of EU citizens," Reding wrote in the letter seen by AFP.
Reding said that "given the gravity of the situation" she expected "swift and concrete answers to these questions" at her meeting with Holder.
Her questions to Holder include whether European citizens were targeted by the US programmes, whether Europeans would be able to find out whether their data has been accessed, and whether they would be treated similarly to US nationals in such cases.
She cautioned that the European Parliament "is likely to assess the overall transatlantic relationship also in the light of your responses" -- a warning that comes as the EU and US discuss a possible free trade deal.
But Reding also had harsh words for Internet giants like Google, Facebook and Apple which have been embarrassed by revelations that they have been obliged to secretly provide customer data to the NSA when ordered to do so by a secret US court.
Writing on Twitter, Reding said the rights of European nationals could be "undermined by US companies which give priority to US laws over EU fundamental rights".
"European citizens should be able to trust 100 percent that companies collecting and processing their personal data will abide by European law," she wrote.
US President Barack Obama has defended the spy programmes as a "modest encroachment" on privacy that are needed to keep Americans safe from terrorism.
But other EU officials have also complained about the possible targeting of non-Americans.
EU Health Commissioner Tonio Borg said on Tuesday that programmes like PRISM "potentially endanger the fundamental right of privacy and the data protection of EU citizens."
Several spoke in the European Parliament on Tuesday during a debate on the issue.
Former Belgian premier Guy Verhofstadt, leader of the centre-right group in the European Parliament, said the United States had to answer urgent questions about "how has data been used and is it in conflict with EU data protection?"
The leader of the Socialists and Democrats group in the parliament, Hannes Swoboda, meanwhile called on European authorities to provide "full disclosure" about whether their governments were aware of the US spy programme, or involved in it.
Brussels has repeatedly criticised Washington in the past over the issue of data privacy, but it has also made concessions of its own in the name of fighting terrorism.
Since 2010 the US Treasury has had access to EU banking data under the Swift system, which is based in Brussels, although the EU police agency Europol must give the green light for any transfer of information.
In 2012 the EU approved the Passenger Name Record (PNR) system which transfers to the United States information about travellers on transatlantic flights, so long as it is only used for cases of terror or serious crime.
The European parliament however barred a similar scheme for Europe on the grounds that it would be too intrusive.
Swoboda said that PRISM was a "violation" of agreements such as PNR and Swift.
Copyright (2013) AFP. All rights reserved.
REAL LIFE. REAL NEWS. REAL VOICES.
Help us tell more of the stories that matter from voices that too often remain unheard.
BEFORE YOU GO
PHOTO GALLERY
Politicians React To NSA Collecting Phone Records