WASHINGTON -- Obama administration officials held 22 separate briefings or meetings for members of Congress on the law that has been used to justify the National Security Agency's controversial email monitoring program, according to data provided by a senior administration official.
According to the official, the sessions that took place over the course of 14 months starting in October 2011 touched on Section 702 of the Foreign Intelligence Surveillance Act (FISA) Amendments Act, which gives the attorney general and director of national intelligence the authority to gather intelligence on non-U.S. citizens for up to one year. Section 702 has been cited by Director of National Intelligence James Clapper as the legal basis for the NSA's PRISM program, which has allowed the government to track email communication data.
The Guardian and The Washington Post revealed the existence of the PRISM program and another data-monitoring action last week. In defending PRISM from criticism, Clapper stated that U.S. citizens were not, and are not, targeted for the data dragnet. He and others have also insisted that Congress has had ample opportunity to review the program and provide feedback.
To buttress that claim, the senior administration official -- discussing the matter only on condition of anonymity -- sent over the following list of meetings and briefings that took place.
10/19/11: Meeting with Senate Select Committee on Intelligence Staff

1/10/12: House Judiciary Committee Staff Briefings (majority and minority separately briefed)

1/11/12: Senate Judiciary Committee Staff Briefings (majority and minority separately briefed)

3/5/12: Meeting with Nancy Pelosi Staff

3/8/12: Meeting with Harry Reid Staff

3/15/12: Law Briefing for Senate Judiciary Committee staff

3/15/12: Briefing for Senate Leadership Staff

3/21/12: Meeting with Mitch McConnell Staff

3/23/12: Senate Judiciary Committee Staff Briefing at NSA

3/27/12: Meeting with Jim Langevin

3/28/12: Meeting with Jan Schakowsky

3/29/12: Thompson Meeting*

3/29/12: Sens. Ron Wyden and Mark Udall Meeting

4/10/12: Senate Judiciary Committee Staff Briefing (in Virginia)

4/20/12: Senate Judiciary Committee Staff Briefing at FBI

5/4/12: Senate Judiciary Committee Staff Briefing

5/31/12: House Judiciary Committee FAA Hearing (unclassified)

6/7/12: House Judiciary Committee MEMBER Briefing (classified)

6/11/12: Meeting with Patrick Leahy Staff

6/21/12: House Permanent Select Committee on Intelligence Hearing (classified)

7/18/12: Sens. Sheldon Whitehouse/Richard Blumenthal Meeting

12/10/12: Akaka Meeting

* The Washington Post reported the meeting as with Rep. Mike Thompson (D-Calif.).
The Huffington Post reached out to multiple offices named in the above list to confirm that they had been briefed by administration officials about Section 702. Don Stewart, a spokesman for Senate Minority Leader Mitch McConnell (R-Ky.), replied: "We have received numerous briefings on FISA and Patriot Act over the years, these are in addition to the normal oversight of intelligence activities that take place within the Intelligence Committee. I'd have to check the specific date of this one though."
Others did not immediately respond.
The fact that 22 meetings and briefings were held for members of Congress does help the administration argue its case that this wasn't simply an example of executive overreach. That said, it's impossible to know -- without receiving notes from the meeting -- whether or not the PRISM program was discussed during the sessions, or whether the meetings were more broadly about Section 702.
It's also worth noting that not all lawmakers were aware of the email surveillance operations. Sen. Jeff Merkley (D-Ore.), for one, said he had "no idea about it" prior to its revelation last week.
Sen. John Thune (R-S.D.), meanwhile, told MSNBC on Monday that he didn't believe "that most members of Congress, perhaps, going into this were fully aware of how broad this program was."
Rep. Adam Schiff (D-Calif.), a member of the House Intelligence Committee, said Monday he believed many Congress members had been briefed.
"I would expect that a great many [members of Congress] were given a general briefing," he said. "How many took the time to understand the intricacies of the program, I really couldn't tell you."
A spokesman for Sen. Ron Wyden (D-Ore.) confirmed that the senator was briefed on Section 702. A spokeswoman for Rep. Jan Schakowsky (D-Ill.), meanwhile, confirmed that the congresswoman was briefed on the subject matter, though the spokeswoman is uncertain if the exact date was the one listed by the administration official.
Adam Jentelson, a spokesman for Senate Majority Leader Harry Reid (D-Nev.), said he was checking on the exact date but could "confirm that our staff -- along with the key oversight committees' staff -- were briefed numerous times throughout 2011 and 2012."
A spokesman for Rep. Jim Langevin's (D-R.I.) office also confirmed that he had been briefed on Section 702 but, likewise, said they couldn't confirm the dates of the briefing at this juncture.
UPDATE: June 12 -- An Obama administration official has emailed in a late clarification on the list of briefings they conducted with Congress on the Section 702 program. Officials did not brief Pelosi on March 5, 2012, as they initially stated. Rather, they briefed her staff on that date.
Mike McAuliff contributed reporting.
Before You Go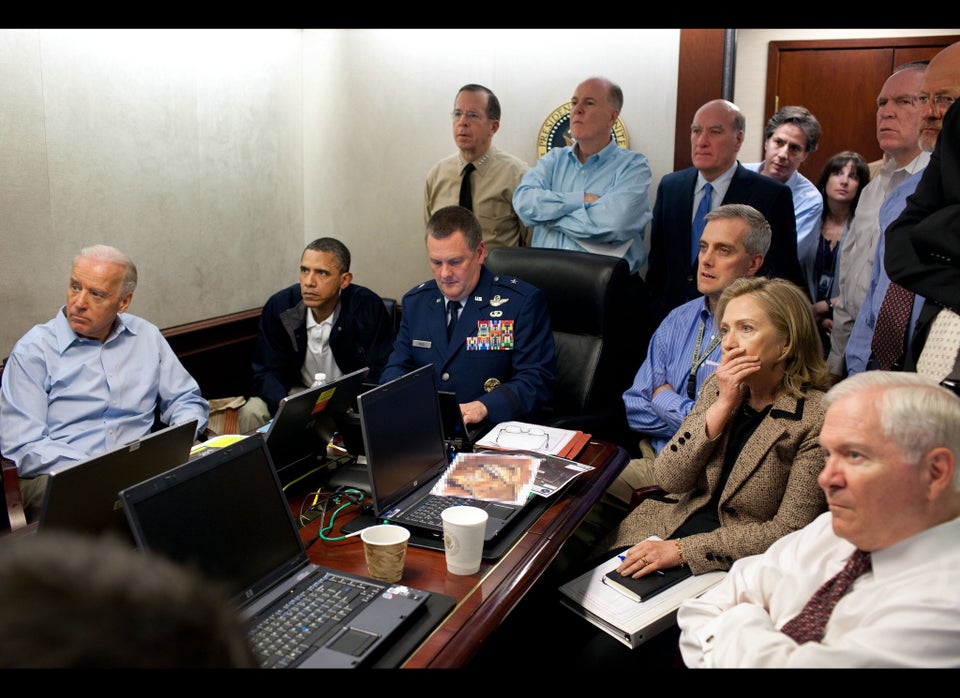 Most Iconic Photos Of Obama's First Term
Popular in the Community