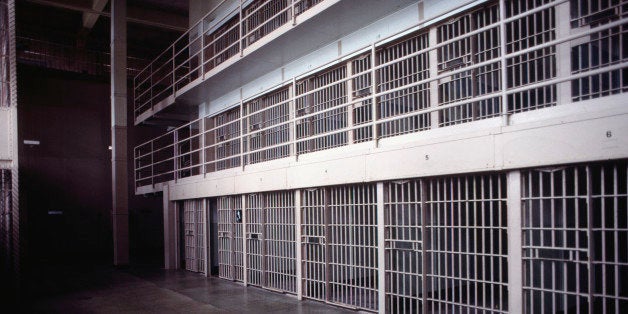 SACRAMENTO, Sept 11 (Reuters) - Funding for a compromise plan aimed at easing overcrowding in the California's troubled prison system was approved by both houses of the state's legislature on Wednesday.
Under the plan, the state will ask a panel of federal judges to reconsider an end-of-year deadline to ease prison crowding, saying the state would prefer instead to spend funds on rehabilitation and mental health services for inmates - a strategy meant to ease overcrowding over time.
If the judges refuse to grant an extension, the measure sent to Gov. Jerry Brown also authorizes the state to spend $730 million to lease space for inmates in private lockups, county jails and out-of-state prisons over the next two years.
The judges have ordered the most populous U.S. state, which holds 120,000 prisoners in 34 facilities, to reduce the prison population by about 8,000, either by finding new prison beds or by releasing the inmates that pose the lowest risk to society.
Brown has criticized the order, which stems from years of lawsuits over prison conditions, as expensive and dangerous. But the judges have refused to budge, threatening to hold Brown personally in contempt of court if he does not comply.
Last month, Brown, a Democrat, proposed spending $315 million next year and $415 million the year after that for alternative housing for inmates. His plan was blocked by other Democrats in the state senate who preferred to ask the judges to allow a plan that would offer rehabilitation services to inmates instead.
On Monday, flanked by legislative leaders from both parties, Brown said he would ask the judges to grant an extension of a Dec. 31 deadline to ease crowding, in exchange for a promise to spend up to $400 million on rehabilitation efforts, including mental health services for inmates.
Spending money on rehabilitation, said Senate leader Darrell Steinberg, who led the opposition to Brown's original plan, would reduce crowding over time by helping inmates avoid recidivism.
The proposal is the latest move in an ongoing spat between the state and a panel of three federal judges in the wake of two lawsuits over poor medical and mental healthcare - found to be rooted in overcrowding - in California state prisons.
If Brown does not find new housing for enough inmates to reduce the prison population to 137.5 percent of capacity, the court ruled, he must release enough inmates - about 8,000 - to reach the goal that way.
The order to reduce crowding is just one of several problems facing the state prison system. A hunger strike over solitary confinement policies drew 30,000 participants at its peak, lasting nearly eight weeks before finally ending last week. (Reporting by Sharon Bernstein; Editing by Tim Gaynor and Ken Wills)
Calling all HuffPost superfans!
Sign up for membership to become a founding member and help shape HuffPost's next chapter
BEFORE YOU GO
PHOTO GALLERY
U.S. State Capitol Buildings