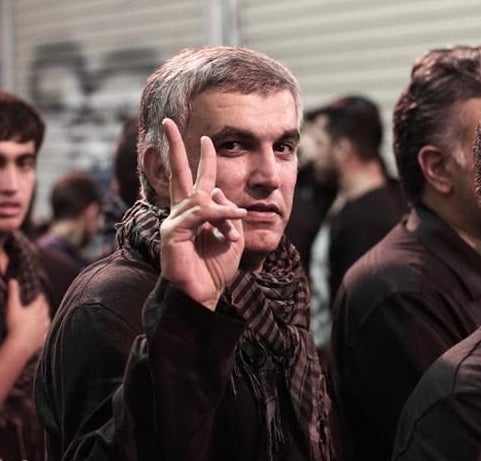 I'm so old that when I was an intern in the United States Congress I met Tip O'Neill, who was still Speaker of the House of Representatives. A consummate wheeler-dealer, O'Neill's political career began when was elected to the Massachusetts state legislature in 1936, and he famously remarked that "All politics is local".
It's generally understood as advice to politicians to prioritize the narrow interests of their voters over wider abstract issues, but I've always thought there's something more to it - that you can be usefully active wherever you live, whatever your locality. That you can campaign locally, that don't have to be in Syria to try and do something about the slaughter there, that you don't have to live in Ukraine to oppose discrimination against Crimean Tatars. It means you can reach out from wherever you are, no matter how remote or detached, to advocate for human rights.
Few places are as remote as solitary confinement, but being in prison hasn't kept Bahraini Nabeel Rajab from his work as a human rights defender. Washington's allies in the Gulf have jailed him and other prominent peaceful dissidents for calling for reform, but in the last couple of months he's written a series of letters and articles for a worldwide audience. Although these have have resulted in fresh charges against him, he continues his international activism from his locality, his cell in Jau Prison.
He's not the first activist to continue the struggle for rights from jail. Prominent activist David Rabelo Crespo refuses to be silenced in his Colombian prison. "What they have done to me is very painful, but in here, through my words and poetry, I can transcend these prison walls," he says. Rajab's and Crespo's prison writings have only increased their fame, much as the Letter From Birmingham City Jail did for Martin Luther King in April 1963.
Prison activism also helped bring Mohandas Gandhi and his struggle for rights in the fist half of the last century, as he developed the tactic of hunger striking and other ways to pressure authorities from his cell. Time magazine's February 1948 article on Gandhi's assassination reported "When Gandhi fasted, Britons sometimes dared not keep him in jail, lest a massive anger at his death in their hands engulf India. 'I always get my best bargains behind prison bars,' he once chuckled."
Repressive regimes might think they're ending the careers of activists by sending them to prison but they're often just changing the activists' workplace. When Egyptian human rights defenders Yara Sallam and Sanaa Seif were in jail in 2014 their activism continued, bringing attention to a young woman who has been unjustly placed in solitary confinement; they also campaigned against the overcrowding in the prison. There are plenty cases of human rights activists continuing their struggle from incarceration (feel free to add your own examples in the Comments section below).
Earlier this year Rajab's activist colleague Zainab Al Khawaja wrote from Cell 19 in Bahrain's Isa Town prison, hoping "this letter finds its way out of this prison and into the heart and hands of all freedom loving people," whatever their locality, believing there are "enough good people in the world who recognize the good fight, who admire a people who sacrifice in the hope for a better future, and who can't stand by silently in the face of oppression".
Rajab's latest sham trial continues with another court hearing on December 28, and charges now include "undermining the prestige of the state" in a piece for the New York Times written from prison. Rajab's defiance of repression couldn't be more locally confined - he can't leave the prison or travel abroad to urge human rights reform, but like other prisoners he has adapted and found a way to continue his struggle from his cell. He ought to be released immediately and all the charges dropped, but if Bahrain's authorities think shutting him in prison will end his activism, they're very wrong.
Related
Popular in the Community