It should come as no surprise that with the worst incarceration rate in the world, the United States has a massive problem on its hands.
Still, there's still a long way to go -- and a lot American policymakers could learn from progress made in other parts of the world. Here are some unexpected places where prison reform efforts are having an impact.
Norway: "Nature is a rehabilitation thing now"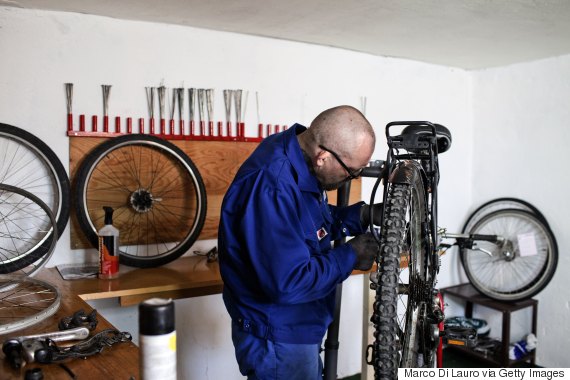 A 51-year-old sentenced to two years and eight months for narcotic related crimes repairs a bicycle in Bastoy Prison on April 11, 2011 in Bastoy Island, Horten, Norway. (Photo by Marco Di Lauro/Reportage by Getty Images)
In Norway, many prisons are "open," allowing inmates to take part in recreational activities like swimming and tennis and to work in the facility's farm or to repair bicycles, just to name a few examples. Inmates are housed in private cells in wooden cottages equipped with a flat-screen TV, a mini-refrigerator and a private bathroom.
One example of an open prison is Norway's Halden facility, a 75-acre maximum-security prison surrounded by blueberry woods, just across the border from Sweden. It has been described as the "most humane" prison in the world. According to the New York Times, the modern facility is focused entirely on rehabilitation, as reflected by the Norwegian Correctional Service's motto: "Better out than in." The country has focused on job training, therapy and education since its corrections program was overhauled in 1998.
The prison's woodsy setting is also meant to help naturally treat prisoners' depression. "Nature is a rehabilitation thing now," Gudrun Molden, one of the prison's architects, explained to the Times.
While it costs more money to house an inmate at a correctional facility like Halden -- it's more than $93,000 a year, compared to the $31,286 spent annually, on average, for an American inmate -- officials point to Norway's low recidivism rate as evidence that it will end up saving them money in the long run. According to The Guardian, Norway's re-offending rate, estimated at less than 30 percent, is the lowest in Europe. The country's incarceration rate is a mere 75 inmates per 100,000 people.
Germany and the Netherlands: "Conditions as close to 'normal' as possible"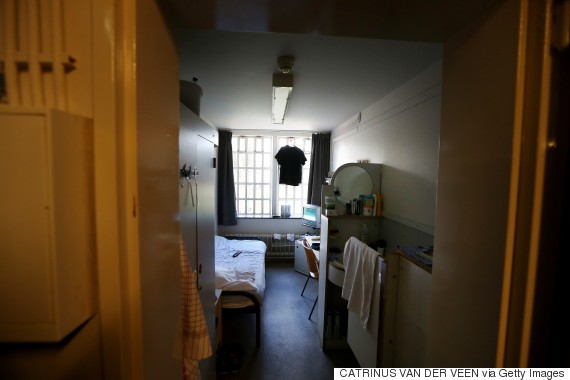 This picture taken on March 2, 2015 shows the interior of a cell a the Norgerhaven prison in Veenhuizen, The Netherlands. (CATRINUS VAN DER VEEN/AFP/Getty Images)
Prisons in Germany and the Netherlands have been touted as showcases for a justice system that incarcerates a much lower percentage of the population than the U.S., thanks to a different approach to sentencing and a unique strategy to corrections.
Delegations of U.S. corrections and justice system leaders traveled to visit correctional facilities in the two countries in early 2013 as part of the European-American Prison Project, a collaboration between the Prison Law Office and the Vera Institute of Justice. Upon their return, the delegation's report noted that both nations relied more heavily on fines and community service as alternatives to incarceration than the U.S. Their sentences were also shorter, both countries' incarceration rates are low -- about 75 and 76 inmates per 100,000 residents -- and their recidivism rates are impressive.
Further, the report noted that inmates are allowed a great deal of self-expression, such as being able to wear their own clothes, and the ability to exert some control over their lives. Both work and education are required rather than offered as an option. Inmates are also granted some privacy, with guards knocking before entering cells, and retained their right to vote. Solitary confinement is rarely used.
In these European countries, prisons are organized around the belief that, since virtually all prisoners will return to their communities, it is better to approach their incarceration with conditions as close to "normal" as possible -- with the addition of treatment, behavioral interventions, skills training, and needed education -- and to remove them from communities for the shortest possible time so that institutional life does not become their norm.
South Africa: "There's a huge appetite for this"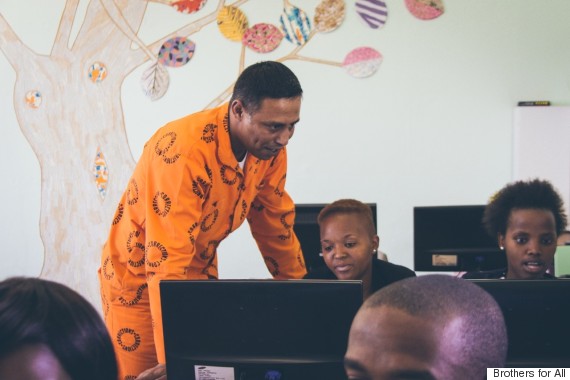 A prisoner, Phadiel Orrie, in Brothers for All's coding center in Langa, Cape Town. Orrie is a participant in the Group of Hope in-prison rehabilitation program Brothers for All closely works with. He receives special permission to to visit the Langa center. (Brothers for All)
New educational offerings are coming to inmates in South Africa's Western Cape. Last fall, a non-profit initiative called Brothers for All launched its first coding center in Langa, a poor township in Cape Town. The program has been such a success, according to Brothers for All co-founder and social entrepreneur Robyn Scott, that they have recently gotten permission to bring their program into dozens of prisons in the area. They will be starting this month with correctional centers in Helderstroom and Worcester.
Scott sees coding as a clear path for the inmates to follow in order to escape the cycle of unemployment, poverty and crime, given the tech industry's high demand for developers. She also sees it as essential that fellow ex-offenders, such as her cofounder Sihle Tshabalala, play a role in instruction because only they truly understand the struggles the students have dealt with. The program is an outgrowth of the Group of Hope in-prison rehabilitation program, of which Tshabalala and Mzi Duda, another Brothers for All cofounder, were previously a part.
Scott's coding program relies on free software and initially catered to ex-offenders, single mothers, school dropouts and at-risk youth. It began with 20 students and now serves 170, six of whom have been offered scholarships to an elite program. Others have already built websites for local businesses. The program is supported by proceeds from recycled paper beads that staff and students alike create and transform into jewelry that's sold both locally and internationally.
"There's a huge appetite for this," Scott told HuffPost. "We're working towards a position where people see us not as catering to the needy, but as a route to extraordinary talent. Everyone in America is crying out for the lack of developers and those developers are waiting in townships in Africa. We want to be seen as discovering and nurturing outstanding, world-class talent."
Dominican Republic: "We don't want any connection to the traditional model"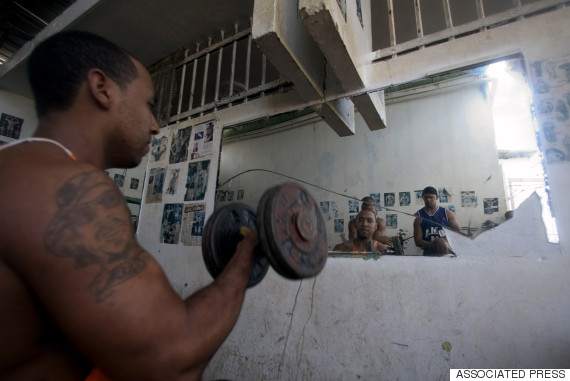 Three unidentified inmates exercise at the Najayo jail's gymnasium in San Cristobal, west of Santo Domingo, Wednesday, May 30, 2007. (AP Photo/Ramon Espinosa)
Prison reform is also making some progress in places with a decidedly less utopian feel, as well. In Latin America, where many of the region's prisons remain overcrowded, squalid and prone to bursts of violence, the Dominican Republic is becoming an emerging model correctional system.
According to the Economist, efforts to reform the island nation's troubled prisons began in 2003, when attaining literacy was made compulsory for prisoners in many Dominican correctional facilities. In addition, other educational programs have been emphasized, with some inmates studying to obtain bachelor's degrees, and a new system has been put in place to assist ex-offenders with finding employment. Healthcare and hygiene, major concerns before, have also been prioritized and guards have been specially trained.
The change in approach has been responsible for a drastic reduction to inmates' rates of re-offending — from 50 percent under the previous system to less than 5 percent at the facilities where the model system was put into place, Reuters reports. Other countries in the region including Ecuador, Panama, Chile and others have said they plan to adopt at least part of the Dominican Republic's approach, according to Reuters.
But the country's attitude toward its entire corrections system has shifted.
"[Inmates'] human rights need to be respected," Ysmael Paniagua, the system's director, told Reuters last year. "Inmates deserve a healthy meal ... an education, and access to healthcare. ... We don't want any connection to the traditional model because it is corrupt and corrupting."
This post is part of a Huffington Post What's Working series, in partnership with #cut50, co-sponsors of the recent Bipartisan Summit on Criminal Justice Reform (Washington, D.C., March 26). The Summit was part of a movement to popularize support for criminal-justice reforms while also having comprehensive discussions about the policies, replicable models and data-driven solutions needed to achieve systemic changes. The series will focus on such solutions. For more information on #cut50, read here. And to read all the posts in the series, see our What's Working coverage here.
Support HuffPost
The Stakes Have Never Been Higher
Related
Popular in the Community